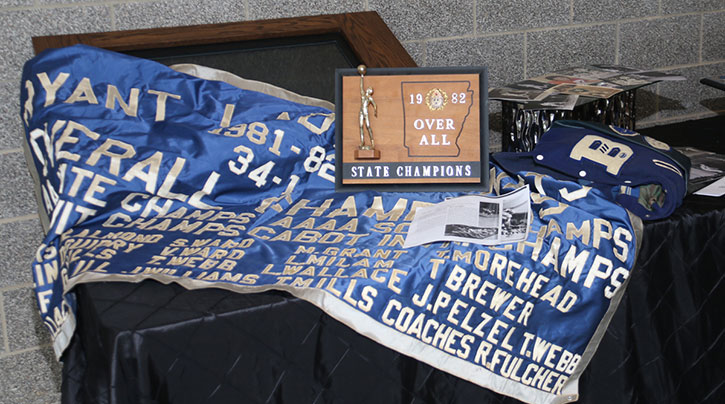 2017 Hall of Honor inductees honored
EDITOR'S NOTE: In this time of COVID-19, with no sports action, BryantDaily.com will be posting past stories of Bryant athletics either posted on BryantDaily.com (from 2009 to the present) or published in the Bryant Times (from 1998 to 2008).
Photos by Rick Nation
The third class of the Bryant Athletic Hall of Honor was inducted on Saturday evening at the Bryant High School multi-purpose room.
The recipients were Louis Besancon, Rick Keating, Chris Rycraw, Kirk Bock, Tom Farmer and the 1981-82 Lady Hornets' State championship basketball team.
Besancon and Keating were multi-sport stars at Bryant. A four-year starter, Besancon pretty much wrote the Bryant Hornets' record book in rushing. Though Rycraw re-wrote those records, Besancon, who was the first Bryant player to be named all-State first team, still holds a couple of school marks. His 8.4 yards per carry in record set in '60 still stands and his 90-yard punt return that year still stands as the longest in the history of the program. He also won the long jump in the Meet of Champs in 1961 and in 1965, earned all-America honors in track at Arkansas Tech.
Keating was an outstanding receiver for the Hornets in the early 70's and became the first Hornet to sign a Division 1 athletic scholarship with Southwestern Louisiana. His receiving records held for many years until the late 1990's when the Hornets went to the spread offense under head coaches Daryl Patton and Paul Calley. Like Besancon, Keating was also outstanding in track as well as basketball.
Rycraw's name is all over the Bryant record book. He's the all-time leading rusher for the Hornets in a season with 1,565 in 2009 and a career with 3,123 in just two years as a starter. He holds the school mark in most 100-yard games (14), most 200-yard games (5), most rushing attempts in a season (282) and a career (559); most touchdowns in a season (17) and a career (34). He went on to star for the Ouachita Baptist University Tigers where he was a three-time selection to the all-Great American Conference team.
Bock coached the Hornets baseball team to four Class 7A State championships in seven years after he'd led Harrison to a State title in his previous position. Over his career, he led teams to 606 wins and just 153 losses. He was named ABCA Coach of the Year in 2005 and 2008 and has been selected to coach in 12 Arkansas High School All-Star games.
Farmer, who coached the Hornets in the early 1990's took over as Athletic Director in 1994 and facilitated the modern athletic success at BHS. Varsity sports grew from seven to 20 over his years as A.D., and facilities were upgraded. He was also one of the architects of the annual Salt Bowl, the annual football game between rivals Bryant and Benton, that grew to the point where only War Memorial Stadium in Little Rock could accommodate the number of people who attend the game, which has drawn crowds of nearly 30,000.
The 1981-82 Lady Hornets basketball team won the first State championship in girls basketball, setting the stage for several others in years to follow. The team, which featured Hall of Honor member Tina Webb and current University of Texas head coach Karen Aston, went 34-1 on the season and was ranked third in the nation. After winning State in their classification, the team went on to win the now-defunct Overall State title, which pitted the champions of each classification against each other in a single-elimination tournament to conclude the season.