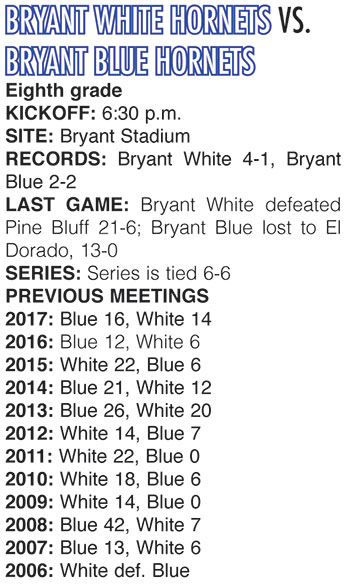 File photos by Kevin Nagle and Rick Nation
With the series tied 6-6, the Bryant Blue Hornets eighth grade team of Bethel Middle School and the Bryant White Hornets eighth grade team of Bryant Middle School will do battle on the gridiron at Bryant Stadium tonight.
The seventh-grade version of the annual Hornet Bowl will begin the proceedings at 5:30 p.m.
This year, Bryant Blue is the home team and its fans will sit on home side of the stadium. The Bethel team will be going for its third consecutive victory. As the visitors, Bryant White and its fans will be on the East side of the stadium.
Bryant White, under new head coach Russell Wortham, comes into the game with a 4-1 record this season. The lone loss was a 20-16 setback at Conway Blue. Since then, the Bryant Middle School team has won four in a row including last week's impressive 21-6 victory at Pine Bluff.
That same Conway Blue team defeated Bryant Blue 38-0 two weeks ago, but the Bethel team bounced back last week to play tough against a very good El Dorado squad. Bryant Blue, coached by Josh Akers, is now 2-2 after opening the season with a pair of victories.
Next season, the members of the two eighth grade teams will combine on the freshman Hornets' team.
With the planned move to one junior high near Hill Farm next year, it has been determined that there will still be two eighth grade teams even through they're going to the same school, and the Hornet Bowl will continue for this year's seventh graders.