File photo by Rick Nation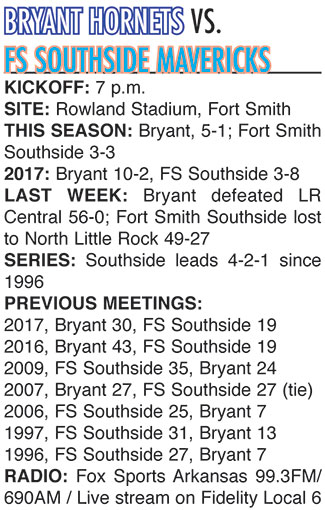 The Bryant Hornets have outscored their last two opponents by a combined 115-28 so it may not be the best time for the Fort Smith Southside Mavericks to be taking them on. But, then again, it could be the perfect time.
Bryant, ranked among the top three or four in the state, travels to Fort Smith tonight to pay a Southside team that has competed in previous games against some of the best teams in the state is looking for a signature victory in conference to add to their 44-31 victory over 7A-West Conference co-leader Bentonville West to start the season.
They've already played North Little Rock and Conway, two of the Central's power teams and played them tough before absorbing better-than-the-score-indicates setbacks.
The Mavericks will either catch the Hornets in the midst of a roll or, they hope, play a team that's looking past them or maybe feeling a little satisfied.
Bryant head coach Buck James indicated there was no sign of the latter during the week.
"You now I really have liked the way we've practice and prepared since the Fayetteville game," he said, referencing Bryant's lone loss, 36-35, in week 3 of the season. "I didn't like the way it was going before then and I think we've got it fixed. I think our kids are starting to settle in and understand their roles, understand what their objective is each and every week. They know their offense and defense. The game plan becomes easier. Practice has been spirited. It's cooled off a little bit and these guys have gotten after it.
"Usually, on the long bus trips, the kids get the chance to focus a little bit more and we tend to play a lot better after doing that so I'm looking for our team to come out and continue to try to play well, play hard, play fast and impose their will on the other team."
Southside, 3-3, is led on offense by a returning starter at quarterback, Taye Gatewood. Like other quarterbacks the Hornets have contended — Fayetteville's Darius Bowers and Northside's Derick Wise — Gatewood is dynamic. He can beat you with his legs or his arm. He's already thrown for over 1,100 yards and rushed for 368 yards at a 6.1 yard per attempt average.
"They're very talented at quarterback," James acknowledged. "We've got to do a great job of being able to cover their receivers, but the main key is to get a good pass rush, make him throw the football and keep him from scrambling.
Gatewood's primary target has been senior Tyrese Solomon (27 receptions, 356 yards. Running back Ricardo Savoy has rushed for 615 yards and five touchdowns along with 16 receptions for 318 yards and five TDs.
Of their defense, James said, "They've got a good linebacker. I think Arkansas is recruiting him (Darin) Davenport. He's a good-looking kid, a good-looking player. He's intercepted a few passes and he's second on the team in tackles. They've got a safety (Bennett Weindel) that's leading their team in tackles. And I think their corners are very athletic. They caused us problems last year.
"This is a scary football team," the coach asserted. "They're in a position where they need this game to contend for a home playoff game or even to make the playoffs. Their looking at having their backs against the wall. So, this is a big game for our football team."
The Hornets are led by running back Latavion Scott, who has rushed for 684 yards in the equivalent of five games (since two of the six Bryant has played were called at or near the half). Quarterback Ren Hefley has thrown for 721 yards on 64 completions with seven touchdowns. His top receivers have been Jake Meaders (18 for 179 yards) and River Gregory (13 for 163 yards).
Defensively, linebacker Catrell Wallace and end Nate Wallace led with 29 tackles each. Nate Wallace's total included eight tackles for loss and four sacks. Safety Tamauian Wilson leads with 13 solo stops in his total of 22.
James said that the improvement in practice has coincided with his offensive line finding its groove and the development of depth there and on the defensive front.
"They've come a million miles," he asserted. "I'm really proud the way those guys have responded. I think Coach (B.J.) Shuler (defensive line) and Coach (Shane) Clancy (offensive line) have done a great job with these guys.
"We play a lot of defensive linemen and we play a lot of offensive linemen," the coach added. "A lot of coaches don't sub offensive linemen. But it's not anything for us to play eight to nine guys on the offensive line on any given night. They're a team within the team and they have a lot of pride in what they do."