Photos by Rick Nation and Kevin Nagle
By Rob Patrick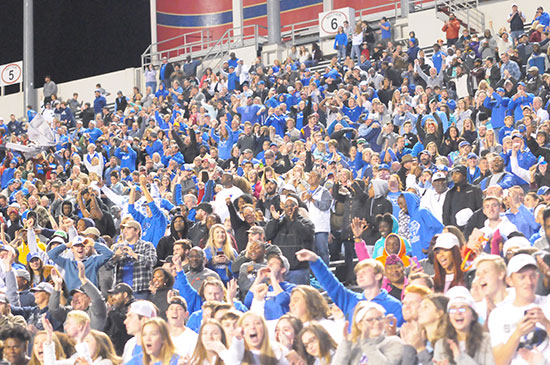 A few notes (and a chance to post more pictures) for those still basking in the glow of victory in the State championship game:
Just call it Bryant Stadium North:
The Bryant Hornets haven't lost a game in War Memorial Stadium in Little Rock since 2008 when the Catholic Rockets upset them 27-21.
That's 10 years of winning, playing there once or twice a season. Since then, counting Saturday night's 27-7 win over North Little Rock for the 2018 Class 7A State championship, Bryant is 15-0-1 at the big stadium. The lone blemish was the 14-14 tie with Benton in the 2014 Salt Bowl, before the Arkansas Activities Association decided to allow overtime in non-conference games.
Want to play Bryant at War Memorial?
Anytime.
***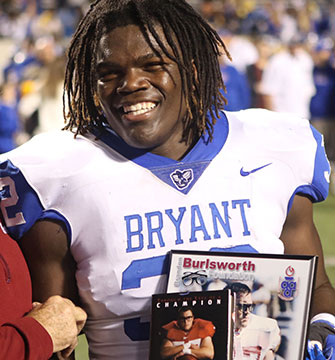 When the Bryant Hornets football team wins a game — like they did 11 times this season — the players and coaches cross the field at the 50 and shake hands with the opponent. A few at a time then rush to the sideline to join their classmates, those in the student cheering section, known as "The Swarm".
They celebrate and then they all accumulate in front of the Legacy of Bryant marching band and sway back and forth to the strains of the Bryant High School Alma Mater.
It's a nice tradition as the team shares its victory. And, on Saturday, after the championship was secured, it was particularly one of those lump-in-the-throat moments.
***
The tale of two fumbles: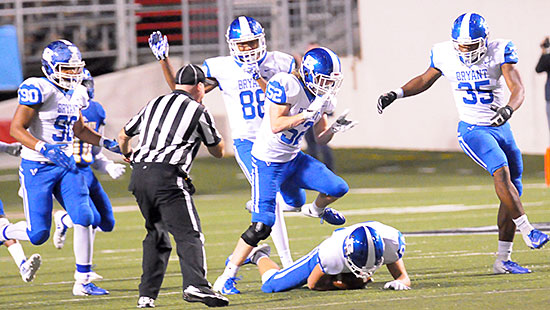 Much was made of the muffed punt by North Little Rock's Oscar Adaway late in the first half. Instead of great field position for the Charging Wildcats, trailing 7-0, Bryant had the ball and drove for its own score to extend the lead right before the break.
North Little Rock's defense did not have Adaway's back. It couldn't keep the Hornets out of the end zone under adverse conditions.
On the other hand, Bryant sophomore Miles Aldridge, after a strong return of the opening kickoff, fumbled, giving North Little Rock possession at the Bryant 45, with a chance to grab an early lead and all the momentum.
But, in contrast, Bryant's defense had Aldridge's back. They forced the Charging Wildcats to punt after three plays netted minus-5 yards of offense.
That set the tone.
***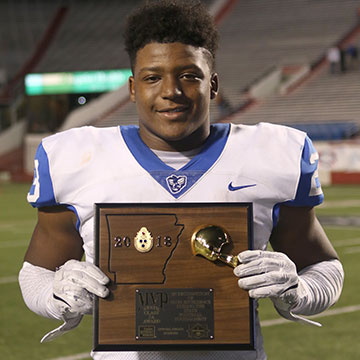 It has been noted that it was pretty "chippy" between the two teams. After all, they are rivals.
But the point is, this series has come to boil down to, which team can be most physical, tougher and most relentless. Who gets frustrated? Who gets intimidated?
Early in the game, North Little Rock fullback Tyler Day, who rushed for over 1,000 yards on the season but had just 8 yards on four carries against Bryant and was relegated to the role of blocker, was pounded down early in the game by Jakob Neel and got up trying to get in somebody's face, whether it was Neel or somebody else.
Day's reaction made the Hornets celebrate. They knew they were already in his head.
And later on, when he was trying to block Catrell Wallace on a sweep, Day was holding and wound up being thrown down by Wallace. Day rolled over and got on top of Wallace, unleashing a little more of his frustrations resulting in a brief skirmish. Off-setting personal fouls were flagged.
***
Kajuan Robinson, the 6-2, 305-pound wrecking ball of a defensive tackle, whom the Wildcats struggled to block all night, got up in the face of one of his teammates who was jumping into that fray, wagging his finger at him and letting him know that was not a welcome reaction.
As most Hornet fans know, Robinson didn't play football until he was a sophomore. He was a basketball player in junior high and not a bad one. Though he wasn't as quick and fluid in basketball as some of the other guys, his quickness and athleticism wound up serving him well in football.
He capped off his notable career at BHS with 12 tackles Saturday night including two sacks and four for losses.
***

Speaking of Neel, he was credited with 11 tackles in the game, but it sure felt like he was in on more of them, sideline to sideline and up the gut. It was a great finish for the team's leading tackler as a junior who had to battle back from a knee injury, rehabbing well enough that he was there and a major factor in his team's playoff run.
In six games this season, Neel was in on 60 tackles, third for the season overall, behind only Nate Wallace and Catrell Wallace.
***
The punting of sophomore Austin Ledbetter wasn't always pretty but it was strategic and worked out well for the most part. North Little Rock returned just two punts and wound up losing 8 yards combined on those two returns, including Adaway's muff.
The rolls at the end of several of Ledbetter's rugby-style kicks turned the field over. And, when he cut loose with a standard punt, he uncorked a 63-yarder.
***
Cornerback Andrew Hayes and safety Tamaurian Wilson each made touchdown saving tackles on the two big runs by North Little Rock's Brandon Thomas, nothing to overlook.
***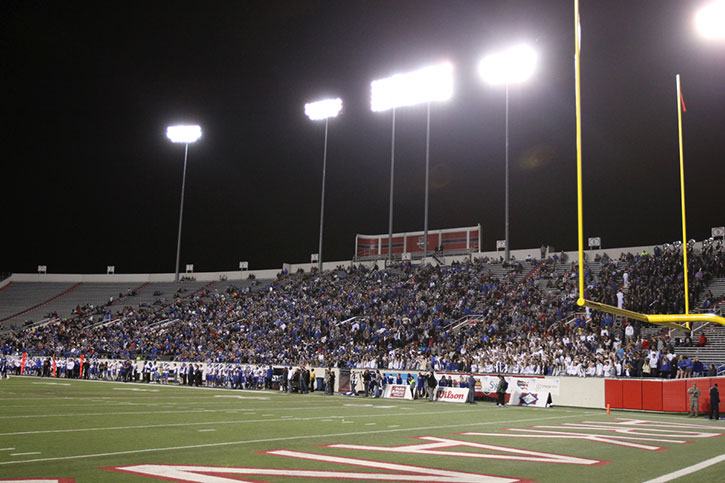 Third-downs were huge in the game. In fact, they were crucial in all three of the Hornets' scoring drives. Bryant converted 8 of 18 thirds. North Little Rock was 2 of 14.
The most spectacular conversion was the unbelievable catch by senior Grant Botti to set up the third TD. It converted a third-and-24.
Botti, who stuck with it for three years at Bryant to earn his playing time as a senior, only made 10 receptions on the season with five of those against Fort Smith Southside in the Hornets' 31-14 win over the Mavericks.
***
Great birthday present for Bryant offensive coordinator Kirk Bock who turned 54 years young on Sunday, a day after the State title. Bock, the former Bryant baseball coach, has, according to his wife Lillian, been a part of 10 State championships. It was the fifth at Bryant. Bock won four in baseball, 2010, 2012, 2014 and 2016.
***
The title just caps off what has become (with a year left) the winningest decade of Bryant football in its 69-year history.
The Hornets are now 80-25-1 from 2010 to 2018. From 2000-09, Bryant was 73-36-3 on the heels of the worst decade in Hornets' football history. The Hornets were 33-69-0 in the 90's and that includes the 11-1 mark in the remarkable turnaround that was the 1999 campaign.
After three splendid seasons, the Hornets are 30-8 under head coach Buck James.
***
The Hornets set several school records this season, according to my semi-official calculations. Not all of them were set by Latavion Scott but a lot of them were.
I'll update the record book and post it later this week.
***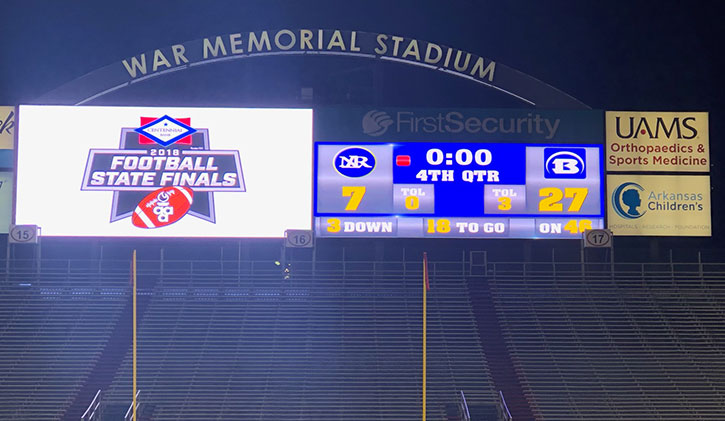 And that's the thing: The championship was the product of years of improvement and development. It represents all the longtime Hornet fans and supporters, all of the past coaches, and the former players, especially those guys that toiled through those one- or two-win seasons back in the '80's and '90's, and persevered through them; for the 49ers, the guys that made up the very first Bryant football team.
***
It was Bryant's first win over the Cats since 2010, a season in which North Little Rock finished 5-6 and an over-achieving Hornets' team, with little or no running game, went 9-3 and earned a share of the 7A/6A-Central Conference championship, winning a playoff game against Springdale before losing to the spoiler of many Bryant playoff bids, Bentonville.
2010 was one of the finest coaching jobs done by then head coach Paul Calley and his assistants including Steve Griffith, Brad Stroud, John Wells, Dale Jones and Jason Hay.
***
For the record, the quality of the coaching on the Bryant staff this year was tremendous by James, Bock defensive coordinator Quad Sanders, along with Shane Clancy, Terrance Heaggans, Chris Jordan, Julian Jones, Adam Pendergrass, Travis Queck and B.J. Shuller.
Hats off too to former defensive coordinator Darrell Burnett, now the head coach at Hot Springs, and Robert Hooks, who came to Bryant with James and, after one year, took over as head coach at Osceola. He coached the Seminoles into Class 3A State championship this weekend against Booneville.
Building on the past and taking it to previously unseen levels.
Great, great job! History makers.
***
"At 211 degrees, water is very hot.
At 212 degrees, water boils, which creates steam that powers a train.
Be the difference. Give the one extra degree.
Be 212 degrees."
That's what #212 means for casual Bryant Hornets football fans, who see the hashtag on social media posts.
It was a train that even the mighty North Little Rock Charging Wildcats could not stop.