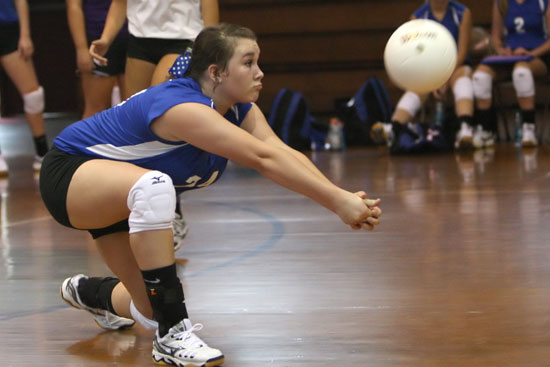 Photos by Rick Nation
BENTON — The Bryant Lady Hornets' competition in a preseason benefit jamboree at Benton on Thursday[more] evening took on a new urgency earlier in the day. Bryant athletic director Mike Lee and Lady Hornets head coach Beth Solomon were informed by the Arkansas Activities Association that the team's season-opening match with the Van Buren Lady Pointers in Russellville on Tuesday, Aug. 21, will count as a conference game.
That's because the Lady Hornets, playing in the 7A/6A-South Conference only have 12 league games scheduled since one of the members, Pine Bluff, doesn't have a volleyball program. Since Bryant will be seeded for the post-season with the 7A-West Conference, 14 games must be counted in order to make the ratings system that's used for seeding work. (Just another reason the current system which mixes 7A and 6A schools into conferences then separates them for the playoffs is — to be kind — a debacle.)
The AAA chose two Class 7A foes, therefore, Van Buren and Conway. Besides the fact that both are better programs — Conway's one of the best in the State — than anything Pine Bluff could probably produce, that meant that the Lady Hornets would need to be ready for a crucial outing right off the bat.
"The girls are excited," Solomon said. "They're ready to start playing. They've been working hard all summer."
In a way, the jamboree, pitting teams for one game instead of the usual best 3 of 5, turned out like many a season for any number of teams in any number of sports. The senior-laden Lady Hornets opened with a convincing 25-16 win over Little Rock Christian.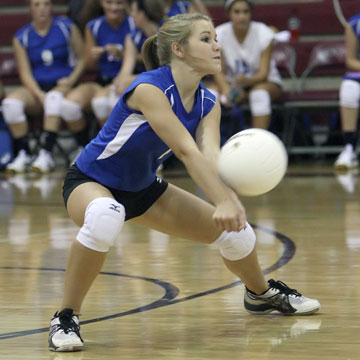 "The girls played really well," Solomon said. "We played in a hot gym (Cook Fieldhouse) and they had a couple of moments where they weren't playing great but then they pulled it back together and did well."
A loss to former Central rival Mount St. Mary followed, 23-25.
"They're a real good team," Solomon commented. "They've got some real good returning players. We missed a lot of serves that game. I think we missed seven. And at the same time, I think it was kind of good for us to have that loss. I think the girls kind of needed a little bit of a wake-up call. I think they may have been getting a little too satisfied with where we're at.
"Of course, we're not at the point in the season where we want to peak yet," she added. "So it was good."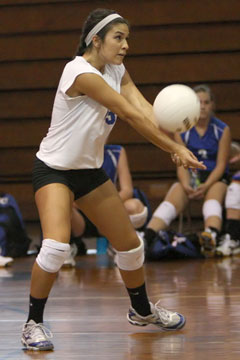 The Lady Hornets responded with a 25-20 win over Benton.
"This is my eighth year at Bryant and that's the first time we beat Benton," Solomon noted. "So that was a big accomplishment for the girls."
The arch-rivals will be competing in the 7A/6A-South Conference this season with the first of two meetings on Sept. 20 at Benton.
Bryant finished out the jamboree with a pair of 25-15 wins over Malvern and Little Rock Mills.
"It was good too because everybody got to play," Solomon mentioned. "All of my JV girls got to go in at some point.
"We're swinging well," she reported. "We had a few times where we weren't talking real good and, like I said, some missed serves but we're serving aggressive so it's hard to be real upset with them but seven is too many."
Statistically, Brooke Howell led the team with four aces. Hannah Rice had three. McKenzie Rice was 16 for 16 on serve-receive while Hannah Rice contributed 27 assists. Howell was 25 of 26 on attacks with 14 kills. McKenzie Rice added 16 kills and Alyssa Anderson nine. Anderson and McKenzie Rice each had 4 1/2 blocks. Courtney Davidson was in on 3 1/2.