For the first time since 1994, the Bryant Black Sox AAA American Legion team will take the field to open the season on Friday without Craig and Chris "Tic" Harrison coaching them.
The brothers took over as coaches in '95 and led a talented team to a State championship and third-place finish at the Regional tournament in Gonzales, La., where one of the teams they faced ran out a big right-hander named Ben Sheets.
Fifteen years and 497 wins and 203 losses later, they've decided to relinquish the reins.[more]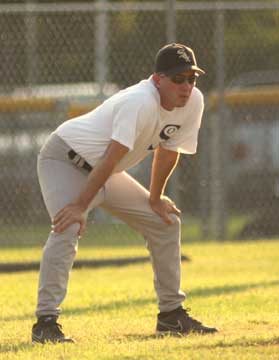 Darren Hurt and Wayne Taylor, both accomplished coaches in the Bryant Athletic Association leagues, will lead the AAA Sox in 2010. The season begins on Friday at 7 p.m. when the Sox host Benton McClendon's.
During those 15 years, the Sox have played in seven State championship games and, besides 1995, they won in 2005 and 2007. The 2007 season also included a Regional Tournament championship as the Sox became one of very few teams from Arkansas to make it to the American Legion World Series.
A baseball family in Pine Bluff, the Harrisons, Dale and Linda, moved their family to Bryant in 1985. Craig was playing college ball at Arkansas State, Tic was about to start his Bryant High School career and Jon (J-Bird) was a Little Leaguer. Ever since then, they've been involved to some degree in the Bryant Athletic Association and the youth baseball program.
Tic is sales manager at Priority Wire.
"I started about a month before I started coaching," he mentioned. "I started in April at Priority and started coaching the Black Sox in May. I've actually been there so long, I don't really have a title."
He and his wife Michelle have two daughters, Keedy, 14, and Macy, 9.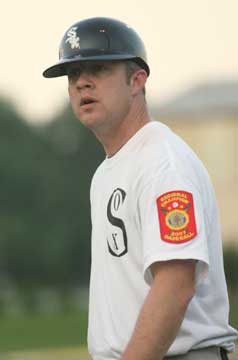 Craig is vice-president, finance and accounting, at Axciom.
"I'm in charge of all the company contracts for material contracts for $500,000 and over," he said. "I have to read all of those and get them approved internally and by our auditors. I'm in charge of our sales area, helping our sales guys. Under new leadership at the company, his job included some worldwide travel.
"In the last 18 months, I've gone to Shanghai, Sydney, Paris, Amsterdam and London, Sao Paola, Buenas Aires," he recounted. "At the time, all of our accountants were under me in all of our non-U.S. operations. Now, we've flipped some things around because that got to be too much. So, I'm not traveling as much. I went to Brazil just to help because I have some acquisition training in my background. We've bought a company down there. That was in January."
Craig and Sheryl have been married since 2003.
"I'm a grandparent," he said proudly. "My oldest son Justin and his fiancée have a little girl Gracyn, born last June. My other step-son Drew is a senior at UAM. Justin's passed his CPA so he's accountant in Little Rock. Drew made all A's this semester, majoring in accounting too. Their natural dad is an accountant and their step-dad's an accountant so they've got a long life ahead of them."
Earlier this week, Craig and Tic engaged in separate Q&A sessions:
BryantDaily.com: What went into your decision to not coach the Black Sox this year?
Tic: "Craig and I had always said that if one of us burned out or needed to quit for whatever reason, whether it was work, family or any reason, then we would both quit. So, he had some opportunities at work he felt like he needed to pursue. And, quite honestly, with the economy the way it was last year, it really kind of made you, anybody take inventory of your own job. It made some of your hobbies like coaching baseball — not less important — but you put a little more emphasis on what's paying the bills.
"Craig did that and I did that too, maybe not with the travel that he's been doing but just in general. It kind of made you realize that this is what's important and baseball kind of took a backseat to that when you look at it that way."
Craig: "First, let me say that coaching Legion ball is as big a part of my life as being an accountant or whatever. It defines who I have been. So it wasn't an easy decision. But when we got to the point where you're not wanting to go to the field, really — and not because of players, but because of time commitment or knowing when you get home you're going to have to get on the internet and work, and that you're going to have to get to the office at 7:30 the next morning.
"We've got a different crew at Acxiom than we had three years ago. So it's been coming on. The 2007 season, I thought would be it because I was in the hotels and working and doing all that stuff. But we were so good. I mean, you can't win a Regional and not come back. Then the 2008 season was just about the opposite. I thought we had a chance and we didn't play as good and I knew we had everybody coming back. So, it was kind of all involved there but it was to a point there where I said, 'Okay, I can't say we're done and then . . . ' You can't cry, 'Wolf' every year. You, at some point, have to do it."And really, I haven't had any regrets. I've really enjoyed this spring with the (Bryant High School) ball team, especially the last four weeks, and not having to worry about what's it mean, who's playing, who's not, who's going to be gone for all-star games and all that."
BryantDaily.com: When you look back on it, what do you remember most fondly about it?
Tic: "The players, that's what makes it hard to leave it. I'm still really close friends with past players. They're some of my best friends, hunting friends and fishing friends. I work with one of them. I still do a lot of things with guys that were past players and talk to them a lot, knowing that you can keep a steady crop of those kinds of relationships coming if you continue to coach. Quitting, you're cutting that off as far as making friends and some of them could be lifelong-type friends."
Craig: "There's not just one moment. I have a room in my house and you start in one corner and it's 1995. And by the time you work your way around, it's 2009 over there. Every year, it has a scrapbook with newspaper articles or pictures that have been made and the stats for each team. So, what sticks out the most is all of it.
"The State championships were fun. We played in seven in 15 years. Winning the Mountain Home tournament the first time was a cool thing. Going to St. Louis and winning that tournament (the Tournament of Champions, hosted by nearby Alton, Ill.) with a team that we ran over here at Ashley (Park) and didn't know if I'd even have a team up there. Then we won seven or eight in a row.
"It's all those great memories like Travis (Wood) hitting the tying homer in Searcy after we were down eight. I mean, there's so many memories. What's great is they're not lost. In articles, in pictures, the graduation things I get from the players or one of the past players calling me to ask about something. It'll never die. And just because we're not on the field, those memories will always last."
BryantDaily.com: What are you most gratified by or proud of over the last 15 years?
Tic: "As far as winning tournaments and different specific tournaments, the state tournaments I'm proud of and even the runners-up but just the program in general, just being able to maintain a top-notch program that had — I mean we had everyone's respect, not only in the state but in the region. Anywhere we went, Craig and I and our teams, we held our heads high because we knew we were representing something that was bigger than just, the Harrisons, and even the Black Sox. I mean, we really felt like we were representing at the highest level of Arkansas baseball in Bryant."
Craig: "Seven state championship games in 15 years because of just what a grind it is to get there. A lot of the years, they only took one team out of our district, at a maximum two, and you're talking about all of south Arkansas, from the river south. And going up against Pine Bluff, which isn't just Pine Bluff High, it's Pine Bluff, Watson Chapel, White Hall and Dollarway, sometimes a player from Woodlawn; and Texarkana which has players from three different states. Just to be able to win our league eight years in a row, I think that's big for us. And we put a lot of emphasis on it but, to actually do it that many times without getting knocked off somewhere.
"The Regional championship was a dream. Never in my wildest ideas or dreams did I think we would be able to compete for that because the other two times we had been there, we — the 1995 team played well; the 2005 team, it was an afterthought. We were so excited about winning the State, it was, 'Oh, yeah, we've got to go to Pine Bluff and play in the Regional.' (In 2007), we go over to Paducah (Kentucky) and this guy's a beast out there, to take the softball team's term. I mean, who is this guy?
"But, even the teams that didn't, we still have fond memories.
"And not having a losing record and, really, take out 1999 and not even close."
BryantDaily.com: How were you able to keep it at such a high level for so long?
Tic: "We figured out somewhere along the way how to make players play hard for us. And I don't know what the formula was but night and night our players, whether they were the best players, the worst players, the most talented or least talented, they always played hard. And heart wins a lot of baseball games."
Craig: "We got good players. You can be the best coach as far as X's and O's, game management, scouting the other team and if you don't have the guys that can do it, then you'll be okay but you're not going to be at a high level.
"Our system here, the Bryant Athletic Association system — I started the other day and I'm going to write what I'm going to call, 'One Man's View of 25 Years of Bryant Baseball.' My family moved here in '85 and I was still in college. I helped Dad.
"There was one team, one Babe Ruth team. They played all the county. I found (a picture of) the first all-star team we had in Bryant of 14 and 15 year olds in 1989. We went over to Malvern and we got beat because we couldn't catch the balls off the grass. We played on a skin infield at Ashley (Park). We got over there and it was grass and we couldn't field it. You'd think, ah, that's not that difficult.
"We came back that winter and we said, look, we have to do something here if we want to upgrade. So we went to the sanction and we got the grass on the infield and really started the development program with the kids and the rest is history. Now our youth program is second to none. It was me and dad and I remember Hayes LeMay over there and Coach (Mark) Kehrees and Coach (Jim) Catton. I know I'm leaving somebody out but it wasn't many of us. I remember taking that roller with the water and rolling that sucker across that infield a thousand times.
"I remember going to Jonesboro in '90 with our second all-star team. We win the district and we go to state, first time in a state tournament. We played Barry Lunney in the first game and we beat them 2-1. Then we got to the finals of the winners bracket and we won. We're in the finals of the state tournament in our second year and a guy named Torii Hunter (now an All-Star outfielder for the Los Angeles Angels) hits a couple of homers off J-Bird and we lost both games. He played shortstop for them.
"It's stuff like that that I don't think is captured anywhere that, to the people who've been here a long time, would be an interesting read.
"I do think, to give us credit a little bit, me and Tic studied teams. We didn't practice. And, really, in the summer there's not a time to practice because you play almost every day. Players aren't going to want to come out here during the day and practice especially since they've been through it for three or four months. So, it's about games and it's about knowing that Ty Throneberry at Pine Bluff, in 31 career at-bats against us going into the District tournament in 2006, never went to a three-ball count. So we could just throw it up there. Don't throw it down the middle, he's going to swing.
"Little things like that, because I'm a numbers guy and would sit down and try to chart things, studying other hitters and having tendencies and the books that Tic kept about first pitch and where it was and how many breaking pitches we threw for strikes and that kind of stuff.
"So, I do think that the game management and the game preparation, we put a lot into it. And I will miss that. I already have with just watching the high school and Coach (Kirk) Bock and just thinking about the nights and going home and, before all the work got involved, taking the stat book out of the last two years and plotting where a guy hits the ball and all that."
BryantDaily.com: What else will you miss?
Tic: "I'm going to miss winning ballgames. There's no doubt about that. People say why do you do it. My first answer is, I like winning baseball games. I'll definitely miss that. I'm trying to make up for it. To keep me busy in the summer, I'm playing a little bit of men's league and church softball, to try to keep competitive. It won't be anything like what we were doing. We were competing at a pretty high level."
Craig: "I'm going to miss it all. I won't miss the off-the-field stuff, the headaches. Although, you look back and they're kind of funny now with the fence around the sprinklers so we couldn't turn them on and the little gate they have up so we couldn't park on the hill.
"It's things like, Sunday morning I was at church and I was walking out. Sheryl's gone to Branson so I was by myself. And I look up and I see a guy waving to me. It was Matt White. And he waved me over and introduced me to his wife and he said, 'You and Tic going to go put out yo-yo's this weekend? I know Memorial weekend we never played because you guys would go out. ' I said, 'Yeah, as a matter of fact, we are.' He goes, 'I want to go.'
"That kind of stuff is the cool stuff. And we didn't have that kind of relationship with everybody. There are those that will read that and say, that wasn't me. But, for the most part, our relationship with our players was really special. That will be sorely missed because, even the other night, after the Hornets won the (State championship) game and the players came over and brought the trophy over and we high-fived. And it was the guys that I knew. It was Brady (Butler) and Brennan (Bullock). The younger guys, I don't know them and they don't know me. But I'll miss that.
"Who knows, maybe one day things will change but I'm excited about this summer. I'm going to come out and watch some games if I can. I think I'll be able to come to some but this staying after midnight, picking up the trash, I'm not going to be doing that anymore."
BryantDaily.com: How difficult was it to make the decision to stop?
Tic: "Somewhere along the way last year, we just knew that it was the right thing to do. There wasn't any specific thing that happened. We both felt like everything's come together where we've had success, our jobs are a lot more demanding. My kids — you know, Keedy's 14 years old and I started 15 years ago. My family has never been to the beach in the summer or anything like that, so we're going to do that this summer.
"But they're the ones — they want me to keep coaching. For me, it's not so much a family thing where they're saying, 'Dad, please don't coach.' I'm just wanting to show them what it's like if I don't coach, the things that we can do, the places we can go and see and just time at home. We're all going to miss going to the tournaments. We did that as a family since Macy's been old enough to go on the road and we'll definitely miss the tournaments because that was kind of our little mini-vacation.
"It's definitely going to be different and, really, this week is when it's going to start to be different because you start thinking, what would I be doing if I was still coaching. Right now, I'd be driving to the field for practice.
"In my heart, I hate that I'm having to have this interview because I really know I'm going to miss it. I wish those guys luck this summer. And congratulations to the Hornets. Talk about representing the city!"
Craig: "We talked about it. It was always mine. (Tic) would've kept on.
"One of the cool things is that I never considered myself the manager and him the assistant. I never had a guy that you could just look over at first and, with a nod or a no, I knew. And it wasn't just the obvious bunt or don't bunt. It was pinch-hit for somebody or let's run right here or just whatever.
BryantDaily.com: Was that something you guys had naturally as brothers or did it develop?
Craig: "The natural part of that was, when we were growing up, there weren't seven games per night on television. We listened to Cardinal games on the radio. Jack Buck did such a great job of description that you mentally had the game in your head while it was playing. We weren't very good players. Somehow we made it to college and played but it was just on knowledge versus any talent.
"You watch a game, you pick up on it. First-and-second, nobody out, third baseman's got to hold his ground in case it's bunted hard, first baseman's charging and so on. Then you see it on TV or someplace and the second baseman's running to second and the first baseman's charging and the pitcher's slow getting off the mound, you bunt it up that way and there's nobody there. Little things like that."We talked it. If there is a book, we had it. It was by the book."
Bryant Daily.com: Anything else that comes to mind?
Tic: "Bryant baseball is here to stay. It's big. The people who are running the show now, it's all about the kids. I've always given the credit for our success to the youth program. The guys over there running that are the ones that deserve the pat on the back. We just sat back and took credit for what they did with these kids when they were younger.
"I graduated from high school in 1990. That's just when Bryant started being a little more competitive through the late '80's. The early '90's when I was in college, that's when they really started winning some ballgames, winning more than losing. Then 1994 is when Ben (Hickman) and Mark (Burnett) were there. Then we started in 1995. Between me and Craig and J-Bird and my dad, when we moved here, Bryant wasn't really a baseball program at all. Now it's one of the best in the state. We know we were a part of that. Being a baseball family, that's something we hang our hat on."