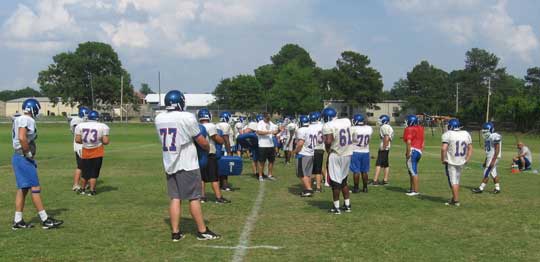 After a 75-play scrimmage in Monday's sweltering heat, the Bryant Hornets football team engaged in a lighter day of work in shoulder pads, helmets and shorts on Tuesday.
They also took a look at video of the Monday's work, something that head coach Paul Calley said has become a key part of the team's improvement.[more]
"Watching the film, it's invaluable," he stated. "Just the little things that we can pick up and correct.
"The heat really got to us, all of us, even the coaches," Calley noted. "We weren't ready for that. We had a great week weather-wise the week before and, from the moment we stepped out there (Monday), we were questioning whether or not we were tough enough to do it.
"I thought after watching film that we executed much better than what I had thought just watching it live. There were still a couple of small mistakes here and there but I liked the way we played fast on both sides of the ball."
Calley, who coaches the offensive line, really likes the way his group is developing.
"We're doing some things on the offensive line that we haven't been able to do in a couple of years," he noted. "We're athletic, we're getting better."
He said that too has been helped by the addition of practice and scrimmage video sessions. The video work has been enhanced by the addition of a lift.
"We've always wanted to do it and we always talked about doing it but we never really made time for it," Calley said. "But you have to make time. We got this lift out here (from Ahern Equipment Rentals) and we can get an end zone shot, a tight copy all the way down the field.
"If we don't take a three-inch drop step on a zone, I can see it. If we don't take a six-inch veer step and cut off the gap, I can see it. And that is where we made our biggest improvement from last week to (Monday). I can tell them all day long and it goes in one ear and out the other. But when I show it to them, they don't realize they're doing it sometimes. It makes all the difference to me, just being able to see. I can see a lot of it live but I can't see it all. So, when you go back and see, 'Well, this is why that didn't work.'"
The coach gave an example, adding, "There's one play where we really have our defense in a bind and, if I do a better job of coaching it, we probably have 50 more yards of offense (in the scrimmage on Monday). And it's my fault because I haven't paid enough attention to it. But, after I saw it on film about three times, then I knew I didn't do my job. And the kids feel the same way."
The Hornets will scrimmage on Wednesday, perhaps in conjunction with viewing the video, then practicing to correct mistakes then scrimmaging some more.
"I feel like we're doing a lot and we'd probably do a lot better if we would scale it down, but we want to take a look at everything, see what we like, eliminate some of it, add some things we feel like we need," Calley stated. "And, as I've said, as a group overall, I feel good about this group. I think they enjoy playing the game. They come to practice and, if it's not 93 degrees, they come ready to work."
Monday also marked the return of several players that had been playing baseball.
In assessing the different areas of the team, the coach related, "The secondary still has a ways to go. The linebacking corps solidified when (Hunter) Mayall came back. We didn't have a lot of depth there but with Mayall back, it gives us a boost there.
"The defensive coaches kind of juggled the defensive line a little bit and they put (Josh) Hampton back down inside," he continued, referring to the scrimmage. "He's tough at the end but when he's inside, you have to double-team him or he's going to cause you problems no matter whether you're running away from him or at him. He's not going to be blocked and his hands and feet have gotten so much quicker. He's impressed me.
"We're still looking for somebody to come on at the end," Calley added. "Coach Griff (defensive coordination Steve Griffith) has been concerned with it. I think Ben (Seale) and Hampton do a solid job and we've moved Matt Jones out there to look at him. We've also looked at moving James Kidd out there to look at him. You've got to have somebody that's really quick, can read things quickly. It's a tough position to play. It's who I'm always trying to pick on (as an offensive coach). We're trying to work on everybody's ends."
Turning to the offense, Calley said, "Our quarterback situation, I feel good about. We're a little bit behind where we were last year at this point but it doesn't matter. We're going to get caught up."
Blake Davidson who will be a senior this fall returned from baseball, joining junior KaRon Dismuke and sophomore Austin Powell at quarterback.
Of course, the Hornets lost the program's all-time leading rusher in Chris Rycraw but Calley said, "Overall, I feel good about our running back situation. I feel like we've got more depth there even with Jacob (Powell) being sidelined with an injury. When he comes back, we're going to even be deeper.
"Stephen Clark is doing a good job. Jalen Bell's got great vision. KaRon, when he's not at quarterback, he can play tailback. That's an added dimension. When he's in there, it gives us something we haven't had since (Matt) Schrader, really, being able to run the quarterback. We didn't have a lot of designed runs for Matt, he scrambled mostly. With KaRon, we've got designed runs. He's a running back that can throw it a little bit."
Calley added that, with punter Tanner Tolbert and placekicker Jace Denker returning, the special teams may be as good as the Hornets have had.