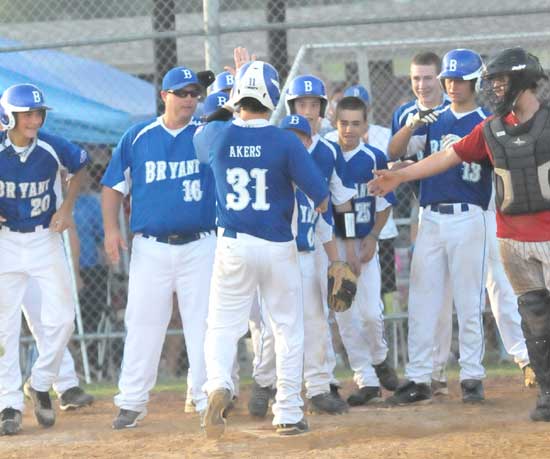 BENTON — Ashton Green twirled a three-hit shutout and Wesley Akers capped off a run-rule win with a three-run walk-off homer in the bottom of the sixth as the Bryant All-Stars rolled to a 10-0 win over White Hall in the Babe Ruth 14-year-old State Tournament at Bernard Holland Park Sunday.
The win sent Bryant to the winners bracket final against El Dorado on Monday at 4:30 p.m.
The Bryant 14's include Wesley Akers, Harrison Dale, Justin Emmerling, Zach Graddy, Ashton Green, Tristan Matthews, Austin Miller, Christopher Phillips, Nate Rutherford, Korey Thompson, Chris Troillett, Chase Tucker and Blake Yates. Jason Thompson manages the team with assistance from Mark Akers.[more]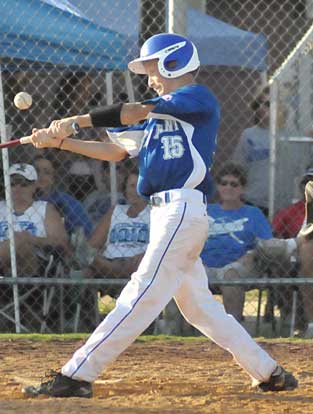 Green, Akers and Matthews each had two hits in the game for Bryant, which scored in five of the six innings. Akers' game-ending shot came after Green was hit by a pitch with one out then Dale walked.
Green didn't allow a hit until there was one out in the fourth. He worked around an error to start the game, retiring the next 10 in a row. Tyler Zuber, his mound counterpart, then broke up the no-hit bid with a single to center. A one-out single by Dillon Jones in the fifth and a lead-off single by Brandon Jones in the seventh accounted for the other two hits. Green walked one and struck out four.
Bryant took a 2-0 lead in the first. With one out, Dale was hit by a pitch, advanced on a passed ball and scored on a double by Akers. With two down and Akers on third, Tucker drew a walk then left early from first. He was able to get into a hotbox and stay in it long enough for Akers to score the second run.
In the second, Miller drew a walk and Rutherford sacrificed him to second. He stole third then scored on a squeeze play with Matthews getting the bunt down and beating it out for a hit.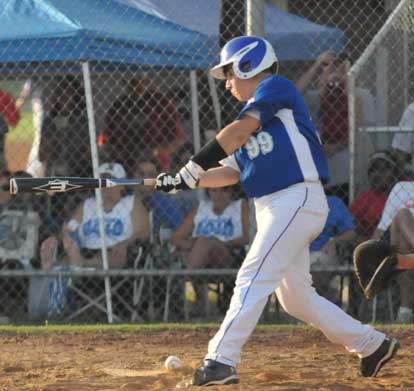 Bryant stayed with the small ball as Thompson bunted Matthews over and, after a passed ball got him to third, Green bounced one up the middle for an RBI single to make it 4-0.
Graddy beat out an infield hit with one down in the third then, with two away, was off on contact and scored on a double by Miller.
Matthews began a two-run fourth with an infield hit. Thompson got his second successful sacrifice bunt down and, after a passed ball, Green singled to right to make it 6-0. Dale bunted and Green beat the play at second. A walk to Akers loaded the bags for Graddy who delivered an RBI single to center.
After Warren Wolf, the third White Hall pitcher, held Bryant scoreless for the only inning of the game in the fifth, he surrendered the three clinching runs in the sixth.