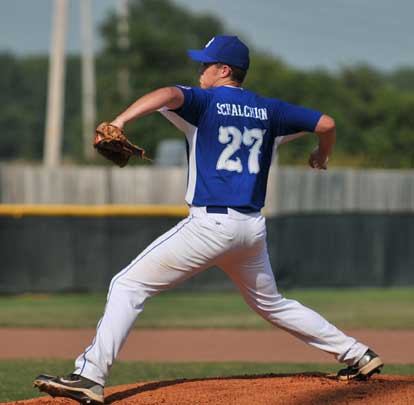 LONOKE — Tryce Schalchlin pitched shutout ball into the fifth, the Bryant All-Stars built a 7-1 lead then held off a seventh-inning rally for a 7-5 win over the Little Rock Junior Deputy All-Stars at the Babe Ruth 15-year-old State Tournament on Sunday.
Bryant batters smacked four doubles including two by Blain Jackson as they gradually pulled away.
Junior Deputy scored four times in the seventh and had the potential tying run at the plate when Riley Hall got clean-up hitter Noah Burks to fly out to Tyler Green in center to end the game.
With the win, Bryant advances to the winners bracket final, probably against the rival White Hall All-Stars, on Monday at 6 p.m.
The Bryant 15's include Zach Cambron, Evan Castleberry, Hayden Daniel, Josh Davis, Evan Ethridge, Cody Gogus, Tyler Green, Riley Hall, Blain Jackson, Tyler Nelson, Cameron Price, Daniel Richards, Tryce Schalchlin, Devon Sears and Marcus Wilson. The team will be managed by Jimmy Parker with assistance from Tony Ethridge.[more]
Schalchlin allowed just two hits over the first four innings — a lead-off single by Logan Stafford in the first and a scratch hit on the infield by Tanner Wagner with one out in the third. He walked two and struck out three.
Junior Deputy scratched out a run in the fifth then Schalchlin gave way to Hall in the sixth. After a 1-2-3 sixth, a pair of errors and a hit batsman filled the bases with one out in the seventh. Stafford then cracked a 3-2 pitch for a two-run double. A passed ball allowed a third run to score then, with two down, Collin Carrone singled in Stafford to make it 7-5 before Burks flew out.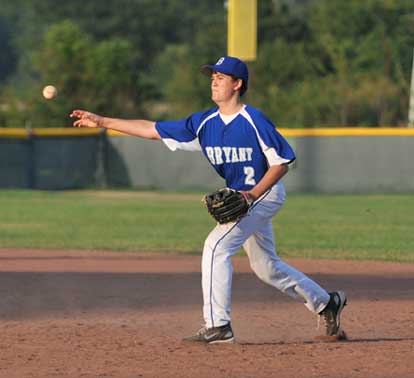 Bryant took a 1-0 lead in the opening inning, taking advantage of a pair of errors. Wilson reached on the first one, stole second then scored on the second miscue as Gogus reached.
In the second, Schalchlin led off with a single to center, advanced on Cambron's tap to first then raced home on Jackson's first two-bagger.
Despite a double by Green, Bryant was denied in the third but, in the fourth, Jackson smacked his second double with one out, took third on a single by Price and scored when Daniel reached on an error to make it 3-0.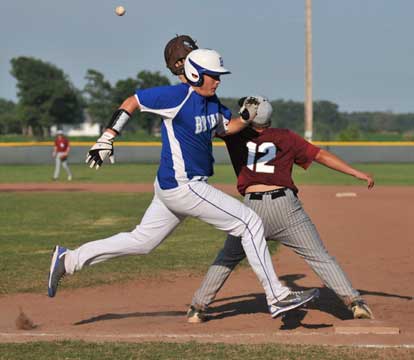 Junior Deputy's first run in the top of the fifth resulted from a single by Nathan Woodell with one out. Jack Hansen walked and, after a wild pitch moved them to second and third, Stafford singled to chase in Woodell. With runners at second and third, Schalchlin got Justin Weigle to ground out to Daniel at short to end the threat.
Bryant answered with a two-run uprising in the bottom of the inning. Wilson singled with one away, stole second and, after Gogus walked, went to third when Schalchlin's grounder to third was botched. With sacks juiced, Cambron plugged the gap in left-center for a double to plate a pair and make it 5-1.
Daniel singled with one out in the sixth. He swiped second then scored on a single to left-center by Castleberry. With two down, Gogus completed the scoring with a single that brought in Castleberry.