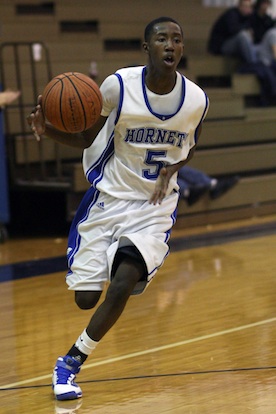 By Rob Patrick
The difference in Tuesday night's 7A-Central Conference game between the Bryant Hornets and the Little Rock Central Tigers — besides the Tigers 6-6 shot-blocking forward Alandise Harris — was that the visiting team to the Hornets Nest got the best of it at the end of each quarter.
And, ultimately, it came down to the events that unfolded at the end of the game. Bryant had rallied to within 2, 32-30. Jabari Shaw had just missed the front end of a one-and-one for Central with 1:32 to play. After a timeout with :56.4 left to play, the Hornets held for a last shot and ran a play that got an open look for senior K-Ron Lairy, the team's leading scorer. From the left corner, Lairy's shot appeared to be true.
But, what would've been a game-winning 3-pointer rimmed out and, with :02.5 left, Shaw sank two from the charity stripe to seal a 34-30 win for the Tigers, who came into the game one of four teams tied for second place in the league.
Central kept its share of second improving to 10-10 and 5-2. Bryant, with its second punch to the gut in a row (following a 42-40 loss at North Little Rock), dropped to 8-13 and 1-6. The Hornets visit Little Rock Catholic on Friday.[more]
"If, going into the game, we could've said we could have one shot to win the game," commented Hornets coach Ron Marvel, "we would've been thrilled to be in that situation. And we were in that situation and we had the shot. We just didn't knock it down.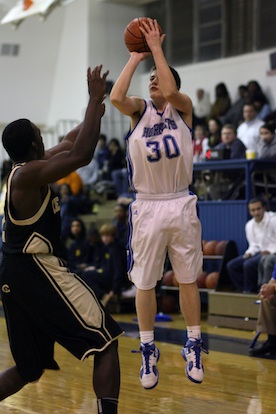 "When we came out, we'd called a man-to-man play," recounted the coach. "Then we go out and they're in that zone so, by not having any pressure on us, it was easy to change the play from the sideline. So we called a play called 'double back' that sets a double back-screen for that guy slipping out in that corner. The play worked to perfection. The shot just wouldn't go down for us. Of course, we missed shots a bunch of times before."
The Hornets shot just 29 percent from the field (10-of-35). The Tigers didn't set the nets on fire (12-of 29, 41 percent) themselves. And it helped that Bryant forced 13 Central turnovers while only committing four themselves.
"It was a good ballgame," Marvel said. "They just hit more shots than we did."
What helped Bryant stay close at that rate was the fact that, with a 30-25 lead, Central coach Oliver Fitzpatrick decided to hold the ball to start the second half to try to get Bryant to come out of its zone defense. Marvel had the Hornets stay back in their zone and the third quarter ran down to the final :11.8 with the players on the two teams pretty much just staring at each other.
It was not the first time Fitzpatrick and the Tigers had utilized such a tactic in a game at Bryant. He did the exact same thing four years ago.
This time, the Central coach called a timeout at the :11.8 mark and set up a play but it wound up getting only an 18-foot shot from the wing for Harris. But the senior knocked it down to give his team a 32-25 lead going into the fourth quarter.
It was the only field goal the Tigers attempted or made in the entire second half. They didn't score again until Shaw's free throws at the end.
"I hate the circumstances of the third quarter," Marvel stated, "but I felt like, at that point, if we stayed within 5 points that we were in good shape going into the fourth quarter. And it was our possession to start the fourth quarter. I thought, well, if we hold them at the end of the quarter then we get the ball, we can gain 2 points on them. I didn't feel like that was a bad deal for us. If they hadn't have hit that shot, it wouldn't have been a bad deal. But they closed out that quarter with that shot. If they hadn't hit it, we'd have been tied at the end instead of down 2."
The Tigers had closed out the first quarter with a 3-pointer by Trevon Wilkerson after Bryant had built a 12-6 lead.
In the second quarter, the Hornets were within 26-25 going into the final 10 seconds when Harris hit a driving jumper as he was fouled to bump the lead to 3. He missed the free throw and Shaw rebounded and scored at the buzzer to give the Tigers their 30-25 halftime advantage. That was 4 key points in the last 10 seconds of the half.
Lairy led all scorers with 12 points. Harris finished with 10 for the Tigers.
The Hornets had their chances in the fourth quarter. Senior Brandon Parish couldn't get a shot to fall on the opening possession of the period. Then, despite the fact that Bryant extended its defense to force the action, the Tigers spread the floor and continued to work the clock.But an offensive foul by the Tigers Jordan Washington gave Bryant another chance to whittle on the lead.
But a 3-point try by Dontay Renuard wouldn't go.
Renuard, coming off a hot-shooting game at North Little Rock in which he pumped in 23 points, was held to 5 against Central.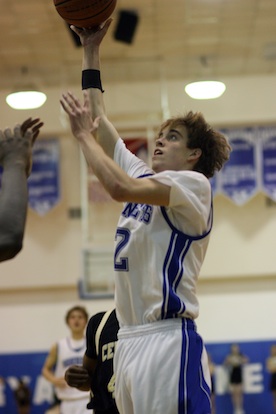 The Hornets forced another turnover but L.J. McLaughlin's ensuing 3-point try refused to fall. Yet another Tigers turnover followed. McLaughlin got the ball inside this time only to have Harris reject the shot.
Fitzpatrick called a timeout with 4:18 left but, when play resumed, the Tigers threw it away again. This time, Lairy capitalized with a 3 to get the Hornets within 32-28 with 2:43 to play.
Bryant had fouls to give and continued to pressure the ball, building up to six fouls by the 2:16 mark. Moments later, the Tigers committed yet another turnover and Lairy fed Connor Rayburn who got a shot up and over Harris and in to make it 32-30 with 2:00 to play.
Central called a timeout at 1:58 only to commit a turnover on the ensuing inbounds play. Harris blocked a shot inside by Rayburn. But Rayburn hustled after the loose ball and got it to Lairy who launched a 3 from the right wing. But it wouldn't go.
Jones was fouled on the rebound but missed the front end, setting up the final series of events.
It was truly a frustrating finish for the Hornets who were 2 of 10 from the field in the final quarter while Central didn't even attempt a field goal.
"It's got to wear on you," Marvel said of the close losses. "You've got to feel like your snake-bit. We've had those kinds of ballgames all year. If we're in the ballgame, it's obviously going to be a close game because we don't have the ability to run away from somebody. So we're always going to be involved in a close game and, if you're going to win, you've got to win the close ones."
The Hornets started well. Renuard hit his only 3 of the game to start it. After Washington got Central on the board, K.J. Hampton hit the offensive glass to add to the Bryant lead.
Two free throws by Harris and a basket by Washington gave the Tigers a 1-point edge but it disappeared when Parish bombed from outside and, after a Central turnover, McLaughlin hit the offensive glass for a bucket. A floating jumper in the lane by Lairy had the Hornets up 12-6 before Wilkerson's buzzer beater.
Harris drove for a hoop but a layup by Hampton had the Hornets ahead 14-11. Harris and McLaughlin traded baskets but then a three-point play by the Tigers Brock Melvin tied the game.
After a Bryant turnover on an illegal screen, Matt Johnson delivered a 3 for Central, which took the lead at that point. The Tigers built it up to 24-18 before Renuard scored of a nice feed from Kendall Butzlaff. With 2:08 left, Melvin was hit with a technical for commenting on a call that didn't go his way when he tried unsuccessfully to save an errant pass from going out of bounds.
Lairy hit a free throw and, on the subsequent possession, earned another trip to the line where he sank a pair to make it 24-23.
Richard Brown answered for Central but, with :55.6 showing, Lairy converted two more free throws to keep it a 1-point game before the Tigers' 4 point burst in the final :10 of the half.
LITTLE ROCK CENTRAL 34, BRYANT 30
Score by quarters
Central 9 21 2 2 — 34
BRYANT 12 13 0 5 — 30
TIGERS (10-10, 5-2) 34
Player fg-fga ft-fta reb. fls pts
o-d-t
Wilkerson 1-2 0-0 1-3 4 4 3
Griffin 0-3 0-0 2-0 2 0 0
Harris 4-7 2-3 2-5 7 2 10
Washington 2-5 0-1 0-4 4 1 4
Melvin 2-4 3-3 2-2 4 2 8
Shaw 1-3 2-3 2-0 2 0 4
Brown 1-4 0-0 0-1 1 1 2
Johnson 1-1 0-0 1-0 1 0 3
Team 0-1 1
Totals 12-29 7-10 10-16 26 10 34
HORNETS (8-13, 1-6) 30
Player fg-fga ft-fta reb. fls pts
o-d-t
Lairy 2-10 7-8 2-2 4 3 12
Parish 1-6 0-0 0-0 0 0 3
McLaughlin 2-5 0-2 2-2 4 2 4
Hampton 2-2 0-0 1-3 4 1 4
Renuard 2-10 0-0 1-3 4 4 5
Butzlaff 0-0 0-0 0-0 0 2 0
Cozart 0-0 0-0 0-0 0 1 0
Rayburn 1-2 0-0 1-0 1 3 2
Team 1-1 2
Totals 10-35 7-10 8-11 19 16 30
Three-point field goals: Little Rock Central 3-8 (Wilkerson 1-1, Melvin 1-1, Johnson 1-1, Brown 0-2, Harris 0-2, Shaw 0-1), Bryant 3-15 (Renuard 1-6, Lairy 1-5, Parish 1-3, McLaughlin 0-1). Turnovers: Little Rock Central 13, Bryant 4. Technical fouls: Little Rock Central, Melvin.