Photos courtesy of Paul Dotson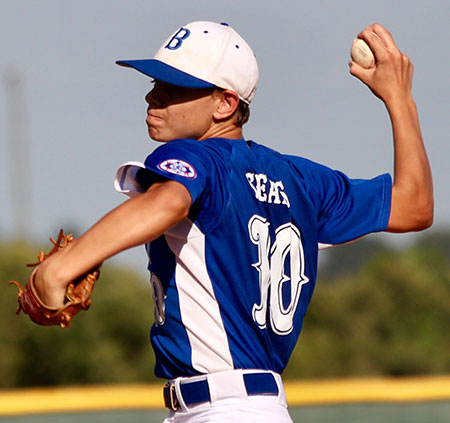 LONOKE — With their fourth lopsided win in a row at the South Arkansas 14-year-old Babe Ruth State Tournament, the Bryant Athletic Association All-Stars advanced to the championship round on Tuesday. They'll await the survivor of the losers' bracket and, as the only unbeaten team remaining in the 10-team tournament, Bryant will have to be beaten twice to be denied the crown.
The first title game will be Tuesday at 7:30 p.m. If a winner-take-all final is required, it'll be Wednesday at a time to be determined.
The Bryant 14's, coached by Scott Allison, include Kannon Allison, Tyler Bates, Clay, Connor Coleman, Noah Davis, Cole Ferguson, Will Hathcote, Connor Martin, Cameron McDonald, Justin Orender, Alec Purdom, Ryan Riggs, Blaine Sears, Lawson Speer, Brandon Thomisee and Joshua Turner.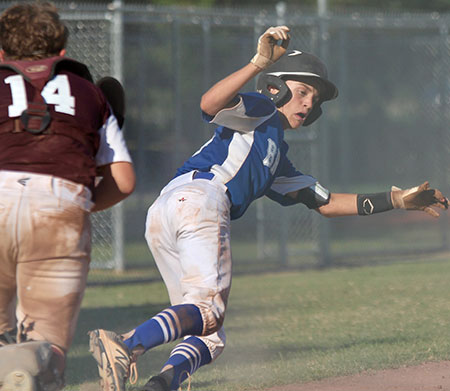 Coming into Monday's game, Bryant's Stars had wiped out Camden, 16-3; Magnolia, 10-0; and Sylvan Hills, 13-2. They followed up with a 15-4 rout of the Crossett All-Stars.
Sears went 3 for 3 in the game with three runs scored and a run batted in. Davis, Bates and Turner each had two hits with Bates and Davis each driving home three.
Hathcote and Sears shared mound duty in the game. Over 2 1/3 innings, Hathcote struggled with his control a bit, waking five. Crossett took advantage with four hits to score three runs. Sears finished by pitching 2 2/3, allowing a run on four hits with two strikeouts and no free passes.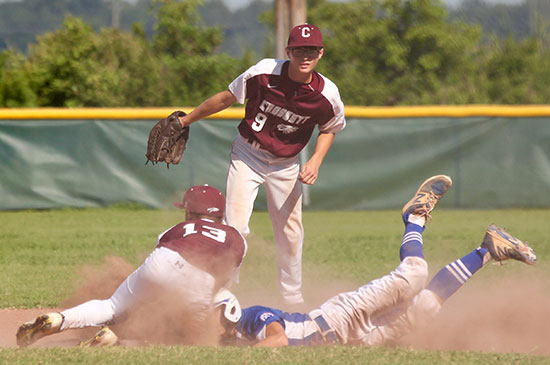 Three walks and two hits produced two Crossett runs in the top of the first inning but the lead didn't last long as Bryant tied it in the home half. Davis ripped a triple to lead off the inning. Riggs got a bunt down so nicely that he beat it out for an RBI hit.
Riggs stole second and, with two down, Speer singled him home with the tying tally.
Hathcote pitched around a pair of one-out singles in the second and, in the home half, he and his teammates took the lead for good with four runs.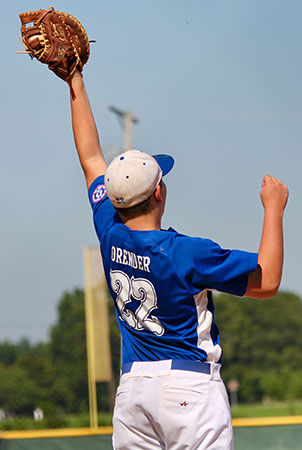 Turner started the uprising with an infield hit. Sears singled as well then Orender waited out a walk to load the bases. A passed ball allowed Turner to score the tiebreaking run.
A walk to Allison filled the sacks again so when Davis was plunked by a pitch, it forced in a second tally. On a lineout to second by Riggs, Orender tagged up at third and scored as both Allison and Davis tagged and moved up a base. Allison tagged and scored when Clay lined to second, making it 6-2.
Two walks and a single produced Crossett's third run in the top of the third.
Again Bryant's response was far greater. In the bottom of the third, Speer was struck by a pitch then raced to third on Turner's single. Sears lined a hit to center for an RBI and, with one out, Allison drilled a triple to center to plate two more.
Davis singled in Bates to make it 10-3 then Riggs drew a free pass. Davis scored on Clay's groundout to second, making it 11-3.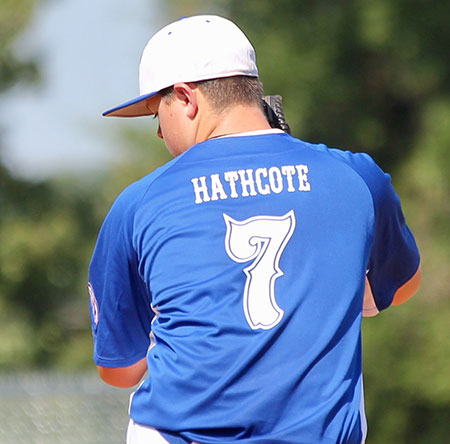 Sears pitched around a lead-off double in the top of the fourth. Crossett eked out an unearned run in the top of the fifth but, once again, Bryant trumped that, scoring four more runs in the fifth.
A single by Sears, a walk to Thomisee and another to McDonald loadd the bases. After a pitching change, Davis got Sears home with a sacrifice fly to make it 12-4.
Riggs was plunked then Clay doubled in two and Bates singled in another to make it 15-4, a run-rule difference.