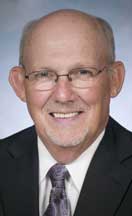 LITTLE ROCK – Arvest Bank announces today that Jim Ferguson has been hired as senior vice president in commercial lending, and will office out of the Arvest Bank Bryant location serving Saline County. Nathan Harbert, commercial loan manager for Arvest Bank, announced the appointment.
Ferguson has been in the financial services business for 39 years. He previously held an autonomous bank president position for Arvest Bank in Bryant from 2001 to 2003. He then went to work for Elk Horn Bank serving as city president before recently joining Arvest again. Ferguson is a graduate of Southern Methodist University School of Banking in Dallas, Texas and Basic and Intermediate Lending Schools in Jonesboro. He also attended the University of Central Arkansas and Henderson State majoring in business.
About Arvest Bank
Arvest Bank operates more than 200 bank branches in Arkansas, Oklahoma, Missouri and Kansas through a network of 16 locally managed banks, each with its own board of directors and management team. These banks serve customers in 90 communities with 12-hour weekday banking at most locations. Arvest also provides a wide range of banking services including loans, deposits, treasury management, asset and wealth management, life insurance, credit cards, mortgage loans and mortgage servicing. Arvest operates a mortgage company, asset management company, insurance division and mortgage servicing company. Arvest is an equal housing lender and member FDIC.