Editor's note: Tonight's Bryant-Catholic game will be broadcast at 93.7 FM and 690 AM Fox Sports Arkansas with pre-game at 6:30 p.m., and live streamed by Fidelity Local 6 here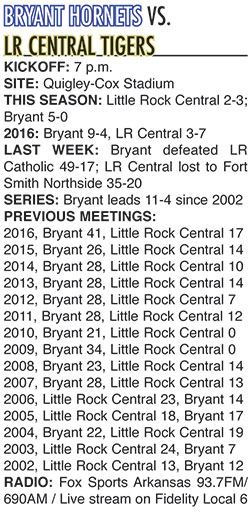 If they don't come right out and say it, almost every athlete has thought it at one time or another:
"Coach is never satisfied."
And, perhaps counter-intuitively, that seems especially true when a team is playing well. Good coaches have a way of praising and challenging — praising the good things that a team, a group, a player has done while continuing to challenge them to be even better, pushing them to meet their full potential individually and as a team, fighting to expand their own perceived limitations.
Like any good teacher, they see what their pupils are and what they could be. On a day-to-day basis, they see the little things, the mistakes that thwart that improvement as well as the steps, big and small, that move them forward beyond what even that player or that team thought it could be.
So, it's no surprise that the Bryant Hornets coaches were pleased with their team's school record-breaking 49-17 victory over the Little Rock Catholic Rockets last Friday (total offense in a game, first downs in a game, offensive snaps in a game) but they were not satisfied.
"I thought it was a good game for us," said Hornets head coach Buck James. "But I still would like us to be sharper. There were some things that didn't go right for us.
"I'm asking for more and more each week," he asserted, "but I know what it's going to take down the road for us to be able to compete with some of the teams in our conference and, hopefully, in the playoffs."
That's another thing: Coaches don't take anything for granted. The Hornets are ranked No. 2 in the state, unbeaten at 5-0 overall and 2-0 in the 7A-Central Conference and seen, by most outside observers, as a lock for the playoffs, James is taking nothing for granted. And that's what he wants from his team.
"If we don't ask more from ourselves right now then, later on, we're going to need it — if we don't work on it, I don't know if it'll be an attainable goal for us," he continued.
"But I'm really proud of the way they've competed."
Tonight, the Hornets go for 6-0 and 3-0 against the Little Rock Central Tigers and, by most metrics, they should get it done. The Tigers are somewhat inexperienced and they've struggled since a season-opening win over Rogers Heritage. And Bryant's going for its 11th consecutive win in their rivalry, which extends back to 2002.
The Tigers showed their potential, though, when they battled unbeaten North Little Rock at home two weeks ago and trailed just 23-20 in the second half before suffering a 31-20 loss.
"They're a very, very athletic football team," James said. "They've got a lot of team speed. They're long.
"They've had some injuries," the coach allowed. "They've had some guys that have left, going to other schools. So, they've had a lot of obstacles. But, you know, that makes you strong.
"I think they have a good football team and they still could be a playoff team," he concluded. "And they're looking for something to grasp onto and get the ball rolling for them."
Of course, nothing would do that like knocking off the No. 2 team in the state.
No doubt, the Hornets will get their best shot.