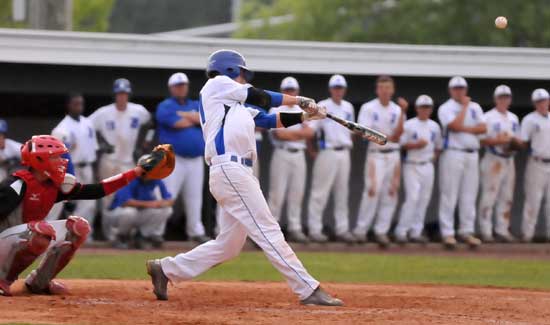 By Rob Patrick
Photos by Kevin Nagle
In two games over the last two seasons, the Bryant Hornets have now managed just[more] two hits against Russellville Cyclones ace right-hander Derek Birginske. The Hornets used their lone hit in both games to score a run but in neither instance was it enough. In 2010, the Cyclones pinned a 5-1 loss on the Hornets and, on Tuesday evening, they eked out a 2-1 win to keep a share of the 7A/6A-Central Conference lead and knock the Hornets a game back.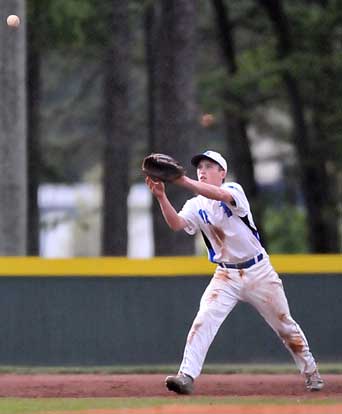 Birginske, who will be pitching under scholarship for the Arkansas State University Red Wolves this time next year, struck out six without a walk but he hit four batters.
He and the Hornets' Tyler Nelson were engaged in a scoreless duel going into the bottom of the third. An error allowed the Hornets' Trevor Ezell to reach base. Ozzie Hurt sacrificed him to second then Nelson came up with the lone Bryant hit, a roller through the right side for an RBI single.
With two down, Birginske hit Jordan Taylor with a pitch and, moments later, plunked Josh Pultro so the Hornets had the bases loaded. The next batter, Dylan Cross made good contact on a 1-0 pitch but got too much air under the ball which carried out to Cody Jones in center for the third out.
As it turned out, Pultro was the last Hornets batter to reach base as Birginske set down the last 13 batters he faced. He got some defensive help from James Reasoner in right field, who robbed Hayden Daniel of a hit on a sinking liner in the fourth. Also, Jones tracked down a long drive to left center by Nelson in the fifth. And in the sixth, Pultro nearly beat out a chopper to short but Cyclones' first baseman Eric Turner made a nice scoop on a low throw for the out.
The Cyclones had managed to get a runner to third in the first and the third innings but couldn't get the hit needed to dent the plate. In the first, Nelson picked off Frank Chiolino, who had reached third on single, a stolen base and deep fly to center by Birginske. In the third, an infield hit by Mitch Mullen, a sacrifice by Jordan Barnes and a groundout by Cody Jones on a sparkling play by Hurt behind the mound got Mullen to third. But Nelson got Chiolino to fly to Daniel in center.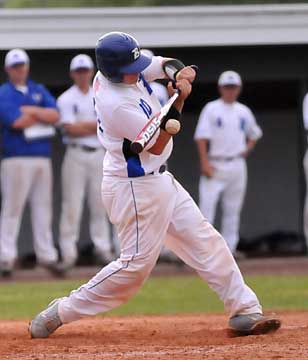 Right after the Hornets had taken the 1-0 lead, though, Russellville tied it. Birginske shot a double into the gap in left-center but held at third on a sharp single to center by Cody Cooper. Turner, however, launched a sacrifice fly to right to get him home.
Cooper was thrown out trying to steal second then Nelson fanned Hayden Hipps to keep it 1-1.
In the fifth, however, Reasoner singled and, with one out, Barnes, the nine-hole hitter, lashed a double to left center. Taylor came in to relieve and issued a walk to Jones to load the bags. Chiolino then pulled a bouncer to Nelson's right at short. He scooped the ball up as he slid on one knee to slow his momentum. His only play was to second but he double-clutched getting the ball out of his glove and his throw to Hurt covering the bag was too late to get Jones as Reasoner scored the go-ahead run.
Birginske obliged, however, by bouncing into a "Taylor"-made doubleplay to end the inning.
But the damage had been done. Taylor went on the retire the last six Cyclone hitters but the Hornets could not solve Russellville's hard-throwing right-hander who fanned three of the last four batters he faced.
The only other inning in which the Hornets had base-runners was the second when Birginske hit Pultro but got Cross to pop up sacrifice bunt attempt. Birginske made the catch and threw to first for a doubleplay. He then hit Blain Jackson but struck out Daniel to get out of the inning.
The loss snapped Bryant's six-game winning streak. Now 14-3 overall and 3-2 in conference play, the Hornets travel to Conway on Friday for a rematch of last year's Class 7A State championship game.
RUSSELLVILLE 2, BRYANT 1
Cyclones ab r h bi Hornets ab r h bi
Jones, cf 2 0 0 0 Nelson, p-ss 3 0 1 1
Chiolino, 2b 3 0 1 1 Wilson, cr 0 0 0 0
Birginske, p 3 0 1 0 Lessenberry, c 3 0 0 0
Lawson, cr 0 1 0 0 Taylor, 3b-p 2 0 0 0
Cooper, dh 3 0 1 0 Pultro, rf 1 0 0 0
Turner, 1b 2 0 0 1 Cross, 1b 3 0 0 0
Hipps, c 2 0 0 0 Jackson, dh 2 0 0 0
Reasoner, rf 3 1 1 0 Daniel, cf 3 0 0 0
Mullen, 3b 3 0 1 0 Ezell, ss-3b 3 1 0 0
Barnes, lf 2 0 1 0 Hurt, 2b 1 0 0 0
Underhill, ss 0 0 0 0 Green, lf 0 0 0 0
Totals 23 2 6 2 Totals 21 1 1 1
E—Underhill, Nelson. DP—Russellville 1, Bryant 1. LOB—Russellville 4, Bryant 4. 2B—Birginske, Barnes. S—Barnes, Hurt. SF—Turner. SB—Chiolino, Wilson.
Russellville 000 110 0 — 2
BRYANT 001 000 0 — 1
Pitching ip r er h bb so
Russellville
Birginske (W) 7 1 0 1 0 6
BRYANT
Nelson (L) 4.1 2 2 6 1 1
Taylor 2.2 0 0 0 1 3
HBP—Pultro 2, Jackson, Taylor (by Birginske).