Hornets dominate Searcy in pre-season scrimmage
EDITOR'S NOTE: Because the look back at each day in Bryant athletic history has been so favorably received during the time when there was no sports during the COVID-19 shutdown, BryantDaily.com will continueposting past stories of Bryant athletics either posted on BryantDaily.com (from 2009 to the present) or published in the Bryant Times (from 1998 to 2008).
SEARCY — It was all good.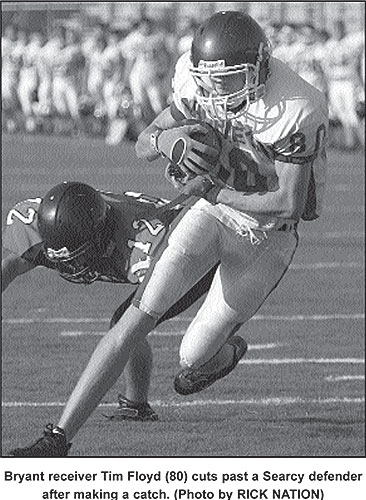 From start — two quarters between the teams' first stringers — to finish — with the sophomores squaring off — the Bryant Hornets football team dominated the Searcy Lions in a preseason scrimmage on Tuesday, Aug. 21.
The Bryant varsity scored on five of its six possessions, racking up over 300 yards of offense while limiting Searcy to 23 yards on 19 snaps. The Lions couldn't muster a first down until the final play of the session. Their lone score, a 50-yard field goal, came after Bryant's only turnover.
Later, Bryant's JV and sophomore teams added four more scores without surrendering a point.
Senior quarterback Logan Parker was impressive with his accuracy. He completed his first 10 passes and wound up connecting on 20 of 22 for 282 yards and four scores. One incompletion was on the money but tipped by a Searcy defender, the other was under-thrown after he was flushed from the pocket for one of the few times in the game.
Senior Taylor Masters grabbed eight of Parker's tosses for 158 yards and two of the TDs. Junior Tim Floyd hauled in six for 58 yards and a pair of scores while junior Jeremy Jordan caught three for 62 yards. Landon Montgomery picked up eight yards on two catches and rushed a trio of times for 17 more stripes.
The Hornets added 55 yards rushing and a touchdown on 14 tries. Junior Dylan Chism hauled most of that freight with returning starter Aspen Trevino sidelined by a muscle pull.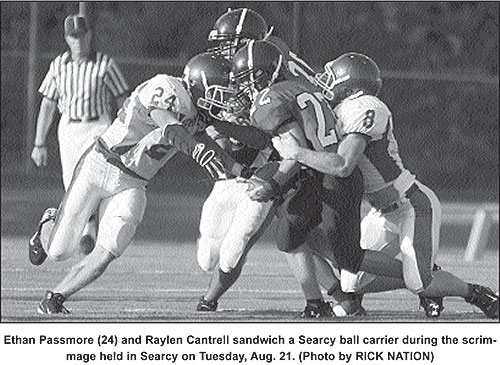 The Hornets were also without returning starters Scott Pilcher, Dijon Benton, Jordan Knight and Jake Jackson. Pilcher and Benton were out due to injury while Knight and Jackson are away playing in the American Legion World Series with the Bryant Black Sox.
"You want to know the truth? I was pleased from top to bottom," acknowledged Hornets head coach Paul Calley. "The kids played hard like I asked them to do."
Because his team hadn't engaged in full contact in practice this fall in hopes of avoiding serious injury, Calley was concerned about his team's tackling going into the scrimmage.
"We tackled well," he asserted. "Of course, we're going to see a different style of offense next week so that still concerns me. The conditioning part of our defense concerns me."
Searcy's offense worked out of a winged-T alignment, similar to that run by Bryant rival Conway in the past. The Hornets will see the spread when they open the season against arch-rival Benton at the Salt Bowl on Friday, Aug. 31.
On offense, Calley and his coaches scripted the plays early in the scrimmage, meaning they pre-determined what plays would be called regardless of down and distance. It was in an effort to get all of the skill players involved.
"We had some big plays," Calley noted. "We ran more plays than I thought we would. Overall, the execution was great. We only had the one turnover which we have to eliminate but we didn't have a bunch of stupid penalties but, of course, we didn't have the pressure of the Salt Bowl either."
The coach was most pleased with his offense's ability to pick up blitzes, for his quarterbacks' work at reading the defense at the line of scrimmage and checking off to more advantage plays to take advantage.
"We made some 'hot' reads and picked up the blitz and it was exciting to do that this time of year," he said. "In the past, we haven't really been built to pick up blitzes as far as throwing 'hot'. We tried to do it but I think this year we can be really good doing that. I remember two third downs where we did it and converted. That's really big. That's really encouraging because I know Benton's probably going to come after us."
The Hornets' first possession covered 80 yards in seven plays with Chism scoring from the 1 after Parker and Masters teamed up on a 22-yard completion that almost got to the goal line with a nice run by the receiver after the catch.
After Searcy was stuffed on a fourth-and-2, Bryant took over at the Lions 40 and scored in two plays, a 21-yard pass to Jordan then a 19-yard strike to Floyd.
After Searcy's field goal with 1:59 left in the half, another 80-yard march was capped by an 18-yard connection from Parker to Masters.
The fourth score came at the end of a 61-yard drive. The 8-yard pass to Floyd was set up by a 25-yard completion to Masters.
Parker finished on another roll, completing his last seven straight including a 1-yard toss to Masters to cap a 55 yard drive that including passes to Jordan, Chris Arnold and Masters along with all three of Montgomery's rushes including an 11-yard burst.
In the second half of the scrimmage junior quarterback Ethan Powell threw an 18-yard touchdown pass to Arnold and junior Austin Queck connected with Brady Butler on a 70-yard pass and run for one score, and a 30-yard completion for another. A fourth TD came on a 15-yard run by Queck after he and Ben Gonzalez teamed up on a 50-yard completion.
"All of our receivers including the young guys caught the ball well," praised the coach.
After the scrimmage, Calley gathered his team. "I told them, from spring football to tonight, I have seen a ton of improvement in each group, even our first group," he related. "It was good to get to play somebody but ourselves. The kids did everything I asked them to do."