Lightning forces suspension of Hornets scrimmage
EDITOR'S NOTE: Because the look back at each day in Bryant athletic history has been so favorably received during the time when there was no sports during the COVID-19 shutdown, BryantDaily.com will continueposting past stories of Bryant athletics either posted on BryantDaily.com (from 2009 to the present) or published in the Bryant Times (from 1998 to 2008).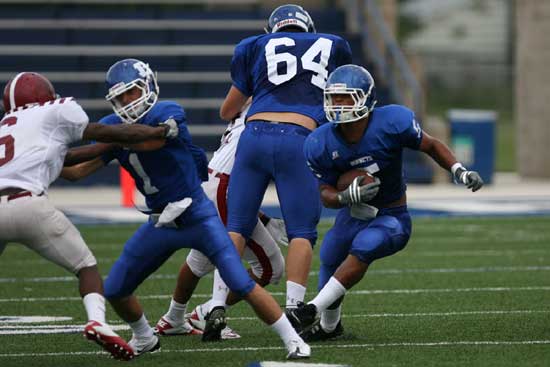 By Rob Patrick
Photos by Rick Nation and Kevin Nagle
The Bryant Hornets had run seven plays on offense and the Pine Bluff Zebras were about to run their[more] sixth when the pre-season scrimmage between the two teams was interrupted by lightning in the area. When the lightning persisted, in advance as it turned out of a storm that rushed through town, the scrimmage was suspended. It will resume on Thursday at 5:30 p.m., at Bryant Stadium.
The Hornets had produced more with their seven plays than the Zebras had with their five. To start the scrimmage, Pine Bluff went three-and-out, netting just a yard. Bryant tackle Michael Smith and cornerback Dillon Winfrey each got in big hits on the first two plays.
After a punt, the Hornets offense drove 74 yards in its seven plays for a score. An 11-yard pass from Hayden Lessenberry to Sawyer Nichols put the points on the board. Jace Denker added the extra point.
Denker, who kicked off into the end zone for a touchback to start the scrimmage, did the same after the touchdown.
Pine Bluff took over on its 20 and immediately lost a yard when Tim Kelly crashed through to drop running back Jalen Dabner, just as Smith had to start the scrimmage.
Dabner managed to pick up six on the second play but before the Zebras could run a third, a lightning strike in the northeast sky caught the eye of the side judge and the field as well as the stands were cleared.
Bryant's scoring drive included a 36-yard run by Karon Dismuke and a 10-yard run by Jalen Bell. Bell's run converted a fourth-and-one at the 21 and set up the scoring play.
Lessenberry completed 4 of 5 passes on the drive to four different receivers. Charles Henson caught a 12-yarder, Winfrey latched onto a 9-yard toss and Hayden Daniel grabbed a swing pass that was stopped for no gain.