Hornets impressive vs. old coach's new team
EDITOR'S NOTE: Because the look back at each day in Bryant athletic history has been so favorably received during the time when there was no sports during the COVID-19 shutdown, BryantDaily.com will continueposting past stories of Bryant athletics either posted on BryantDaily.com (from 2009 to the present) or published in the Bryant Times (from 1998 to 2008).
By ROB PATRICK
BRYANT TIMES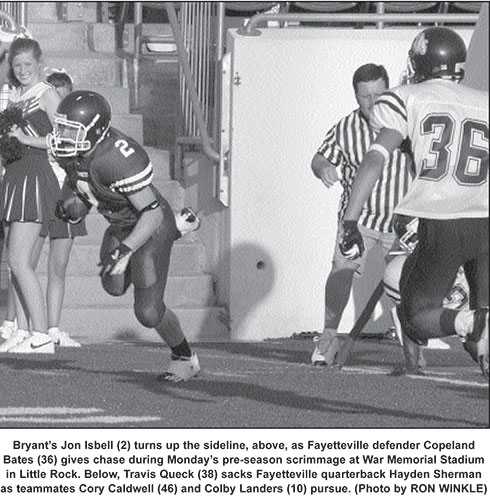 LITTLE ROCK — If the Fayetteville Bulldogs are the third best team in Class AAAAA this season (per Hooten's Arkansas Football, see page 9) — and they may well be — the Bryant Hornets not only answered some questions positively, they answered them impressively. The two teams met in a pre-season scrimmage at War Memorial Stadium on Monday, Aug. 23, as former Bryant head coach Daryl Patton, beginning his second year at the Fayetteville helm, matched wits with his former top assistant Paul Calley, who now calls the shots for the Hornets.
The varsity teams played a half of football and, though no one's keeping score necessarily, Bryant put up 10 points and Fayetteville 6. And the Hornets reached the red zone (inside the opponent's 20) two times beyond their scoring marches. Fayetteville's only foray into red territory was on its scoring drive.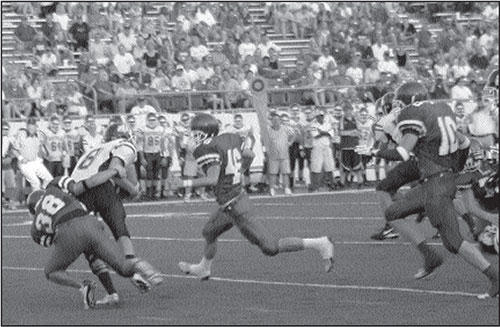 Though there were many questions to be answered for both teams and the Bryant coaches were waiting to see the film before making a full assessment, first impressions, in general, were favorable.
"There were a lot of things I was pleased with in all phases of the game," said Calley. "A lot more positives than negatives.
"I wanted to see if we could pass protect," he continued, regarding the offense. "And we did that. I wanted to see if our quarterback would stand in there against the blitz. And we did that.
Indeed, Anthony Mask, just the second junior to draw a starting nod since the Hornets became a pass-oriented team in 1998, was impressive in his debut. He completed 13 of 27 passes for 173 yards and a touchdown. He also threw one interception but he had a number of on-target passes dropped or stripped from the receiver including at least three that would've been touchdowns.
"He threw the ball well," Calley stated. "We dropped some passes. Hopefully, we got all of that out of the way tonight. But the receivers did a good job of getting open. (The Fayetteville defenders) had their hands on us a lot. They were bumping us, trying to knock us off our routes.
"We weren't 'on,' but Coach (Terry) Harper (receivers) and Coach (Jared) McBride (backs) have done a great job with the offense, considering the amount of time that they've had," asserted the head coach. "Coach McBride didn't really get here until after seven-on-seven (summer competition) was over. They've done a great job teaching the receivers, quarterbacks and running backs the offense."
Senior Richie Wood nabbed five passes for 75 yards and the TD. Junior Dustin Holland caught three for 55 yards.
And the Bryant running game was productive. In 14 plays, including one sack, the Hornets piled up 74 yards on 14 carries. Senior Brandon Butler carried eight times for 47 yards and junior Jon Isbell picked up 23 yards on three totes.
Defensively, the Hornets squad showed why they are considered the bulwark of the team. They came through with three sacks of Fayetteville quarterback Hayden Sherman for 25 yards in losses. The Bulldogs netted just 16 yard rushing. Sherman was 9 for 16 passing for 102 yards, a touchdown and two interceptions. Bryant's Travis Queck picked off both passes.
Most of the night, the Hornets defense looked quicker than the Bulldogs.
"We have some injuries in the defensive line," Calley noted. "But we had some guys step up. Jonathan Holt, Colby Landers, Jeremy Porterfield and Thomas Byington on the defensive line — those guys played well. Our linebackers played well and our secondary played pretty good from what I could tell. We'll know better after we see the film."
"I liked the fact that we had guys hustling," said defensive coordinator Steve Griffith. "We realized there might be a mistake or two made but we wanted them to be hustling mistakes if there were. We had guys busting their tail, fighting to get off blocks, fighting to get after the quarterback and breaking hard on the football."
Fayetteville was held to just two first downs in its first four possessions. Holt, Queck and Byington each had sacks and Zach Sanders dropped Fayetteville running back Brent Phillips for a loss along the way.
On its second possession, Bryant drove deep into Bulldog territory. Isbell made a 15-yard run then caught a pass for 14 as the Hornets reached the 14. Another completion from Mask to Isbell reached the 7, but a holding penalty downfield pushed them back to the 17. A play later, Mask hit Josh Rice in stride in the end zone, but Fayetteville's Eric Industrious stripped the ball away to prevent the TD. Moments later, an interception ended the Bryant drive.
The first score of the scrimmage capped off the Hornets' fourth possession which started at the Bryant 15. Mask and Wood teamed up for a 49-yard completion to get the Hornets out of the hole. A 12-yard completion to Bryan Griffith got it to the 9 where the drive stalled. After a dropped pass in the end zone, the Hornets called on Todd Bryan who booted a 27-yard field goal.
Fayetteville responded with a 70-yard drive for a score, capped by a swing pass from Sherman that Industrious turned into a 23-yard touchdown play.
A personal foul penalty at the end of the play pushed the point-after attempt back, making it a 35-yard attempt and Thomas Cole's kick hit the left upright and ricocheted away, leaving it 6-3 with 5:53 left in the varsity portion of the scrimmage.
Bryant put together its own 70-yard touchdown march in response, highlighted by Butler's 19-yard run. Mask and Wood combined for an apparent touchdown on a fade route at the 3-yard line but a penalty negated the play. On the next, however, they executed it again and this time, it counted. Bryan kicked the PAT to finish the scoring with 1:34 left.
Fayetteville still got two more possessions but both ended with interceptions by Queck. In between, the Hornets used a 46-yard pass from Mask to Holland to get in field goal range again but Bryan was off to the left on his 29-yard attempt.
The sophomore teams from both schools followed up with 10-plays apiece on offense. Bryant's offensive series was highlighted by a 35-yard pass from Tyler Pickett to Joey Winiecki. Defensively, Jacob Mahaffey came up with an interception.
The junior varsity squads finished out the scrimmage with a regular quarter of play. Cody Williams recovered a fumble for the Hornets which led to a short scoring drive. Matt Schrader passed short to Zach Kitchens who turned it into a 14-yard touchdown play with some determined running.
Josh Vocque sacked Fayetteville quarterback Houston Nutt, Jr., on a third-down play to get the ball back for Bryant. In turn, the Hornets drove 62 yards in eight plays to score again. This time, Schrader connected with Drew Short for the touchdown which was set up by a 14-yard run by Zach Kellum.
Calley said there was one thing that he didn't like about his team's work in the scrimmage. "We got into a little bit of a mouthing contest there in the second quarter," he mentioned. "Things started getting a little heated. I expected that and I don't want our guys getting caught up in it. We're not going to tolerate it. They were bating us. I instructed our guys not to talk back and, for the most part, we didn't. You know, you can only take so much, so many shots to the head and things like that. But that was the only questionable part about the whole scrimmage, our guys letting them get into their head and taking us out of our game."
The Hornets are set to open the 2004 season officially against the rival Benton Panthers in the Diamond Bank Bowl on Tuesday, Aug. 31. Kickoff is at 4:30 p.m.