Hornets work some 'bugs' out in scrimmage against Morrilton
EDITOR'S NOTE: Because the look back at each day in Bryant athletic history has been so favorably received during the time when there was no sports during the COVID-19 shutdown, BryantDaily.com will continueposting past stories of Bryant athletics either posted on BryantDaily.com (from 2009 to the present) or published in the Bryant Times (from 1998 to 2008).
By ROB PATRICK
BRYANT TIMES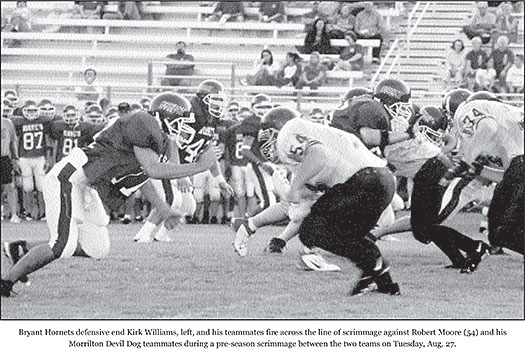 As is the case with most dress rehearsals, there were ups and downs for the Bryant Hornets in their pre-season scrimmage against the Morrilton Devil Dogs at Bryant Stadium Tuesday night.
Of course, that's what dress rehearsals are for, to work out the logistics, to fine tune and to learn.
"It's always going to be a circus at times," allowed Hornets head coach Daryl Patton.
With his team opening the season a few days ahead of everyone else with the Alltel/Hootens.com Kickoff Classic on Labor Day afternoon, the annual scrimmage kind of came at an awkward time. The Hornets have been preparing for opening day opponent Shiloh Christian, a renowned passing team. They worked one day on Morrilton's option-based ground game.
Yet the varsity defense shut out the Dogs in a half of play and forced three turnovers.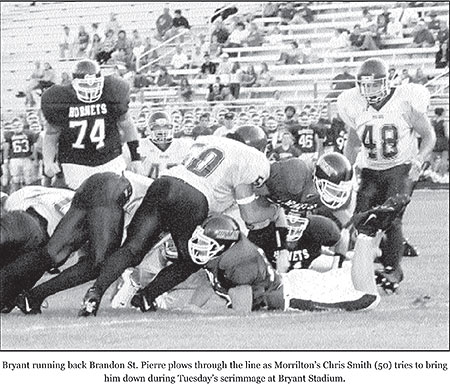 "Anytime you prepare one day for the triple option, there's some things that are going to make you look silly and the weakside option's one of them," Patton said. "And Morrilton does a good job of running it. But overall, I thought the defense played pretty well. They flew to the football. When they did score on a pass, it was our third or fourth team in there."
For what it's worth, the Hornets outscored the Dogs 24-11 in the entire scrimmage. Bryant's first team put together a 14-0 lead in the first half. After the third quarter featured third and fourth team players that performed well at times, the fourth quarter was played mostly by second teamers with Bryant adding a touchdown and a field goal.
Though Morrilton didn't present the unorthodox blitz package that Shiloh will probably bring in, the Hornets' offensive line performed better than expected, according to offensive line coach Paul Calley.
Quarterbacks Brad Parker and Scott Peeler both had their good moments, the running game appeared to be effective with a number of players taking a turn at toting the pigskin, and, though there were a few drops, seven different receivers hauled in passes.
"I didn't think Morrilton had a bad defense at all," Patton said. "The thing with our offense, if we execute, we play within ourselves — you know, where Lance isn't pressing, where he's just playing relaxed, throwing the ball nice and easy; our kids are catching the ball. It's going to open up our running game and we've got some skill kids that can make things happen. We don't have one running back. Everybody that's a receiver can line up and run the zone trap or some other things."
The main thing is, the Hornets got a chance to work against an opponent other than each other and the coaches now have a game-situation tape from which to illustrate the things they've been trying to teach.
"I was pleased with the effort," Patton said. "I think everybody got in. I saw some kids make some exceptional plays and I saw some blown assignments. But everybody that was out there gave it everything they had, showed a lot of heart and pride.
"We can definitely learn some things from the tape," he added. "But I was pretty pleased. We didn't have many penalties."
The Hornets defense forced a fumble on the very first play of the scrimmage when senior defensive lineman Aaron Johnson smacked quarterback Mark Kelley in the backfield and jarred the ball loose.
The offense took advantage, covering the 26 yards to paydirt in six plays. All of the yardage came on the ground with Parker, Zach Cardinal and Brandon St. Pierre carrying the ball. St. Pierre scored on a 3-yard plunge the sophomore Todd Bryan booted the PAT.
St. Pierre wound up with 26 yards on eight carries. Parker, though he missed his first two attempts, wound up 8-for-15 for 93 yards and a TD.
The touchdown came on Bryant's last possession of the half. The Hornets drove 60 yards in seven plays. Parker hit three consecutive passes to finish the drive, connecting with A.J. Nixon then twice to Cardinal including the 26-yard touchdown strike.
Defensively, along with forcing the three turnovers — Matt Cooley recovered one of the fumbles — the Hornets held Morrilton to a net of 31 yards on the ground in the half.
In the third quarter, Landon Bullock rushed four times for 22 yards and David Lister picked up 13 on six totes. Sophomore quarterback Bryan Griffith completed one of his three passes, a 6-yarder to Colby Landers.
In the fourth quarter, Peeler, who had played defensive end, running back, receiver and handled the punting in the first half, moved to quarterback and hit 5-of-12 pass attempts for 100 yards and a score. The touchdown came on a 27-yard strike to sophomore Richie Wood who caught four passes for 57 yards in the scrimmage. The scoring play was set up by a 31-yard connection from Peeler to Blake Zuber, who made a nice spinning catch on the play.
Bryan, who converted on all three PATs, came up just a few yards short of a 51-yard field goal in the third quarter but then booted one easily from 28 yards out to wrap up the scoring.
A long run by Kelley provided Morrilton's deepest offensive penetration of the final period. But, despite having a first-and-goal at the 8, the Dogs had to settle for a field goal. After a pass was stopped for no gain, Bryant's Matt Graham smothered Kelley for a loss to the 9 then Peeler and Brandon Butler combined to stop Kelley for no game, forcing the 25-yard field goal attempt which Ryan Askins knocked through.
Morrilton's lone touchdown came in the third quarter after the Bryant offense put together a 12-play drive that came up empty. Jamelle Brown's 20 yard run set up the touchdown. It came on a third-and-12 play from the Morrilton 39, just moments after Cory Caldwell, B.J. Thompson and Brett Solonycze put them in the pickle by dropping quarterback Chris Loyd for a 3-yard loss.
A play after Brown's run, Loyd found him open in the seam on a 38-yard touchdown pass. Morrilton botched the extra point attempt but back-up quarterback Scotty Crittenden was doing the holding. After picking up the loose ball, he optioned right and pitched to Askins, trailing the play. Askins got into the corner of the end zone for a two-point conversion.