Photos courtesy of Cynthia Austin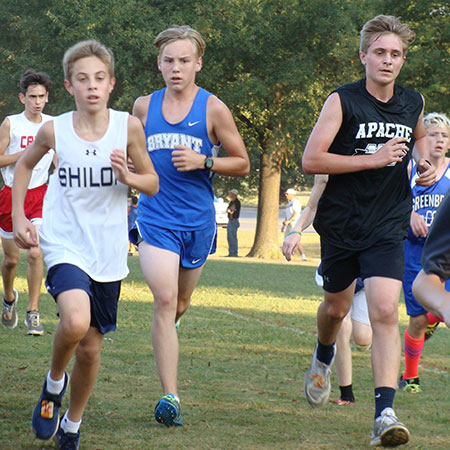 RUSSELLVILLE — Bresner Austin finished third in the junior boys division of the Cyclone Invitational cross country meet on Saturday, leading the Bryant Junior Hornets to a sixth-place finish in the team competition, which included 21 teams.
"Austin worked his way up through the top pack to finish in a time of 11:10," noted Hornets coach Steve Oury. "He had a spectacular performance, passing about seven runners in the last half-mile of the race and was closing on the leaders.
"We had some younger runners run really well out there," he noted. "We need to continue to work on closing some of the gaps within our top seven or eight runners.
The Hornets finished with 149 points.
The rest of Bryant's top seven were Hagan Austin (19th in 12:06), Chris Herrera (29th in 12:20), Ammon Henderson (49th in 12:42), Johnny Chicas (51st in 12:42), Luis Martinez (52nd in 12:42), and George Terry (58th in 12:47).