By Martin Couch
Celia Anderson's passion for[more] writing changed her life.
"It's kind of crazy if you look back over my life," Anderson said in an exclusive interview with Bryantdaily.com. "I was put into this world to write, but the situation I grew up in, I allowed people to talk me out of that passion and into other things."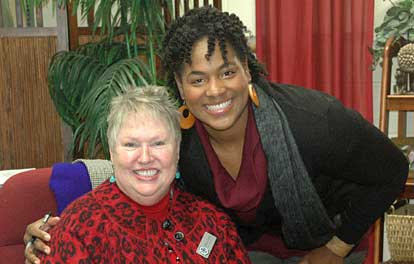 Anderson was a member of a Little Rock Hall Lady Warriors championship basketball team in the 1990s and became an Arkansas Lady Razorback. And while attending the University of Arkansas, she majored in Communication and later received a Master's Degree in her chosen field.
"I got off track for a while," she said. "You know once you really grow up and you discover yourself, and you quit trying to be what the world wants you to be, you can't help but be authentically what God made you to be. If I don't write, I won't be happy."
Anderson is a successful novelist and has two books published already.
"I had envisioned myself as a talk-show host or a public relations specialist for a major firm, I never envisioned writing books," she said, "but I always had a journal I kept. All of my elective classes were creative writing courses. I even have a Master's in communication and all of my professors said when I was writing my academic papers that my voice was too strong. They wanted me to be more objective, but I thought if I have this strong voice, I need to quit writing for you people and use it to write novels, so that's what I do."
Love, Ocean and Daddy's Home are her two books about a young girl who survived Hurricane Katrina and began a new life in Little Rock. Her inspiration for writing these stories came from her substitute teaching days in Kentucky.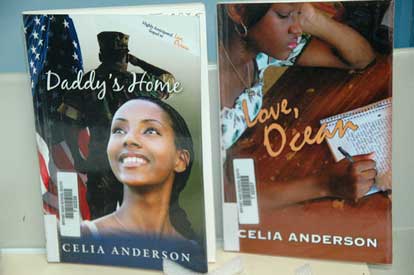 "When the storm hit, we had an influx of students who came up from New Orleans and they were very different from anyone in Kentucky had seen before," Anderson said. "They were students who were extremely confident and musically talented. Kentucky did not have a music program in the whole district I taught in that handled these kids' musical talent. They were so good, they could have probably taught the teachers, but it was a difficult adjustment for them."
An instance Anderson observed was one of the students wanted to play on the school's basketball team, but was made to cut his dreadlocks before he could be a member of the team.
"They were from a different culture and Kentucky people didn't understand," Anderson said. "I became engrossed with this and started talking to the kids. Then it was like I had a need to get to New Orleans, so I went for a visit and stayed eight months doing research. I knew I had to tell the story from a teenage perspective, because today we still have kids who are dealing with the aftermath of Katrina.
"They were 10th and 11th graders who got put into school districts that couldn't pertain to the education they were used to getting or they were put into school districts that were far above anything they had seen before," she said. "It was an extreme adjustment."
Anderson attends several high schools during the year to talk about her experiences and writing.
"I have spoken at 32 schools this year and I have a presentation to encourage them to get into the game of life," she said. "I tell them three ways that they can gain success and I tell them how to avoid things that will hinder their success."
Anderson came to Bryant High School and spoke to students during the three lunch periods about her book and to do a book signing.
"I feel my job is to be an example of what is truly possible," she said. "You will see superstars on television and those are the people our students are looking up too, but is that attainable for them? I am a tangible example for them that you can really be an author and publish books. If you enjoy your library, you can certainly write a novel."