By LANA CLIFTON
Bryant High School freshmen and their parents were invited to attend a Back to School Bash on Tuesday, Aug. 11.
"I was very pleased with the turn out," said Tim Hall, BHS teacher and event organizer. "A significant number of freshmen came out to get their schedules, meet teachers and look around the campus."
As parents and students arrived in the cafeteria on the North Campus, they were greeted by BHS faculty and staff members who were available to answer questions. A sign directing them to participate in the different orientation activities indicated they could do so in any order they chose.Students were able to pick up their schedules in one area and were encouraged to go with their parents to find their classes.[more]
Students from Champs Have And Model Positive Peer Skills (CHAMPs), a leadership organization that promotes positive decision making and constructive behavior through mentoring, were available to help them find a class if they needed help. CHAMPs representatives also conducted tours of key areas of campus.
"I think that anyone who has ventured onto our high school campus can imagine how difficult it would be to find a schedule's worth of classrooms on the very first day of school," said Jessica Norris, Director of Communications for BHS. "This Back to School Bash is a wonderful opportunity for Bryant's incoming freshmen to get acquainted with the campus, meet a few of the teachers and go on a campus tour of their classes, guided by one of their new peers"
Another area was set up to allow students to order a t-shirt representing their team for their Career Action Planning classes (CAPs). Samples of the shirts, in a different color for each team, were hung behind the station to let the students see the color they would be receiving as well as the design of the shirt.
Students signed up for the school lunch program and recorded their fingerprints electronically. The fingerprints were recorded so that when a student goes through the cafeteria line and presses his or her finger onto an electronic fingerprint reader, his or her account will automatically be deducted for the proper amount for lunch or breakfast. Staff members were also on hand to take money for cafeteria accounts.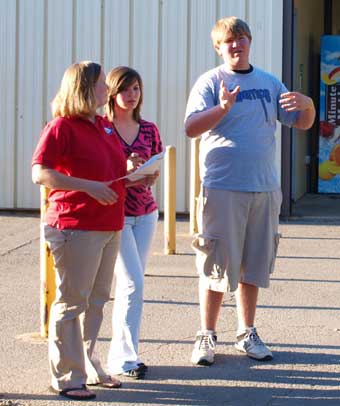 The library was open for parent orientation meetings held throughout the event. BHS teacher Andress Whaley gave parents general information about the classes the students would be taking as freshman. She went on to explain the agenda books students would be using to stay organized and to keep parents informed about upcoming assignments. BHS principal Randy Rutherford also spoke to parents. He addressed issues such as school safety, the importance of support for the students from home and the counseling and support staff available to students. He also discussed some of the opportunities available at BHS including college level classes.
Hill was pleased with the number of teachers who came to meet parents and students and help answer questions. He expressed appreciation for all of them and also commented that Whaley and Rutherford did a great job getting information across in the parent orientations.
Hot dogs, served by volunteers from Arvest Bank, were available throughout the evening, and radio station Alice 107.7 personality Ugly Ed Johnson provided entertainment during part of the event.
"Adding hot dogs, t-shirt sales and Ugly Ed Johnson from Alice 107.7 to the event made for a fun atmosphere that put even the most nervous students and parents at ease," said Norris.
This is the fourth year that BHS has used this format for freshmen orientation.
"Each year is getting better and better," said Hill.