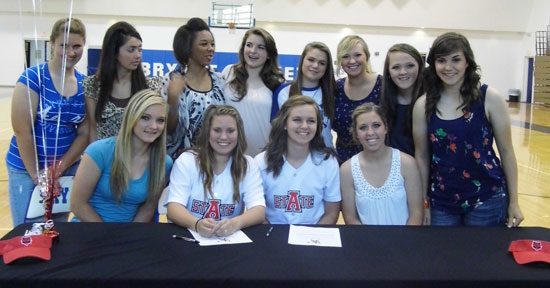 By Rob Patrick
Friends since they were 3, teammates since they were 4, Ashley Chaloner and Brittney Ball have agreed to[more] continue their softball careers as members of the developing softball program at Arkansas State University this fall.
Ball, the daughter of Jason and Stephanie Lester, and Chaloner, the daughter of Sam and Lori Chaloner, made the commitment in a ceremony held at the Bryant High School gym on Friday, March 23, with ASU's volunteer coach Kinley Gatewood on hand. Each has contributed to the Bryant Lady Hornets' back-to-back Class 7A State championships.
"Ashley is a team leader and works hard to find a way to keep herself in the line-up," said Lady Hornets coach Debbie Clark. "She is very involved in her school and community. She's a two-year letterman and was all-conference last year and honorable mention all-conference in 2009. She's played leftfield and been the DH."
Last year, Chaloner hit .306 with two doubles, a homer and 11 runs batted in.
"Brittney has been a utility player and courtesy runner for us," she continued. "She's strong, loves the game, works hard and will be an asset to ASU."
"It's a big deal to me to sign with my best friend," Ball stated. "We've already got our dorm rooms assigned and everything."
"It's really exciting that I'm going to college with my best friend," Chaloner added. "We've grown up together and we've grown up playing softball together. It's really cool that we get to continue it into college."
In fact, Ball mentioned that the two first met because their parents were playing co-ed softball together.
Actually, neither was planning to play after this their senior year at Bryant. But, Chaloner related that when they were attending the signing ceremony for their teammates Peyton Jenkins, Jessie Taylor and Kayla Sory, her coach made a suggestion.
"She gave me the coach's number at ASU," said Chaloner. "She told me about a recruiting camp they were doing up there. We went up and I guess they liked what they saw and they asked us if we wanted to play with them."
It didn't take long for them to accept the invitation.
"They called us the next day and said, 'We'd love to have you on the team,'" Ball related. "They said they could pretty much play us anywhere. They said our work ethic was the best they'd seen in a while because whatever they told us to do, we did and they weren't used to seeing that. They said, 'We could put y'all anywhere and you'd be good.'
"I'm very excited," she added. "We weren't really sure we wanted to play softball in college. We just decided last minute. We both wanted to go to ASU because it's a good school and it has programs that we wanted."
Chaloner is interested in the athletic training program at the school. Ball is looking into becoming an ultra-sound technician.
"Softball is like a plus, just more incentive to go there," Chaloner mentioned.
"All the people there are very friendly and nice," said Ball. "The coach is really easy to get along with."
"We have a saying about our team," Clark said, "our team is full of icebergs. So many times a 'few' get recognized for efforts that are indicative of the entire team. The bulk of the power of an iceberg is below the surface. The part of the iceberg that sank the Titanic, for example, was not the 10 percent above the water; it was the 90 percent below the surface that did the damage. 'What we see often is only a fractional part of what really is.'
"Ashley and Brittney are our 'icebergs' that have helped the Lady Hornets to two consecutive state titles," she continued. "I will miss both of them and ASU is getting two quality softball players, who understand the game and know what it takes to lead."
Winners — every coach seeks them out and Gatewood is no different. A Jonesboro firefighter near retirement, he's studying to become certified so he could continue his role as the softball team's head coach should it be elevated to Division I status and full members of the Sun Belt Conference.
"Brittney and Ashley were approved to come to school here at ASU and we got to see how hard they work back in December," Gatewood related, referring to the tryout. "We saw their work ethic. We could tell these girls definitely had all the foundation they needed and, also from our standpoint, looking for girls with that strong foundation like Ashley and Brittney who have played for many years under various coaches and who will do whatever we ask of them. We're excited to get them on board with us.
"Bryant has, year in and year out, a strong program so they know how to win, they know what it takes to win and, not only that, one of the real important things that I like is just basically, there's such a great group of athletes at Bryant," he related. "When we talk to a lot of young athletes we're recruiting, they've been the number one person on the team their whole life. They get that mentality that they've got to be out there every second and they're not real good at playing a role for the whole team.
"That's one of the attributes I see in (Brittney and Ashley)," the coach continued. "They're talented and they're the type of players that are going to be able to come in and do the job that's needed, whatever it is at that particular time. They can do that job and they're good with that. They understand that it takes all of these different pieces because they've played with such a good group of teammates their whole careers. They realize that's the kind of stuff it takes. That's something I really like about these two girls, the fact that they'll be role players and do whatever needs to be done, whatever they're asked to do."
"I've been lucky to have some great coaches," said Chaloner, who, along with Ball, has also played quality summer ball not only for her dad but for Kevin Bruick and Hayes LeMay among others.
"The coaching staff at ASU was very interested in and happy that Ashley and Brittany chose to play for them," Clark acknowledged. "The staff respects our program at Bryant and they wanted players who know how to win, players who work hard, players who can help build tradition. Ashley and Brittney will be a perfect fit."
The Arkansas State team is in its inaugural season.
"We signed our charter with the NCSA (National Club Softball Association) last July," Gatewood said. "Next weekend is our last home series for the season, which ran from Sept. 1 through April 1. We're actually in the hunt for a bid to the World Series our first season."
Asked about the prospects of becoming Division I, the coach added, "It comes down to the dollar. The school now is not in a situation where they can add another program because Title IX mandates equality between male and female sports. For a softball program to start, they'd have to start another men's sport and start the softball program with fields, scholarships, coaching staff and everything equal to that of the baseball program. You're talking about a few million dollars to add the program.
"So what some of us did was step out there and look into it and we found the NCSA," he continued. "We found out there's a lot of schools in it, Division I's like Florida, Missouri, Baylor — a lot of schools that have Division I softball that also have club ball. There are others that are not Division I level but provide additional opportunities based on academics instead of athletics. We're kind of focused on the academic side. We're actually sponsored by our Physical Education Department.
"But the bottom line is, it is what it is and, regardless, we want to be the number one team in the NCSA on the field or off the field," Gatewood asserted. "We want to be the best at whatever we're doing."