Barrientos returns as Hornets have one of their best days at Conway meet
EDITOR'S NOTE: Because the look back at each day in Bryant athletic history has been so favorably received during the time when there was no sports during the COVID-19 shutdown, BryantDaily.com will continueposting past stories of Bryant athletics either posted on BryantDaily.com (from 2009 to the present) or published in the Bryant Times (from 1998 to 2008).
Photos courtesy of Cynthia Austin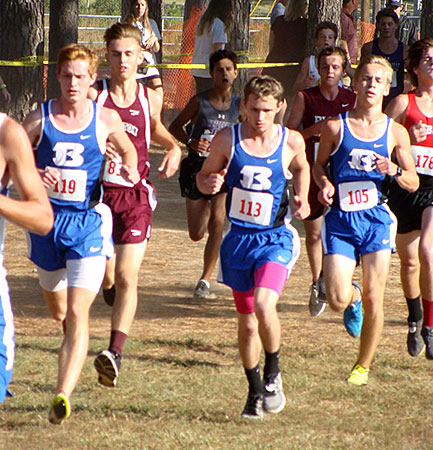 CONWAY — The Bryant Hornets placed three runners in the top 20 to earn a third-place finish at the Conway Wampus Cat Invitational on Saturday at Beaverfork Park Lake. The Hornets scored 86 points to finish behind Fayetteville (24) and Cabot (84). Chris Barrientos, making a welcome return from injury, paced the Hornets with a third-place finish in a time of 16:36.
There were 15 complete teams and 234 runners in the race.
The remainder of the Hornet top seven were Henry Terry (12th in 17:16), Bresner Austin (18th in 17:33), Nick Fowler (31st in 18:09), Chris Morgan (32nd in 18:09), Christian Brack (38th in18:29), and Blake Shields (43rd in 18:32).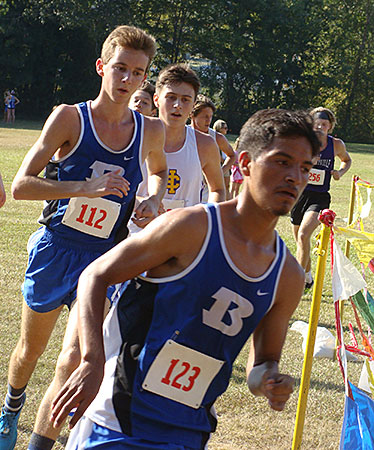 "I thought this may have been our best team effort of the year," said Bryant coach Steve Oury. "It was nice having Chris Barrientos back. He took care of business for us. Henry Terry ran a very good race, and I thought ninth grader Bresner Austin did an outstanding job in his first varsity competition. Also, Chris Morgan had his best race of the season."
Up next for Bryant is the 7A-Central Conference meet on Oct. 23, at Western Hills Park in Little Rock.
"For the conference meet, we've got a lot of guys who have either run in the 17:50's or in the low 18's, and we are going to need for a couple of those guys to really step up," Oury said. "Catholic is probably the favorite at the conference meet. They were without a couple of their better runners today. Catholic, Cabot, Conway, and us are all in the mix. It's just going to come down to who has the best day."