For more photos of this event by Kevin Nagle, go here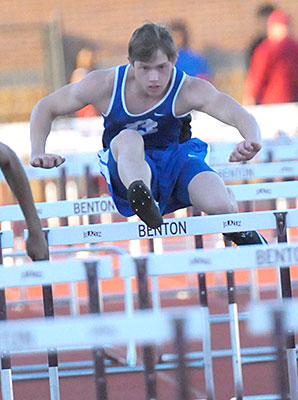 BENTON — The Bryant Hornets opened their outdoor track season on Thursday at the McCauley Services Benton Panther Relays, placing fifth with a total of 72.33 points. Lake Hamilton won the meet with a total of 108 points, followed by Conway (102.33), Vilonia (94.5), and Benton (91.83). A total of 12 teams scored in the meet.
The Hornets picked up two victories on the night, with Chris Barrientos winning the 1600-meter run in a state meet qualifying time of 4:27.33. The other victory came from Randy Thomas in the 100 meter dash in a time of 11.33.
Also scoring for the Hornets were Logan Kretsch in the 800 meter run (2nd in 2:02.48), the 4 x 400 meter relay team of Randy Thomas, Dalen McDonald, Logan Kretsch, and Diante Woodson (2nd in 3:31.93), the 4 x 100 meter relay team of Dionte Collier, Braden Williams, Diante Woodson, and Randy Thomas (3rd in 44.28), Diante Woodson in the 400 meter dash (4th in 52.87), Brandon Murray in the high jump (4th at 5-10), Johnny Wallace in the discus (5th in 127-1.5), Michael Chatmon in the shot put (5th in 43-1),  the 4 x 800 meter relay team of Erik Gonzalez, Chris Morgan, J'lun Herron, and Hunter Ulmer (5th in 8:52.82), Braden Williams in the 200 meter dash (6th in 23.87), Braylon Butler in the long jump (7th in 19-6), Jacob Dreher in the 800 meter run (8th in 2:07.89), Brandon Murray in the triple jump (8th in 40-4), and Randy Thomas in the high jump (tied for 8th at 5-8).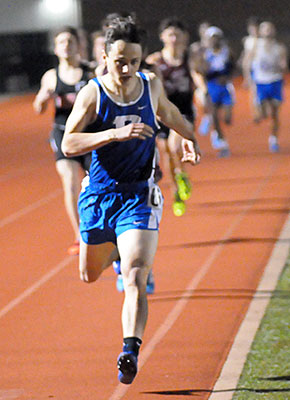 "That was a solid start to the season," said Hornets head coach Steve Oury. "I thought we executed well in all the relays and we had some very good performances. We didn't want to overload our top athletes so we left some points out there but, overall, it was a good start to the season.
"Chris Barrientos did a great job getting a state qualifying time and I was very happy with Randy Thomas in the 100 meter dash, as well as his work on the sprint relays," the coach added. "We will look to build off of this meet at our home meet this Tuesday."