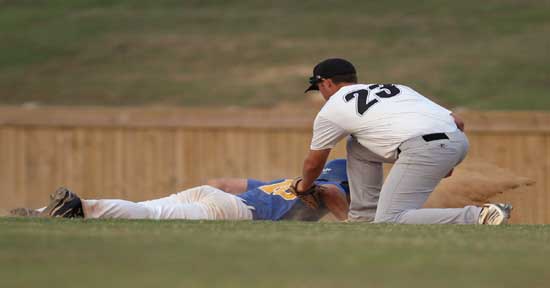 By Rob Patrick
Photos by Rick Nation.
The Bryant Black Sox Junior American Legion team outhit their counterparts from[more] Sheridan Monday night 12-10 at Bryant High School Field but lost for just the second time this season, 5-3.
The difference?
The Sox were caught stealing twice, picked off three times and had another baserunner erased in a doubleplay.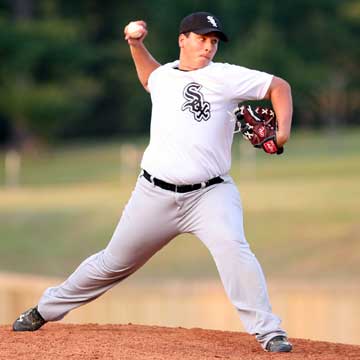 Now 10-2-1 this season, the Sox play at Pine Bluff on Tuesday night.
Monday's game was a pitcher's duel between Bryant lefty Zach Cambron and Sheridan's Justin Glidden who relieved starter Ryan Taylor after the first inning.
Both teams scored once in the first. For Sheridan, Chase Davis singled and, with two out, scored all the way from first on a double by Taylor.
In the bottom of the inning, Tyler Green singled up the middle and Trevor Ezell beat out a well-placed bunt for a base hit and, when third base was left uncovered, Green hustled from first to third on the play. Ezell was thrown out trying to steal second but, when the throw went through, Green was able to sprint home with the tying run.
Cambron retired seven in a row but the Sox couldn't come up with the clutch hit they needed to take advantage of opportunities in the second and third. With Glidden on in relief of Tucker for Sheridan in the second, Chase Tucker singled up the middle. But he was erased on a doubleplay. Daniel Richards singled and, on a hit-and-run, so did Korey Thompson. With runners at first and third, Green hit a chopper, making a bid for an infield hit. But a nice play by shortstop Jake Crenshaw prevented it, ending the inning.
In the third, Marcus Wilson singled and, after Cody Gogus' long fly to left was flagged out, Tryce Schalchlin slapped a single to right. With a 2-2 count on Tucker, Schalchlin left early from first but couldn't stay in the rundown long enough for Wilson to score and the inning ended.
Sheridan took the lead in the fourth when Taylor doubled and Wyatt Daggett beat out a bunt hit. Though Daggett was thrown out after making too aggressive a move toward second, the next batter, Glidden launched a sacrifice fly to left to make it 2-1.
Tucker was hit by a pitch but thrown out trying to steal. With two down, Richards cracked the second of his three hits in the game but when Thompson bounced into a force at second, the inning was over.
Cambron worked around a one-out single by Billy Wicker in the fifth. In the bottom of the inning, Glidden retired the first two then walked Wilson. But Wicker, the Sheridan catcher, picked Wilson off first to end the inning.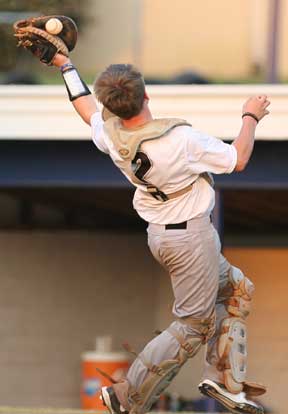 And Sheridan increased its lead with a pair of runs in the sixth. With one out, Glidden singled. Garrett Williams got a sacrifice bunt down and when Cambron's throw to first was errant, there were runners at second and third. A pitch later, Braden Lunday singled up the middle to drive in both runners.
Crenshaw sacrificed Lunday to second then Davis walked and Bryant manager Jimmy Parker called Gogus in to pitch. His first delivery was skied to right where Tucker made the catch to retire the side.
Crenshaw became the third Sheridan pitcher of the game in the bottom of the sixth and the Sox got to him for a pair of runs. They had a chance to tie it or take the lead but left the bases loaded.
Gogus was hit by a pitch for the second time in the game to start the home sixth and, an out later, Tucker beat out an infield hit. With two down, Richards singled in a run then so did Thompson. And when Green drew a four-pitch walk, the bags were jammed. But Crenshaw got out of the jam with the lead intact by fanning Trevor Ezell to bring the inning to a conclusion.
Gogus struck out the first two he faced in the top of the seventh but then surrendered a single up the middle by Daggett. A stolen base and a wild pitch had Daggett at third and, after fouling off a pair of two-strike deliveries, Glidden singled to make it 5-3.
Wilson singled to start the bottom of the seventh then Gogus made a bid for extra bases only to have his long drive to left flagged down by Glidden. Crenshaw then picked Wilson off of first so when Schalchlin bounced out, it ended the Sox' frustrating evening.
SHERIDAN 5, BRYANT 3
Junior American Legion
Yellowjackets ab r h bi Black Sox ab r h bi
Davis, cf 3 0 1 0 Green, cf 3 1 1 0
Wicker, c 4 0 1 0 Ezell, ss 4 0 1 0
Hollinger, 2b 3 0 0 0 Wilson, lf 3 0 2 0
Taylor, p-1b 4 1 2 1 Gogus, dh-p 2 0 0 0
Daggett, 3b 3 1 2 0 Matthews, cr 0 1 0 0
Glidden, lf-p 3 1 2 2 Schalchlin, 1b 4 0 1 0
Strange, 1b 1 0 0 0 Tucker, rf 3 1 2 0
Williams, lf 2 1 1 0 Graddy, c 3 0 0 0
Lunday, rf-ss 2 0 1 2 Richards, 3b 3 0 3 1
Crenshaw, ss-p 2 0 0 0 Thompson, 2b 3 0 2 1
Totals 27 5 10 5 Cambron, p 0 0 0 0
Totals 27 3 12 2
Sheridan 100 102 1 — 5
BRYANT 100 002 0 — 3
E—Graddy, Cambron. DP—Sheridan 1. LOB—Sheridan 8, Bryant 8. 2B—Taylor 2. SB—Green, Daggett. S—Hollinger, Williams, Crenshaw.
Pitching ip r er h bb so
Sheridan
Taylor 1 1 1 2 0 1
Glidden (W) 4 0 0 5 1 2
Crenshaw 2 2 2 3 1 3
BRYANT
Cambron (L) 5.2 4 3 8 2 6
Gogus 1.1 1 1 2 0 2
HBP—Gogus 2 (by Taylor) (by Crenshaw), Tucker (by Glidden). WP—Taylor, Gogus.