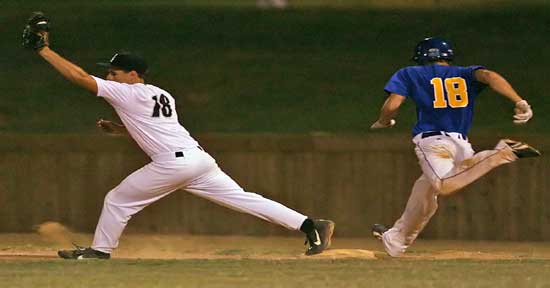 By Rob Patrick
Photos by Rick Nation
On a quiet night at Bryant High School field, Sheridan right-hander[more] Grady Finley rocked the bats of the Bryant Black Sox to sleep Monday.
Finley took a no-hitter into the fifth before Bryant's Josh Pultro lined a single to right. He was then a strike away from a one-hit shutout when the Sox, aided by an error, broke through for two runs. But Finley and his Yellowjacket teammates held on for a 4-2 win. Sheridan, a AA team made up mostly of players that last year rolled to a 31-6 record and the Junior Legion State championship, improved to 9-0 this season, handing the Sox just their second loss of the season in eight games.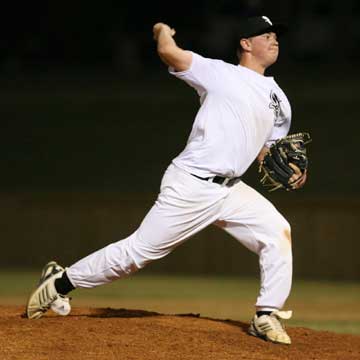 Bryant returns to action tonight with a Zone 4 contest at Pine Bluff against Simmons First Bank.
Finley allowed only one baserunner through the first 4 1/3 innings. It came on a walk to Jordan Taylor with two out in the first inning. He then set down 11 in a row before Pultro's single. Hayden Lessenberry followed Pultro's hit with a shot to right that was caught on the run by Sheridan's Alec Pender. Thinking the ball would fall in, Pultro was almost to second and had to backtrack but couldn't complete his return to first before Pender's throw completed the doubleplay.
Sheridan had managed all the runs it'd need by then. After starter Matt Neal breezed through the first inning, he walked Nick Ware to start the second. Ware stole second and took third on a wild pitch. But Finley was robbed of a hit on a leaping grab of his liner by Ozzie Hurt at second. Neal then struck out Billy Wicker and had an 0-2 count on Luke Nannemann only to have him bloop a jam shot behind third for an RBI single.
In the third, Sawyer Dunigan doubled to right-center for Sheridan. A bunt single by Justin Willis set up a first and third situation. Willis took off for second, drew a throw and before the ball could be relayed back to the plate, Dunigan had scored to make it 2-0.
Pender walked then Landon Moore singled to make it 3-0 and Neal gave way to Tyler Brown, making his first mound appearance of the season. He struck out Ware then picked, after a wild pitch, picked Pender off third. Brown also got within a strike of getting out of the inning but Finley cracked a 2-2 pitch for an RBI single to make it 4-0.
It might've been worse too but Hurt made another sparkling play, diving to get to a ball to his right. He flipped to Tyler Nelson for a force at second to end the inning.
Brown worked around a two-out walk in the fourth. In the fifth, Pender led off with a single but Lessenberry threw him out trying to steal. Brown set the next two down then pitched around a hit batsman and a single by Nannemann in the sixth, getting Jake Smith to fly to center before striking out Dunigan.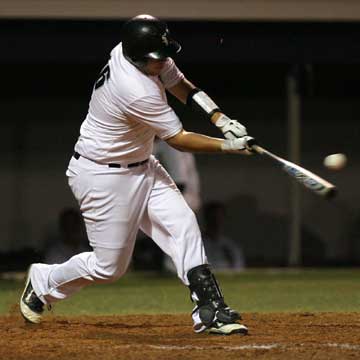 Finley continued to shackle the Sox in the bottom of the sixth. Caleb Garrett reached on an error and stole second but could get no further as Finley got out of the inning unscathed.
Bryant closer Dylan Cross pitched a 1-2-3 top of the seventh but Finley set down the first two in the bottom of the frame. He came within a strike of ending it on each of the next three batters. Chris Joiner singled on a 3-2 pitch for Bryant's second hit of the game. The contest then appeared to be over when Pultro, after fouling off three two-strike pitches, hit a sharp grounder to Ware at short. But when Ware looked to throw to second for a game-ending force out, the bag was uncovered. He double-clutched and fired a throw to first but it was off the mark.
Joiner wound up at third, Pultro at second for pinch-hitter B.J. Ellis, who drilled on a 1-2 delivery, for a double to right-center, driving in both runners to make it 4-2.
Lucas Castleberry pinch-hit next and battled by fouling off a pair of two-strike deliveries before flying out to Pender in right to end the game on Finley's 114th pitch.
SHERIDAN AA 4, BRYANT SENIOR 2
American Legion
Yellowjackets ab r h bi Black Sox ab r h bi
Willis, cf 4 1 1 0 Nelson, ss 3 0 0 0
Pender, rf 3 0 1 0 Mayall, 1b 3 0 0 0
Moore, 3b 4 1 1 1 Taylor, 3b 2 0 0 0
Ware, ss 2 1 0 0 Pickett, dh 3 0 0 0
Finley, p 2 0 1 1 Joiner, lf 3 1 1 0
Wicker, 2b 3 0 0 0 Pultro, cf 3 1 1 0
Nannemann, lf 3 0 2 1 Lessenberry, c 2 0 0 0
Smith, c 3 0 0 0 Ellis, ph 1 0 1 2
Dunigan, 1b 2 1 1 0 Hurt, 2b 2 0 0 0
Castleberry, ph 1 0 0 0
Garrett, rf 2 0 0 0
Totals 26 4 7 3 Totals 25 2 3 2
Sheridan 013 000 0 — 4
BRYANT 000 000 2 — 2
E—Moore, Ware. DP—Sheridan 1. LOB—Sheridan 5, Bryant 3. 2B—Dunigan, Ellis. SB—Ware, Dunigan 2, Willis 2, Garrett.
Pitching ip r er h bb so
Sheridan
Finley (W) 7 2 0 3 1 6
BRYANT
Neal (L) 2 4 3 4 2 5
Brown 4 0 0 3 1 4
Cross 1 0 0 0 0 2
Neal faced four batters in the third.
HBP—Finley (by Brown). WP—Neal, Brown 2.