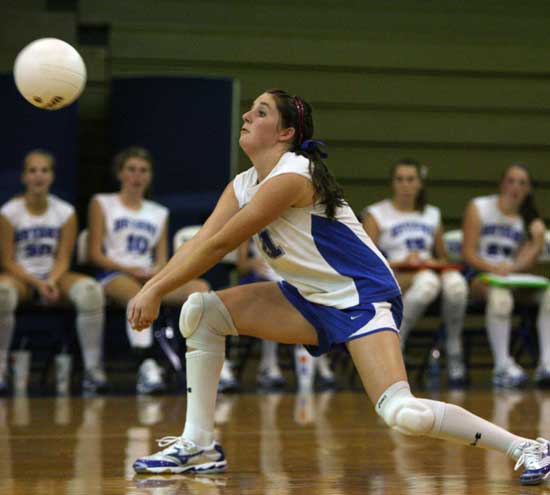 By Rob Patrick
Photos by Rick Nation
When they played two games during pool play at the Little Rock Spikefest on Saturday, Aug. 28, the Bryant Lady Hornets swept the Mount St. Mary Academy Belles. But, on Tuesday night, the Lady Hornets hosted the Belles in a 7A/6A-Central Conference match and had the tables turned on them.
The Lady Hornets lost 22-25, 22-25, 25-21, 17-25.
In JV action, MSM prevailed 25-18, 25-19.[more]
Bryant, now 2-3 overall and 1-1 in league play, visits Cabot for a conference match on Thursday.
"(Mount) played a lot better than the last time we saw them, however, we didn't play as well as we did the last time," stated Lady Hornets head coach Beth Solomon. "There at the end, the last two games, I think we got a little more scrappy."
The difference?
"I don't know," allowed the coach. "The rotation's the same, the girls — I think it just took them a little bit to get going tonight. I'm happy they came back and won the third game but we should've never gotten down two games on them. Little mental errors had a lot to do with it."
Still, the coach saw some progress.
"One of our goals tonight was that I didn't want to tell them to move their feet and I think I only had to say it one time," Solomon noted. "So, they did a pretty good job in that aspect. At the same time, there were other things that were off. Our hits were off at some points. When our passes were on, it seemed like our hits were off. When our hits were on, it seemed like our passing was off. We've got to get it all put together, but it's still early."
Junior hitter Brianna White had a good night with nine kills, going 16 of 20 on her attacks. Sophomore Hannah Rice had another stellar outing with five blocks, 22 assists on 96 of 103 attempts, and 18 digs in 21 opportunities. Senior Sydney Manley was the top server, going 20 for 20 with a pair of aces.
In both the first two games of the match, it seemed like the Lady Hornets were one good run away from winning.
In the opener, they actually built a 4-0 lead that included a kill by McKenzie Rice. Mount St. Mary made a run but Bryant maintained a lead. It was 8-6 after a dink by Hannah Rice then the lead ballooned to 11-7 before the Belles surged, taking a 13-11 edge.
The Lady Hornets were within 17-16 after a kill by Courtney Davidson but before they could score again, Mount St. Mary had gotten within a point of winning the game, 24-16.
A kill by White sparked a Bryant rally. A couple of MSM errors and kills by Davidson and Maggie Hart had the Lady Hornets within 24-22 before the winning point was knocked down by the Belles.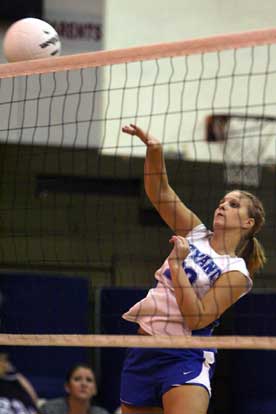 The second game was tied at 7 but Bryant never led. The Lady Hornets trailed 21-16, as large a margin as the Belles mustered in the game, when again Bryant rallied. A service error forced a MSM side-out. Hannah Rice served up an ace and, eventually, Bryant was within 23-20. White contributed a block to make it 23-21 before the Belles regained the serve. But a kill by White had Bryant within 24-22 again before a service error provided the winning point.
A game away from being swept, the Lady Hornets trailed only early in the third game. After trailing 6-4, they tied it at 7 and took a lead on a kill by Lauren Reed. Davidson nailed an ace to make it 9-7.
Mount pulled even again at 11, 12 and 14 but a hitting error gave Bryant the lead and the serve. Davidson collected a kill and White scored on a block before Manley served up her ace to make it 18-14.
After the Belles took a timeout, another error cost them before they were able to break serve. They didn't have control for long. A net serve had Bryant up 20-15. Kills by Davidson and Hart while Reed was serving bumped the advantage to 23-16.
The Belles whittled it to 23-19 forcing Solomon to take a timeout. And when play resumed, Hannah Rice came through with a kill.
Still, Mount St. Mary got within 21-24 before Hart ended it with a spike.
The final game was tight until the Belles turned an 8-8 game into a 18-10 advantage. A kill by Alyssa Anderson got the Lady Hornets back on track and sparked a comeback that trimmed the lead to 19-17 at one point. Along the way, White and Amber Cope combined on a scoring block, Davidson added another kill and Manley another ace.
But the Belles took advantage of a Bryant error and finished off the match with a 6-0 run.
In the JV match, Bryant fell behind 6-1 in the opener but rallied to within 12-11 but couldn't gain the lead. During the comeback, Brooke Howell, Anderson and Britten Hays contributed with kills and Hays added an ace.
In the second game, Mount St. Mary's built a 12-5 advantage that the Lady Hornets never could overcome. They got within 19-15 at one point on a pair of aces and a scoring block by Anderson but the Belles reeled off a 5-0 run to regain the momentum and re-extend the lead.
Anderson finished with six kills on 16 of 20 attacks. Alex Boone was 12 of 14 with four kills. Taylor West contributed with 10 assists and 10 digs. Hays and Boone were each 7 of 7 on serves with an ace apiece.