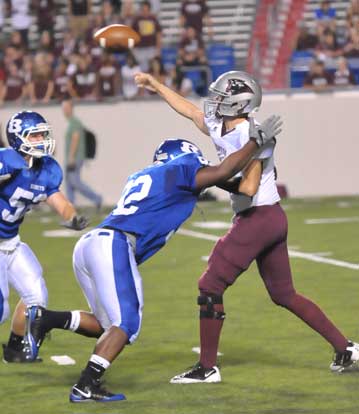 By Rob Patrick
Photos by Kevin Nagle
Fifteen tackles for losses of 88 yards — that's what the Bryant Hornets defense accumulated against the Benton Panthers offense on Friday in the 45-9 win for Bryant in the Salt Bowl.
No wonder Bryant defensive coordinator Steve Griffith was pleased with his bunch after reviewing the game on video.
"Overall, I thought we played really well," he said. "We had good pressure up front. I felt like our defensive line really brought some heavy pressure."
All four of the starters on the d-line — ends James Kidd and Ben Seale along with tackles Josh Hampton and Matt Jones — had sacks in the game as did middle linebacker Collin Chapdelaine who also intercepted a pass.[more]
"All four of those guys and some of the guys we brought in did a great job," Griffith continued. "Ben Seale did a great job of holding up their sprint-out game and allowing our other guys to come in an make some sacks. And he got a couple of his own.
"We have a few adjustments we'll need to make as far as coverage responsibilities and making sure we do a good job of communicating," the coach mentioned. "In general, we did a good job of tackling. We had a couple of breakdowns but again we expected a few because we don't tackle a lot in practice. We don't want to risk hurting one of our offensive guys.
"There are some things we can improve on but the physical effort was good," he concluded. "Occasionally, we had a few mental breakdowns but they're things that can be corrected and the kids seem excited about getting them corrected."
Regarding the offensive performance, head coach Paul Calley said, "We made some big plays but we made a lot of mistakes. I think I counted, out of 41 first-offense plays, there were four we didn't have a mistake on.
"That's something we can build on, for sure," he continued. "I just thought we'd be a little more clean up front. We threw and caught well, pass protected well. It was in the run game that we had the breakdowns.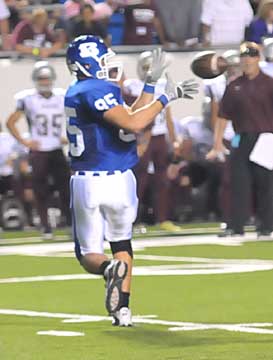 "But, overall," said the coach, "I'm very happy to get a win and we're looking forward to this week against (Fort Smith) Northside."
The coach also reviewed the tape of the fight that broke out during the game.
"It's unfortunate," he said. "I hate that it happened. It's always a bad thing when something like that does happen. I feel like a black cloud is hanging over us now but I just want everybody to know that we've got a good bunch of kids. We had a couple of kids make bad decisions and they're going to be punished for it. They're going to sit out a game. In the heat of the moment, bad decisions happen.
"I got a couple of e-mails that talked badly about our kids and our program," Calley revealed. "I didn't know exactly how everything went until I watched the film then I realized we had a lot more good things happen than bad.
"Everybody that saw the game made a decision that everybody on the Bryant team was in the wrong. That's pretty much what was told to me. And, in reality, when you watch the tape, that is not the case.
"After reviewing the film, I was pleased that 97 percent of our team did exactly what they were supposed to do," Calley noted. "The ones that were on the field were trying to break the fight up and that's what I want them to do. The others that got involved were just standing there watching, out of the way. They were hit from behind. One player responded like I think most anybody would. If somebody attacks you from behind, you're going to jump up and try to defend yourself."
Calley said he himself was hit in the back during the fracas.
"My first reaction was to turn around and defend myself," he admitted. "So, I can fault how far it went but I can't fault someone trying to defend themselves.
"Both of my players that were ejected were deserving," the coach concluded. "They're good kids. We're not going to give up on them. I'm not going to condemn them because of one bad decision. We're going to try to help them and make sure that it doesn't happen again."