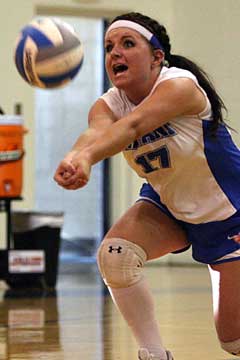 By Rob Patrick
Photos by Rick Nation and Kevin Nagle
While it may not have had all the build-up or the high profile as the Salt Bowl football game, when the Bryant Lady Hornets and the Benton Lady Panthers got after it on the volleyball court at the sauna-hot Hornets Nest on Tuesday night, you'd be hard pressed to find a more energetically and intensely contested battle.
Ironically, the only game of the match that wasn't down to the wire was the one of four that the Lady Hornets won.
The other three games were close most of the way and, perhaps due in part to the confidence gained through the success they've attained (in a relatively short period of time), the Lady Panthers seemed to find a way to prevail.
The Lady Hornets, fresh from a best-ever showing at the annual Little Rock Spikefest last Saturday, absorbed a tough loss, 22-25, 26-16, 20-25, 22-25.[more]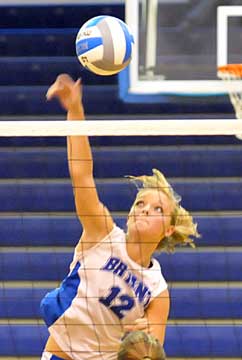 Both teams are young, sporting just two seniors each.
"Tonight was a big game," affirmed Lady Hornets coach Beth Solomon. "We win that second game 25-16 and we turn around and — I don't want to say they get satisfied — but it's like they're not ready to stay excited. They don't ride their momentum yet. That's something we're definitely going to work on.
"They fight back," she said of her team. "They fight and fight and fight. But we're still working on that inconsistency thing. That's the big thing. We're getting better. In all honesty, we're better now than we were at the end of the season last year and we haven't even started conference yet. That's the thing, these games are to get us ready. Thursday's when it's time to go, when we go to Central. Hopefully, we'll have a better outcome Thursday night."
Bryant visits Little Rock Central for that 7A/6A Central league opener Thursday.
"The girls see it now, the inconsistency," Solomon mentioned. "And that matters because when they start to see it, that's the first step to correcting it.'"Our defense hurt us tonight," she added. "We weren't where we needed to be."
The Lady Hornets struggled to maintain momentum when they got a lead and, though they fought back as Solomon noted, they just couldn't get over the hump, a credit to Benton's tenacity.
In a match of surges, Bryant had the first in the opening game. Benton tied it on a dink by Jessica Hardig but Bryant's Brianna White broke serve with the first of her six blocks in the match. With kills by Courtney Davidson and White and a service ace by Sydney Manley, the Lady Hornets built a 10-5 edge before serve into the net resulted in a side-out. The largest lead was 16-10 as McKenzie Rice knocked one of her team-high 10 kills and it was followed up by a hitting error by the Lady Panthers.
But Benton broke serve at that point and began a rally that was highlighted by kills from Alicia Sandage and Emily Morgan along with aces from Sarah Carter and Sandage. The run was interrupted by a block then a kill by White on the same exchange but Benton gained the lead 19-17.
It eventually grew to 22-18 with Morgan producing another kill. After a Bryant timeout, however, the Lady Hornets pushed back. A tip by Hannah Rice, who led Bryant with 20 assists, broke serve and, after a hustling save by Maggie Hart, Davidson knocked down a kill. A Benton error had Bryant within 22-21, forcing a Lady Panther timeout.
And when play resumed, another error had the game tied at 22.
Benton, however, scored the last three points including a game-clinching ace by Peyton Olmsted to close it out in frustrating fashion for the Lady Hornets.
They seemed to take it out on the Lady Panthers in the second game, playing their best, most consistent ball of the night. With McKenzie Rice contributing four of her kills, Amber Cope two and White another, the Lady Hornets broke out to a 9-2 lead.
And they never relinquished the advantage. After Benton got within 12-6, Cope knocked down a nicely angled spike, McKenzie Rice followed up with a kill and Hannah Rice served up consecutive aces as the lead grew to 19-6.
Benton was unable to get within nine points until right at the end when, after a side-out, Kyleigh Bennett's ace made it 16-24. But Davidson ended it with a kill.
With the match tied at 1-1, the two teams engaged in a hotly contested and pivotal third game. It was tied 7-7 when Benton's Alex Williams scored off a block and Sandage followed with an ace to give the Lady Panthers an edge they wouldn't surrender though they could never quite shake the Lady Hornets. Even when the adantage grew to 23-15 on a kill by Toni Matlock and a pair of aces by Sandage, Bryant refused to go away. White blasted a kill to break serve and, with Hart scoring off a block as Lauren Reed and Davidson served, Bryant whittled the lead down to 24-20. The Lady Hornets made a nice dig on a big hit by Sandage but when it went wide out of bounds, the Lady Panthers had held on.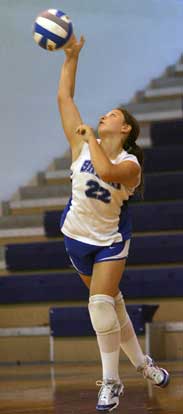 In the final game, Benton gained the upper hand initially with a run that turned a 6-6 game into an 11-6 lead. Matlock and Morgan had a kill each and Williams scored off a block during that stretch.
Bryant broke the momentum when Alyssa Anderson came through with a kill. She followed up moments later with an ace then Hannah Rice contributed consecutive kills to bring the Lady Hornets even at 11.
After a Benton timeout, however, a service error cost Bryant and it was Benton's turn to surge. Kills by Morgan, Hardig and Kristen Ryan produced a 15-11 edge.
It was 21-17 later in the match when Bryant made another run at the lead. White scored on a dink and later Reed picked up a point when her dig fell in. And when Davidson served up an ace off the top of the net, Bryant was within 21-22.
Another Benton timeout, however, broke the momentum, along with another kill by Ryan.
McKenzie Rice's answering kill regained the serve for Bryant but, again, Ryan knocked one down to get her team within a point of winning the match. Solomon called timeout but when a Bryant hit went wide, the Lady Panthers had the victory.
Hannah Rice finished with 20 assists and 14 digs for Bryant. Reed was 11 of 11 on serves and Davidson was 6 of 6 on serve-receive for Bryant.