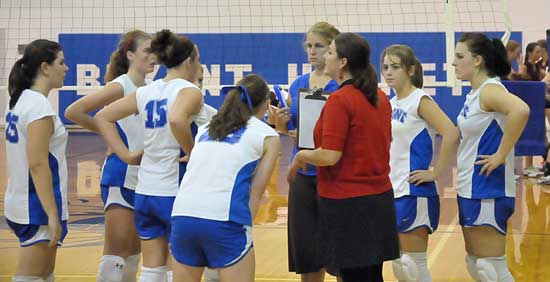 By Rob Patrick
Photos by Kevin Nagle
Alyssa Anderson led the Bryant Lady Hornets JV team with seven kills. Taylor West had 14 assists and Kaylon Wilson contributed six digs. Brooke Howell was 13 of 14 on serves with five aces. Britten Hays went 10 of 11 on serve-receive.
But the Benton Lady Panthers junior varsity prevailed 25-15, 25-23, in their match at Bryant's Hornets Nest on Tuesday night.[more]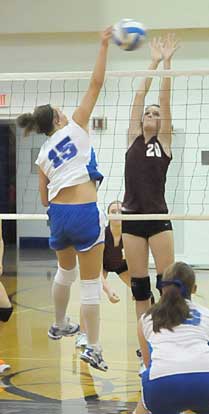 The first game of the match was tied at 11 when Benton put together a 6-0 run that was interrupted by Anderson scoring on a tip. The Lady Panthers answered with a second 6-0 stretch that Bryant couldn't overcome.
In the second game, however, the Lady Hornets rolled out to a 7-1 lead. Three of Howell's aces contributed to the run. Alex Boone and Anderson each had kills.
After a timeout, however, Benton rallied. The game was eventually tied at 14. Serra Prudencio gave Benton its first lead of the game since 1-0 with an ace when play resumed after a timeout. Another kill by Boone tied it at 15 then Wilson's kill had Bryant back on top.
The Lady Hornets held a 17-16 edge with the serve but a kill by Courtland Kaufholtz tied it. Kaufholtz' dink gave Benton the advantage and the Lady Panthers eventually led 24-20 before a kill by Boone and a pair of aces by Howell trimmed the lead to 24-23.
But a kill by Kaufholtz ended it in Benton's favor.