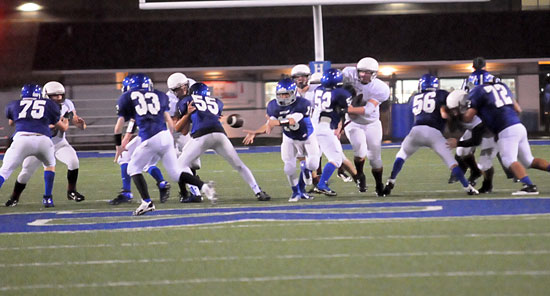 Photos by Kevin Nagle
In a soggy seesaw battle, the Bryant White Hornets eighth grade team of Bryant Middle School found themselves trailing the Benton Panthers 14-12 after a 63-yard kickoff return for a touchdown by Benton's Bruce Hampton with :36.4 left in the third quarter.
Linebacker Ty Dawson stopped Benton's Braydyn Hendrix on the two-point conversion try and, on the ensuing kickoff, Clift Chaffin scooped up the rolling kickoff and returned it to the Panthers' 41. And when a face mask penalty was applied, the Hornets were just 25 yards away from regaining the lead.
After three plays, Bryant faced a fourth-and-2 at the 17. Deploying in a short-yardage alignment that included defensive tackle Josh Salguerio at fullback, the Hornets went for it after a timeout with 5:25 left to play in the game.
Hoping to surprise the Panthers, Salguerio took the handoff from quarterback Jesse Windemaker but never quite got started before Benton crashed in to make the tackle for a 1-yard loss.
The Panthers drove back the other way behind the running of quarterback Colen Morrow, who broke a long run to the Bryant 1. Though an illegal block in the back negated some of it, Benton still had a first down at the Bryant 19 with a chance to increase its margin.
But on the next play, Morrow lost the ball and Dawson recovered for the Hornets with 2:14 left.
Deep in their own end, the Hornets tried to pass their way out up the field. They avoided one disaster when the shotgun snap to Windemaker rolled — one of many that did — back to the 1 where he scooped it up and got it back to the 7. A play later, Windemaker tried to get a pass to a teammate down the right sideline only to have Benton's Cameron Ross intercept and return 20 yards for a touchdown.
With the extra point, Benton made it a two-possession game and it held up for a 21-12 win, spoiling the season finale for Bryant White.
The Hornets finish the season 5-3 with a loss in their opening game against Cabot South and their closing game against Benton and one in the middle to crosstown rivals (and future teammates) from Bryant Blue of Bethel Middle School.
Windemaker, who missed some of the first half with an injury, came back in the second half and led the team in rushing with 69 yards in 11 carries. But, forced to pass late in the game under less than ideal conditions, the Hornet QB was only able to complete 3 of 16 passes for 78 yards. Jake Wright added 55 yards rushing on six carries.
One of Windemaker's completions came on the first possession of the game, a 19-yard throw hauled in by Andrew Hayes that helped the Hornets drive to the Benton 29. But Bryant could get no closer.
In turn, Benton picked up a first down before having to punt. A bad snap forced the Panthers into second and 20, which they couldn't overcome.
A short punt left the Hornets back on offense at their own 45 and, this time, they drove for points. On a third-and-2 at the Benton 34, Wright slashed through the defense for a touchdown to make it 6-0.
Neither team did much of over the next two series. With less than two minutes left in the half, however, Hampton broke a 39-yard run to the Bryant 22. On the next play, though, he juggled a pitch and wound up fumbling. Bryant recovered at their own 27.
But the Hornets' own bad snap allowed the Panthers to get it right back at the Bryant 15 with :42.2 showing on the clock. Two runs by Morrow covered the distance and when the Panthers added a run for a two-point conversion, they were suddenly up 8-6 at the half.
To start the second half, Benton drove to the Bryant 17 but Logan Grant brought down Hampton for a loss back to the 27 and, a play later, Brandon Jett broke up a pass in the end zone and the Hornets took over on downs.
Windemaker broke a 29-yard run and followed up with a 54-yard bolt to inside the 5. But an illegal block negated about half of that gain.
The Hornets wound up scoring anyway when, on a fourth-and-8 at the 37, Windemaker and Hayes hooked up again for a touchdown with :47.4 left in the third quarter.
Grant Botti appeared to run in the two-point conversion but a penalty negated it and, on a second try from farther away, Windemaker's pass fell incomplete.
But the Hornets were back on top 12-8.
The ensuing kickoff, however, was the one in which Hampton scrambled after the short kick and laced his way 63 yards for a touchdown that put the Panthers ahead again, as it turned out, for good.
BENTON 21, BRYANT WHITE 12
Score by quarters
Benton            0          8          6          7 — 21
BRYANT          0          6          6          0 — 12
Scoring summary
Second quarter
BRYANT WHITE — Wright 34 run (pass failed), 5:08
BENTON — Morrow 6 run (Stokes run), 0:24.1
Third quarter
BRYANT WHITE — Hayes 37 pass from Windemaker (pass failed), 0:47.4
BENTON — Hampton 63 kickoff return (run failed), 0:36.4
Fourth quarter
BENTON — Ross 20 interception return (kick good), 1:29
Team stats
                        Benton           Bryant White
First downs    6                      7
Rushes-yds    23-153           23-124
Passing           0-4-0              3-17-1
Passing yds    0                      78
Punts-avg.      1-16.0             0-00.0
Fumbles-lost  3-2                  6-1
Penalties-yds 2-25                6-45
INDIVIDUAL STATS
Rushing: BRYANT WHITE, Windemaker 11-69, Wright 6-55, Botti 3-10, White 1-3, Salguerio 1-(-1), Lessenberry 1-(-12); BENTON, Morrow 12-87, Hampton 11-66.
Passing (C-A-I-Y): BRYANT WHITE, Windemaker 3-16-1-78, Lessenberry 0-1-0-0; BENTON, Morrow 0-4-0-0.
Receiving: BRYANT WHITE, Hayes 2-56, Ellis 1-22.