Photos by Rick Nation
The Bryant Lady Hornets wanted to beat the Bentonville Lady Tigers so much — for a host of reasons really, not the least of which was the chance to advance to the semifinals of the Class 7A State Tournament, furthering their hopes for a State title. Before a lively standing-room-only crowd, Bryant, like few have pushed the Lady Tigers, who came into the game with a 28-1 record, forced extra innings thanks to a thunderbolt home run by Brooklyn Trammell to lead off the seventh inning.
But, an out away from sending it to the ninth inning, the Lady Hornets were stunned by an RBI hit down the right-field line by Haley Cornell that ended those hopes. Bentonville survived with a 4-3 win that lifted the Lady Tigers into a semifinal showdown with 7A-West rival Rogers on Saturday at 2:30 p.m.
Rogers had advanced with an 8-4 win over Cabot. In the other semifinal, Fort Smith Southside takes on defending State champion North Little Rock. Southside surprised Van Buren, 11-5, on Saturday while North Little Rock dispensed with Rogers Heritage, 10-2.
The Lady Hornets were heartbroken but also concerned after the game as senior catcher Julie Ward collapsed in the dugout just moments before Cornell's game-winning hit.
In the top of the eighth, Ward was at second to start the inning in accordance with the international tie-breaker. With one out, Macey Jaramillo hit a squibber towards first that was squirted out of the glove of Bentonville's C.J. Gonzalez then was fumbled by second baseman Tymber Riley. Ward reached third and made the turn home. She arrived at the same time as the throw from Riley, who had recovered the ball. Ward tried to slide in as Cornell blocked the plate. As they collided, the tag was applied.
Ward was stunned but, after Maddie Stephens popped to short to end the inning, she returned to catch in the bottom of the eighth. With pinch-runner Lauren Fox at second and the top of the Bentonville batting order up, Bryant pitcher Raven Loveless struck out Megan Crownover and got Jenna Wildeman to fly to Regan Ryan in center.
But it was obvious Ward was struggling. She walked toward the dugout and started to stagger a bit. Once in the dugout, she apparently passed out.
Bryant head coach Lisa Dreher adjusted her defense, bringing in Meagan Chism to catch. Loveless got a ball and a strike in on Cornell before she won it.
In the meantime, an ambulance was called, eventually arriving to put Ward on a stretcher then transport her to the hospital.
Late Friday night, Deanna Ward, Julie's mother and an assistant coach for the Lady Hornets, reported that the senior would be kept in the hospital overnight for observation but her vitals and CT scan were good. "She's confused, sleepy and mad," Coach Ward said.
It was a rugged ending to an intense, emotional contest. Bentonville pitcher Maddi Prough struck out 16 batters including nine of the first 11 before Chism yanked a single to left with two down in the top of the fourth.
By that time, Bentonville had posted two runs. In the second, Jordan Gartman doubled, took third as Gonzalez reached on an error, then scored on a single by Keelan Griffith.
With no one out, the Lady Tigers had a chance to add on but Loveless fanned Shayli Martin. Crownover made a bid at an RBI hit but was robbed by Chism at third, who got a force. Wildeman hit a one-hopper back to Loveless to end the inning.
In the third, Jaramillo robbed Cornell of a hit on a smash between first and second. But Payton Wildeman singled and so did Riley. Wildeman made it to third and, with two down, scored as Gonzalez walked on a 3-2 pitch in the dirt.
Prough looked like she would continue to breeze as she fanned the first two in the top of the fourth but then Chism broke the ice. Ward was hit by a pitch bringing up Loveless. In a full-on battle, the sophomore fouled off four two-strike pitches before lacing a single to left that drove home Chism to make it 2-1.
With runners at second and third, Bryant had a chance to get more but Prough escaped further damage when Jaramillo hit the ball hard but right to Peyton Wildeman at short.
Jenna Wildeman gave Bentonville a chance for another run when she socked a two-out triple in the home fourth but Cornell bounced out to Shayla McKissock at short to end the inning.
In the fifth, with the momentum gathering for Bryant, Stephens lashed a lead-off single to left. Mallory Theel squared to sacrifice and nearly pushed it past Prough and Martin, the Bentonville first baseman. Though Martin got to the ball, her only play was at second. When she fumbled the ball in her glove even that opportunity disappeared.
So, with no one out, the Lady Hornets had two on. After a strikeout, Ryan hit a sharp grounder to third. Gartman made a nice play to her left but her hot low throw to first couldn't be handled by Martin and the bases were loaded for McKissock.
After fouling off a pair of two-strike pitches, McKissock hit a bouncer to short. And when Wildeman decided to try to get Stephens at the plate, her throw was late and not only did the tying run score but McKissock reached safely.
Despite, however, having the bags loaded and just one out, the Lady Hornets just couldn't get the hit they needed to get the lead. Prough worked out of the jam and it went to the home fifth knotted up 2-2.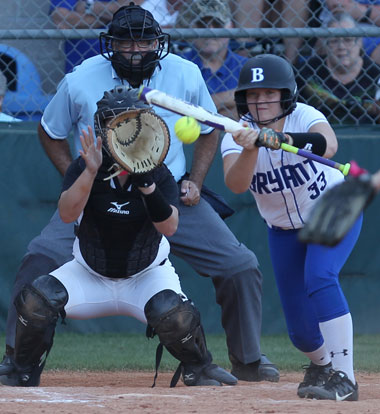 Riley's one-out single in the bottom of the fifth gave the Lady Tigers a chance to snap the tie. Gartman walked. With Gonzalez at the plate, the Lady Hornets tried to pick Riley off second. Ward made a good throw but no one was there to take it until Ryan scooped it up in center.
That proved to be unfortunate because Gonzalez hit a fly to deep center that, without the miscue, would've just moved runners up to second and third. Since they were already there, though, it allowed Riley to tag up and score.
In the sixth, the Lady Hornets were unable to take advantage of a two-out double for Stephens as Prough struck out the side.
Bentonville threatened too with two-out singles by Jenna Wildeman and Cornell. But Payton Wildeman flew out to center.
That set up Trammell's blast to lead off the seventh. It came on Prough's very first pitch and soared over the fence in left-center, a lined shot.
Ryan followed by beating out an infield hit but, again, Prough prevented further damage. Ward made a bid for a two-out hit but her sinking liner to right was hauled down with a lunging effort by Crownover.
With two down in the bottom of the inning, Gonzalez singled to right and Griffith followed with an infield hit that McKissock flagged down nicely. But her late throw to first was errant and Jazmine Dodd, running for Gonzalez, advanced to third with the potential tying run.
And the Lady Tigers might've scored but Loveless made a diving stop on a sharp one-hopper off the bat of Emily Roberson to end the threat and send it to extras.
The Lady Hornets finished the season 19-12.