Photos by Kevin Nagle
The Bryant Blue Lady Hornets eighth grade team of Bethel Middle School fell behind 8-0 at the outset of their game with the Cabot South Lady Panthers Thursday night and could never quite dig out of the hole. Bethel cut the lead to 7 at some point in every quarter including in the final two minutes but could never get closer as Cabot South prevailed in the end, 39-27.
The Lady Hornets were led by Mary Catherine Selig and Rachel Studdard who each scored 11 points. Kenya Rideout added 3 and Alyssa Fason 2.
Bethel actually cut the 8-0 lead to 9-5 late in the first quarter. Selig got the Lady Hornets on the board at the 2:52 mark with a drive to the hoop. After a free throw by the Lady Panthers, Rideout scored and Studdard added a free throw.
But Cabot South scored the next 6 points to build the lead to 10 early in the second period.
It was 18-7 with just over four minutes left in the half when the Lady Hornets started another push. Selig blocked a shot on the Lady Panthers' end then Rideout hit a free throw. Bryant forced a turnover and it resulted in a free throw by Studdard. Fason followed up with a 15-footer and it was 18-11.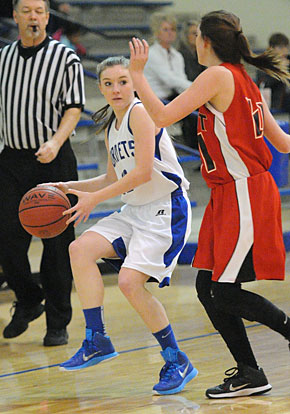 Bethel had a chance to cut it further but missed the front end of a one-and-one opportunity with 2:12 to go.
The Lady Hornets were 7 of 17 from the line for the game.
It stayed 18-11 until once again Cabot South scored in the final seconds to take a 20-11 lead at intermission.
Two free throws for the Lady Panthers opened the scoring in the third quarter but Selig hit a jumper off a drive and Studdard scored off a steal and the 11-point margin was once again down to 7. Cabot South led 30-19 going into the fourth quarter and had its largest lead on the first basket of the fourth, 13.
Again, however, the Lady Hornets rallied to within 7. Studdard scored from outside then Selig knocked down a pair of free throws. After a Cabot bucket, Selig scored off the offensive glass then followed with a drive for a bucket that made it 34-27 with 1:55 left.
But that was the last of Blue's scoring. Cabot South put it away with the final 5 points of the game.
The Lady Hornets return to action on Monday, Jan. 12, when they host Bryant White.