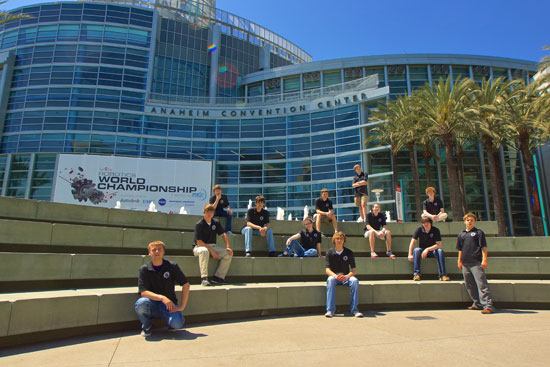 By Devin Sherrill, Bryant School District Communications Director
The Bryant Hornet Engineering Robotics Team recently returned from the VEX Robotics[more] World Championship in Anaheim, Calif. They were the first team from Arkansas to compete for the world championship, which included thousands of students from more than 20 countries.
The team includes Jonathan Austin, Colum Costello, Zack Foltz, Ashley Harris, Rex Hearn, Zach Heath, Joshua Lawson, Chance Levinson, Isaiah Stefan, Ryan West, Dylan Wilcox and William Wyeth. Spencer Sullivan was also a member of the team but was unable to make the trip.
Over the school year, the students built two robots: Remus and Romulus. In the competition, the students moved the largest number of beanbags with their robot. They also programmed the robot to run in autonomous mode without controls.
After 10 qualification rounds, Hornet Engineering held a respectable 7-3 record, tying for 19th in the rankings of 84 World Championship teams in the Math division. Their final position was 95th of 420 High School World Championship teams (top 23%) and 95th of 7,000-plus high school VEX teams worldwide (top 1.3%).
Remus, piloted by Austin, was also ranked 96th of 520 teams in the Robot Skills Challenge with 145 points.
The team expressed thanks to all the sponsors and supporters who made their endeavor possible. They include:
Cone Construction; Peregrine Wealth Strategies, LLC; Mazander Properties, Inc.; Chris Homes; Cromwell Architects Engineers, Inc.; Airetech Corporation; ORINECO; Everett GMC; Sol Alman Co.; Regions Bank; Chili's; Dassault-Falcon Jet; Maddeline Odom; AHSRAE; Entergy; Landers.