Editor's note: This is a regular feature profiling senior athletes at Bryant High School.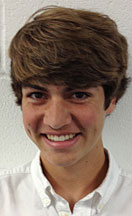 NAME: Dylan Rives
PARENTS: Lynn and David Rives
SIBLINGS: I have two brothers and one sister. David is 20, Anna is 16 and Nathan's 12.
FAVORITE SUBJECT IN SCHOOL: History
WHAT DO YOU LIKE TO DO IN YOUR SPARE TIME? Play soccer.
FAVORITE FOOD: Chicken pot pie.
FAVORITE MUSIC ARTIST OR GROUP: Old Crow Medicine Show
FAVORITE MOVIE: Step-brothers[more]
FAVORITE TV SHOW: How I Met Your Mother
WHAT WAS YOUR FAVORITE TOY AS A KID? I didn't really have one.
WHAT ARE YOUR PLANS AFTER HIGH SCHOOL? Go to U of A for college and study business.
OTHER THAN YOUR PARENTS, WHO HAS HAD THE BIGGEST INFLUENCE ON YOUR LIFE? My older brother; he usually makes the mistakes first and I follow in his footsteps.
FAVORITE THING ABOUT SOCCER: The team aspect.
POSITION: Defender, center mid
WHAT DO YOU FEEL LIKE IS YOUR PRIMARY RESPONSIBILITY ON THE FIELD? Make sure they don't score.
WHAT DO YOU THINK OF THE SEASON SO FAR? It's gone pretty well. There's been a couple of bumps.
WHEN THE TEAM'S PLAYING WELL, WHAT'S IT DOING? We talk and all have our heads in the game and we work hard.
WHAT'S BEEN THE HIGHLIGHT TO THE SEASON SO FAR? Beating Catholic.
WHAT'S IT GOING TO TAKE FOR THE TEAM TO BE SUCCESSFUL THE REST OF THE SEASON? Hard work.

INDIVIDUALLY, WHAT ABOUT YOUR GAME ARE YOU MOST CONFIDENT ABOUT? I guess I'm kind of smart on the field.
WHAT DO YOU WORK HARDEST TO IMPROVE? Stamina.
AFTER YOU'RE THROUGH PLAYING SOCCER AT BHS, WHAT DO YOU THINK YOU'LL REMEMBER MOST FONDLY ABOUT IT? Beating Catholic.