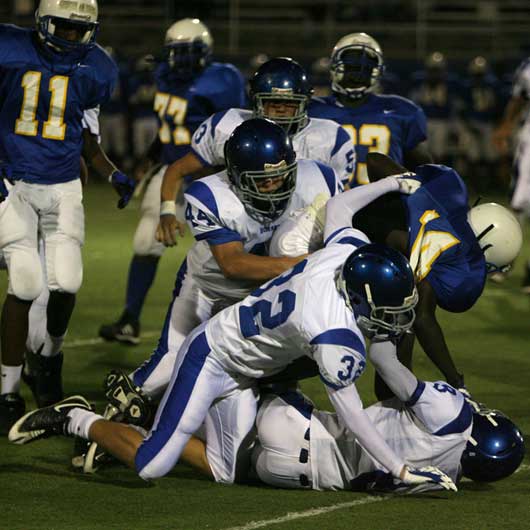 By Rob Patrick
NORTH LITTLE ROCK — All else being equal, bigger, faster, stronger will win the day in most football games. A team can try to finesse and execute its way to victory over such a team, perhaps taking advantage of turnovers or kicking game mistakes — certainly something Bryant football teams have succeeded in doing much of the last decade.
But if the execution is a little off and the penalties and turnovers even out or go the other team's way, it's tough to overcome.
And such was the case for the Bryant Hornets freshman team on Thursday, Oct. 8, against the North Little Rock Junior Wildcats.
The Hornets stayed with them for a while thanks to a couple of big plays but North Little Rock answered those and added more on the way to a 38-15 victory in the South Division of the Central Arkansas Conference.[more]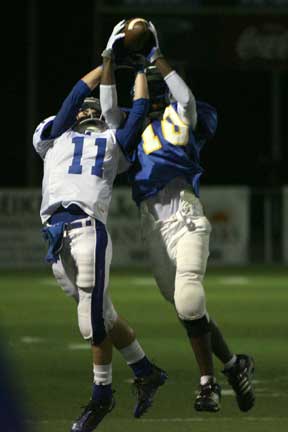 The loss was the second in league play for the Junior Hornets and all but dashed their hopes for a championship as the Junior Wildcats and Lake Hamilton Junior Wolves stayed unbeaten.
Bryant will try to keep its faint hopes alive and close the season strong over the final four games (three at home), starting with a home outing against Little Rock Catholic on Thursday, Oct. 15.
Head coach Kenny Horn noted that his 4-2 team did not play to its usual standards.
"Mental mistakes," he stated. "When have we jumped offsides all year on offense? When have we not caught the football? We've just got to respond better.
"We started off good, thought we were going to have a shootout," he added. "Things got away from us. Most of the kids responded the way that we wanted them to respond, some of them didn't.
"We just relate that stuff to life," continued the coach. "No matter how you cut it, it's not life and death. But you've still got to learn from it and you've got to carry it over to next week. I just told them, you've got to carry on. We've still got to play Benton. We've still got to play Catholic and Sheridan and Cabot. We've still got four to play and we can still have a good year if we win those four anyway."
The early shootout began on the opening kickoff. Bryant's Jalen Bell fielded the ball at the 14 and set sail on an 86-yard run for a touchdown.
Running out of the "swinging gate" formation, the Hornets tacked on a two-point conversion as Austin Powell took a pitch from Zach Cambron and threw into the back corner of the end zone to Stoney Stevens to make it 8-0.
North Little Rock answed with an 80-yard drive that was salvaged on a third-and-2 play from the Wildcats' 40. Altee Tenpenny picked up the first down on a 12-yard run but fumbled. The ball, however, rolled out of bounds before the Hornets could pounce on it and the drive continued.
When the Wildcats reached the Bryant 35, Tenpenny got the call again and sprinted to the end zone.
A try for two was foiled by the Hornets when Aronn Bell picked off the pass off a ricochet. So Bryant retained an 8-6 lead.
The Hornets answered. A 16-yard run by Jalen Bell reached North Little Rock territory. Two plays later, on a third-and-13, quarterback Hayden Lessenberry connected with Hayden Daniel on a tunnel screen. Daniel turned it into a 46-yard touchdown play that, with Josh Lowery's extra point, gave Bryant a 15-6 lead with 1:25 left in the first quarter.
But that was the last Bryant lead. In fact, the Hornets, after challenging the Wildcats, were pretty much shut down the rest of the game. Though they did have some opportunities, they didn't manage another first down until late in the fourth quarter when North Little Rock had established the final margin. After Daniel's TD, the Hornets were only able to net 27 yards of offense.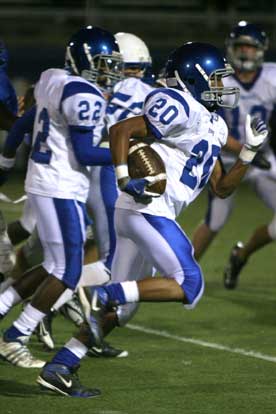 And the score changed quickly. After kickoff man Ian Shuttleworth took advantage of a roughing the kicker penalty on the extra point to drill the ball into the end zone for a touchback, North Little Rock quarterback Rodney Bryson sailed 80 yards on an off-tackle keeper for another score.
Tenpenny's run to try to add a two-point conversion was stopped by Stevens and Aronn Bell so Bryant still led 15-12 with 1:13 still to play in the first quarter.
So, it was Bryant's turn to keep the shootout going.
Jalen Bell picked up 6 yards on first down, then the Hornets tried to go deep. Aronn Bell got behind the defender but Lessenberry's pass was just a little too long for him to catch up to.
On third down, Aronn Bell took a handoff from Lessenberry, who had faked to Jalen Bell. But the play was stopped 2 yards away from a first down.
From their own 36, the Hornets punted. But a short kick resulted, setting the stage for a second-down run by Tenpenny that broke for 48 yards and a touchdown.
It was another long run on which the Hornet defenders seemed to have the angle only to have the North Little Rock backs outrun those angles.
The Wildcats would wind up rushing for a whopping 296 yards on 28 runs — over 10 yards per rush even counting some losses and short gains by the reserves in the fourth quarter.
Meanwhile, when Bryson passed to Trey Holden for the two-point conversion, North Little Rock had its first lead at 20-15.
The teams traded turnovers with Gary Vines intercepting a Bryant pass then Shuttleworth covering a fumble two plays later.
Despite excellent field position, the Hornets couldn't move the chains. On a third-and-4 from the North Little Rock 35, a low snap seemed to ruin the timing of the play and Lessenberry's pass fell incomplete.
On fourth-and-4, the Hornets lined up to punt but wound up going for it on a direct snap to back-up quarterback Zach Cambron. His pass to Jalen Bell was complete but came up short of the first down.
The Bryant defense stepped up to force a North Little Rock punt. The key play came on third down when Aronn Bell came on a safety blitz and dropped Bryson for an 8-yard loss.
Another bad snap undermined the punt but Alex Gosser managed to come up with the loose ball and get a running kick away. Still, it traveled only 9 yards so the Hornets again had great field position. And, again, they were unable to take advantage.
After Lessenberry kept to the North Little Rock 34, the Hornets tried to set up a screen only to have the pass deflected. It fell into the midsection of Kahil Campbell who was on his back on the ground. He held on for the interception at the 40.
And the Wildcats took advantage. Tenpenny's 23 yard run converted a third-and-8. On the next play, Bryson's long heave was hauled in by Ashton Brown for a 35-yard back-breaker of a touchdown.
Though a run for two failed, with :37 left in the half, North Little Rock was up 26-15.
The Wildcats weren't done. Trying to set up the tunnel screen that had broken big for them earlier in the game, Lessenberry had his pass picked off by linebacker Cameron Williams who rambled 25 yards for another TD on the last play of the half, making it 32-15.
Kicking off to start the second half, the Hornets got a break when Bryson fumbled on the return. Hunter Schelle recovered for Bryant at the 20.
But four plays later, the Hornets turned the ball over on downs at the 19.
The Wildcats put the finishing touches on the win with another 80-yard drive, keyed by Brown's 51-yard scamper. Bryson capped the drive with a 15-yard pass to Gosser.
"Boy, I tell you what, they were physical," Horn observed. "They were big and they were fast. I thought, for the most part, we were in the right spot defensively, but they just out-athleted us. I can't fault those kids for that. They just got out-athleted.
"Up front on the offensive line, somebody a little bit bigger than us, they're going to handle us," he added regarding the offense. "We're not very big up front and we know that. They just got after us and got to us. If we can't protect, man, we don't have an offense. We can throw it and run it and catch it, we've just got to have time to do it. And we didn't have that."
NORTH LITTLE ROCK 38, BRYANT 15
Score by quarter
BRYANT 15 0 0 0 — 15
North Little Rock 12 20 6 0 — 38
Scoring summary
First quarter
BRYANT — J.Bell 86 kickoff return (Stevens pass from Powell), 7:49
NORTH LITTLE ROCK — Tenpenny 35 run (pass failed), 2:57
BRYANT — Daniel 46 pass from Lessenberry (Lowery kick), 1:25
NORTH LITTLE ROCK — Bryson 80 run (run failed), 1:13
Second quarter
NORTH LITTLE ROCK — Tenpenny 48 run (Holden pass from Bryson), 6:17
NORTH LITTLE ROCK — Brown 35 pass from Bryson (run failed), 0:37
NORTH LITTLE ROCK — Williams 25 interception return (kick failed), 0:00
Third quarter
NORTH LITTLE ROCK — Gosser 15 pass from Bryson (kick failed), 3:14
Team stats
BRYANT NLR
First downs 5 11
Rushes-yards 18-45 28-296
Passing 4-15-3 4-8-1
Passing-yds 53 62
Punts-avg. 3-25.7 2-22.0
Fumbles-lost 2-1 5-3
Penalties-yards 3-15 1-15
INDIVIDUAL STATS
Rushing: BRYANT, J.Bell 9-44, A.Bell 3-4, Lessenberry 6-(-3); NORTH LITTLE ROCK, Tenpenny 5-120, Bryson 10-106, Brown 2-53, Gosser 4-15, William 1-3, Gibbs 4-0, Jones 2-(-1).
Passing (C-A-I-Y): BRYANT, Lessenberry 3-14-3-52, Cambron 1-1-0-1; NORTH LITTLE ROCK, Bryson 4-8-1-62.
Receiving: BRYANT, Daniel 2-51, J.Bell 1-1, A. Bell 1-1; NORTH LITTLE ROCK, Gosser 3-27, Brown 1-35.