Vail steps in, scores 5 TD's as Hornets pop Benton, secure league crown
EDITOR'S NOTE: Because the look back at each day in Bryant athletic history has been so favorably received during the time when there was no sports during the COVID-19 shutdown, BryantDaily.com will continueposting past stories of Bryant athletics either posted on BryantDaily.com (from 2009 to the present) or published in the Bryant Times (from 1998 to 2008).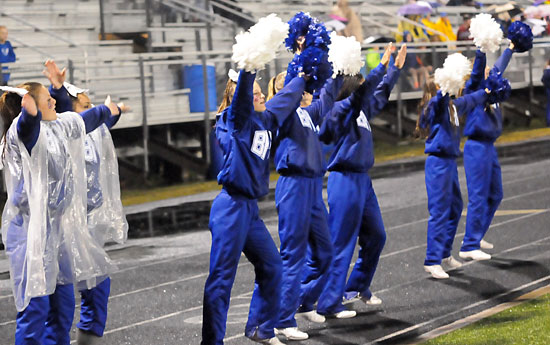 Photos by Rick Nation and Kevin Nagle
With starting quarterback Michael Jones, who has led the team in rushing and passing this season, sidelined with a sore back, the Bryant Hornets freshman team got a big lift from their leading wide receiver Tuesday night.
Thrust into the quarterback position, Cameron Vail, who had not run the ball from scrimmage all season but had caught 13 passes for 309 yards and four scores, wound up amassing 230 yards rushing with four touchdowns. Remarkably, that total included 11 yards of losses on two "victory" plays at the end and didn't include a 30-yard run wiped out by penalty. Vail also returned a punt 41 yards for a touchdown as the Hornets hammered out a 42-26 win over the rival Benton Panthers.
The victory clinched the championship for the Central Arkansas Junior High Conference for Bryant, which finished the season 9-1 overall and 7-1 in the league.
Along with Vail, running back Diante Woodson picked up 120 yards and a TD in just 11 carries as the Hornets compiled 356 yards of total offense, all on the ground.
"We feel good about it," said Hornets coach Kenny Horn regarding the title. "I'm proud of the kids. We weren't all healthy. Our quarterback was out but Cameron Vail stepped in — the guy's a winner — and he led the way for us.
"Our offensive line was in a battle early but came together and played well," he added. "Our defense, it probably wasn't their best game but good enough to win a conference championship. They've played well all year long. This is the most points we've given up all year long.
"Benton was doing some things to us that people haven't done to us all year," the coach said. "They threw the ball deep. Usually if they throw it deep, we cover them up a time or two and that's the end of it but (Benton) kept at it, completed a few. But we held tight, did what we had to do and put it away."
The win came despite a remarkable game for Benton's Beau Brewer who rushed 14 times for 187 yards and three touchdowns and caught six passes for 115 yards and a score — that's 302 yards of tandem offense.
Bryant accumulated all of its rushing yardage despite the fact that the Panthers were stacking seven or eight in the box (within 10 yards of the line of scrimmage and between the tackles).
Each team had one turnover. The Hornets took full advantage and the Panthers were stopped short of doing likewise. In fact, Bryant's first score was set up by James Polite's interception, which ended the Panthers' opening series. Polite snatched the pass after it had been tipped by teammate Luke Curtis. He returned it to the Benton 18.
From there, it took the Hornets four plays to get on the board. Vail converted a third-and-2 at the 10 with a 7-yard, the scored his first touchdown on the next snap.
Isaiah Ash ran in the two-point conversion.
A sack of Benton quarterback Hunter Hilson by Bryant's Brooks Ellis helped thwart the Panthers subsequent possession. That led to the punt that Vail returned for 6, making it 14-0.
Benton got on the board when Brewer got unleashed. His 47 yard run on the last play of the first quarter set up his 24-yard burst for a touchdown on the first play of the second quarter.
The Panthers tried an onside kick but Ellis covered it for the Hornets. Woodson dashed 23 yards to get Bryant's scoring drive started. Four plays later, Vail raced 14 yards for a touchdown to make it 20-6.
Benton answered with an eight-play scoring drive on a possession that appeared to be in real trouble early. Brewer was dropped for a loss of 2 on first down then a bad snap resulted in Hilson recovering for an 8-yard loss. That set up a third-and-20 from the Panthers' own 31.
But Hilson's pass to Tyler Vandiver went for 40 yards to convert the third down. The Hornets put the Panthers in a fourth-down situation at the 20 but Brewer not only converted, he dashed 16 yards to the 4. He then scored on the next snap, making it 20-12 with just 1:27 left in the half.
The Hornets made a bid to score again before the break. Woodson got the march started with a 36-yard scamper. Bryant reached the Benton 7 but, on a third-down play, Vail was stopped at the 3 as time expired.
But Bryant picked up in the second half where it left off in the first. The Hornets covered the onside kick and went 49 yards in four plays, capped by Woodson's 38-yard bolt for the 6 points. Ashe ran in the conversion to make it 28-12.
Benton's subsequent possession faltered when the Hornets' Johnny Smith dropped running back Blake Smith for a loss. And, on a third-and-13, when the Panthers tried to run a tunnel screen with a pass from Hilson to Vandiver but big defensive tackle James McClendon read it, dropped out of the rush and lowered the boom on Vandiver just after he made the catch just 2 yards up the field.
A short punt gave the Hornets possession at their own 46. On the first play from there, Vail broke loose on a 54-yard touchdown run. With Ash's run for the two-point conversion, the Hornets had expanded the lead to 36-12 with 3:41 still to play in the third quarter.
Benton whittled on the margin when Hilson and Brewer connected on 3 of 5 passes on the next series. The completions went for 23, 30 and 23 yards, the latter going for the touchdown. A try for two failed, leaving it 36-18.
Then came the Bryant turnover on another onside kick. The Panthers' offense went back to work and drove to the Bryant 23. Brewer broke a run to the Bryant 1 but it was called back due to a holding penalty. Three plays later, despite an 11-yard connection from Hilson to Brewer, the Panthers turned the ball over on downs at the Bryant 26.
On the very next play, Vail set sail once again, sprinting 74 yards for another touchdown. That put him over 200 yards rushing and made it 42-18.
After Miguel Garcia's kickoff went out of bounds, Benton got the ball at its own 35. And, on the first snap, Brewer broke loose again, scampering 65 yards for a score that, with a pass from Hilson to Clayton Maertens on the conversion, made it 42-26 with 7:05 left to play.
After Vail's 30-yard run was negated, the Hornets wound up punting for the first and only time in the game. Vail booted the Panthers back to their 26. With 4:32 left, Benton drove to the Bryant 25. Safety Tristan Calhoun knocked down a pass at the goal line then he and Polite had Brewer covered deep on a third-down incompletion. On fourth down, Hilson tried to hit Blake Smith down the seam but it fell incomplete.
Bryant took over on downs and ran out the clock with Vail adding runs of 17 and 18 yards. At the Panthers' 38, Vail took a knee twice to end the game.
HORNETS 42, PANTHERS 26
Score by quarters
Benton 0 12 6 8 — 26
BRYANT 14 6 16 6 — 42
Scoring summary
First quarter
BRYANT — Vail 3 run (Ash run), 3:34
BRYANT — Vail 41 punt return (run failed), 0:47.7
Second quarter
BENTON — Brewer 24 run (kick failed), 7:53
BRYANT — Vail 14 run (pass failed), 5:19
BENTON — Brewer 4 run (pass failed), 1:27
Third quarter
BRYANT — Woodson 38 run (Ash run), 6:12
BRYANT — Vail 54 run (Ash run), 3:41
BENTON — Brewer 23 pass from Hilson (run failed), 2:47
Fourth quarter
BRYANT — Vail 74 run (run failed), 7:16
BENTON — Brewer 65 run (Maertens pass from Hilson), 7:05
Team stats
Benton Bryant
First downs 15 14
Rushes-yds 22-179 31-356
Passing 10-26-1 0-1-0-0
Passing yds 188 0
Punts-avg. 2-25.5 1-35.0
Fumbles-lost 3-0 2-1
Penalties-yds 1-14 4-27
INDIVIDUAL STATS
Rushing: BRYANT, Vail 20-230, Woodson 11-120, Ash 1-6; BENTON, Brewer 14-187, Hilson 6-0, Hutchinson 1-(-2), Smith 1-(-6).
Passing (C-A-I-Y): BRYANT, Vail 0-1-0-0; BENTON, Hilson 10-26-1-188.
Receiving: BENTON, Brewer 6-115, Vandiver 2-42, Smith 1-19, Maertens 1-12.