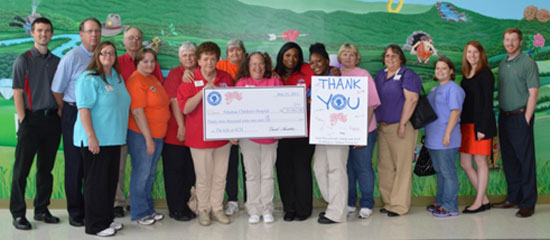 Big Red Stores, owned by Summerwood Partners, recently announced a donation of[more] $39,062 to Arkansas Children's Hospital, raised by selling cardstock throughout the month of March and collecting spare change throughout the year.
Since 2009, Big Red locations have raised more than $143,000 to benefit the patient care fund at the hospital. In this year's promotion, 27 Big Red Convenience Stores and three Family Market Grocery Stores participated.
"We have been proud to partner with Big Red Stores for the last five years," said Justin DeLille, Director of Development for the ACH Foundation. "Big Red and their customers have made a significant impact on the lives of children across the state and we are grateful."
Arkansas Children's Hospital is the only pediatric medical center in Arkansas and one of the largest in the United States serving children from birth to age 21. The campus spans 28 city blocks and houses 316 beds, a staff of approximately 500 physicians, 80 residents in pediatrics and pediatric specialties and more than 4,000 employees. The private, nonprofit healthcare facility boasts an internationally renowned reputation for medical breakthroughs and intensive treatments, unique surgical procedures and forward-thinking medical research – all dedicated to fulfilling our mission of enhancing, sustaining and restoring children's health and development.
For more information, visit www.archildrens.org.