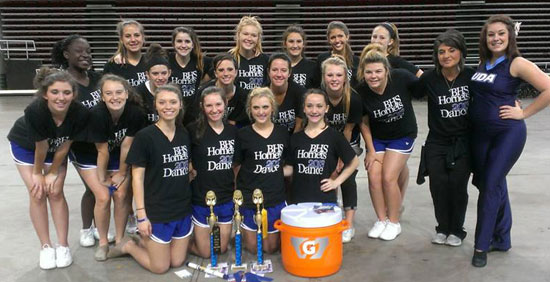 Photo courtesy of Caryn Burge
The Bryant Varsity Dance team returned from UDA camp with a first place trophies for Home Routine and[more] Drill Down, a Superior Trophy for routines learned at camp, Full Out Ribbon for Team Routine and Spirit Stick each night. Haley Trantham, Autumn Hurley, Kianna Ellithorpe and Aspen Reynolds received All American awards.
Members of the 2013-14 team, coached by Laura Wooten, are seniors Hurley, Sara Curry, Trantham, Marley Cole, juniors Monica Perry, Jayme Rash, Ellithorpe, Lexi Summers, Jessica Kooiman, Olivia Bowden, Danielle Mashburn, sophomores Reynolds, Hadley Balisterri, Alexis Landers, Lauren Carmack, Mia Moore, Megan Brown, Olivia Owen and Taylor Wilson.