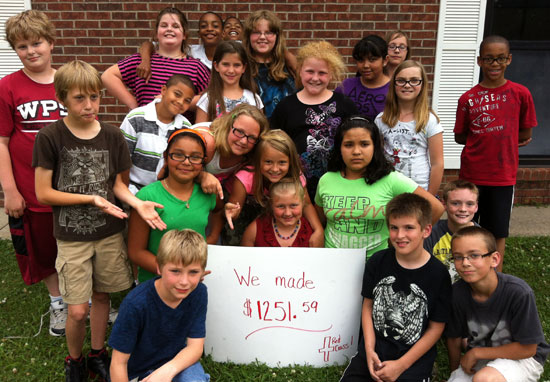 By Devin Sherrill
Bryant Public Schools Communications Director
All year, students in Dana Creighton's fourth grade class
at Collegeville Elementary learned about[more] the hero's journey. They discussed the
"call to action" encountered by everyone in life and how the response to that call
is what determines a hero.
Anne Frank's quote, "How wonderful it is that nobody need wait a single moment
before starting to improve the world" inspired students to take action by helping
people in Moore, Okla.
After watching the EF5 tornado's destruction to the town and to Plaza Towers
Elementary, student Brendie McNutt was moved to help those affected by the
storm. Concerned about organizing a fundraiser so close to the end of school, Crieghton got excited when math specialist Philicia Orr suggested selling Pop-Ice.
The class got on board and immediately starting planning. They made posters
and wrote speeches to promote the fundraiser to their fellow students. Parents
generously donated the Pop-Ice and the class worked together selling it at recess
the last few days of school with proceeds in the amount of $1,251.59 going to the
American Red Cross in Moore.
"I am exceptionally proud of Brendie and all the students in my class. They will see
first hand how one person can make a difference," said Creighton.