Photos by Andrew Schroeder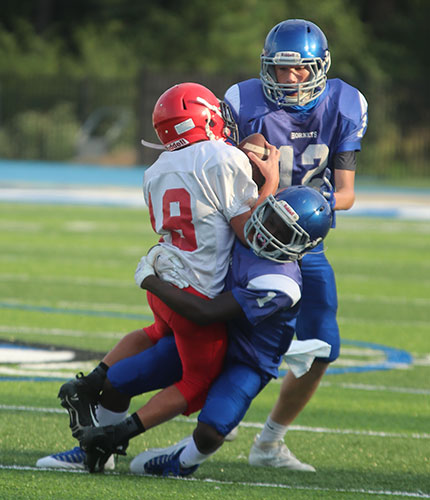 For the second week in a row, the Bryant Blue Hornets eighth grade team scored 40 points as they blasted the Cabot North Panthers eighth grade team 41-6 on Thursday night on Everett Field at Hornets Stadium.
The defense forced three turnovers and the Hornets used big plays to pile up the points. Quarterback Jordan Walker ran for a score and threw for two more as Bryant Blue made it a mercy rule (running clock) game with 2:18 left in the third quarter.
Running backs Jaysean Robinson and Kellen Farmer each ran for a score, Carter Ratliff hauled in both of the TD passes from Walker and linebacker J.T. Allen scooped and scored on a fumble.
The Hornets, now 2-0, are set to host Conway Blue on Thursday, Oct. 1.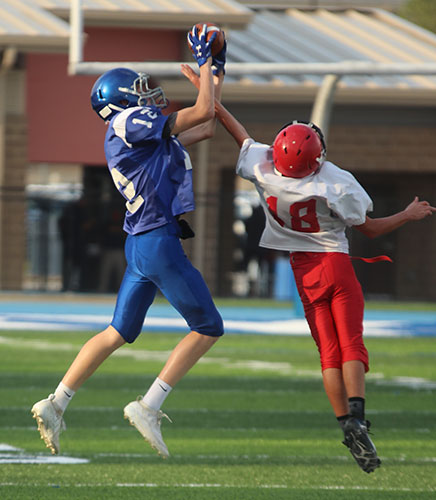 Lost-yardage tackles by Ratliff and Braxton Speer forced Cabot North into a punting situation to start the game. Taking over at their own 38, the Hornets turned to the hard-running Robinson, who, sprung by blocks from Speer and Ryan Reynolds, sliced through the Panthers' defense and went 62 yards for an opening score.
The next scoring drive took just two snaps. It came after North used a face punt to pick up its initial first down. But Walker's interception at the Bryant 24 got the ball back two plays later. On first down there, Walker and Ratliff hooked up for 46 yards setting up Walker's 30-yard touchdown run.
Blue made it 20-0 late in the half when Walker found Ratliff for 32 yards and touchdown. The score was set up by a 53-yard connection from Walker to Jonathan Frost that converted a third-and-30 situation.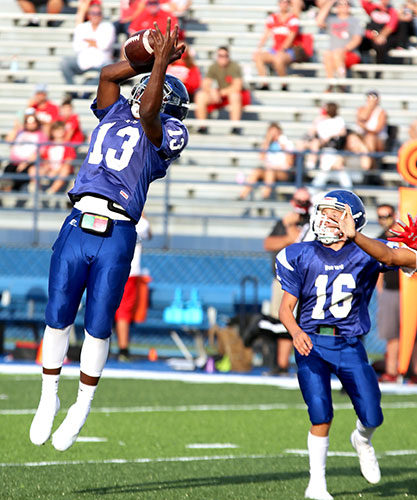 With :25 left, Cabot North set up at its own 40. But the ball was jarred loose from Aaron Price, leading to Allen's scoop and score. Robinson ran in a two-point conversion and it was 28-0 at the half.
And Bryant Blue got the ball to start the third quarter. In nine plays, the Hornets drove 59 yards. Walker had a 20-yard keeper and Robinson grabbed up a fumble and got 10 to convert a third down.
They reached the 14 where they faced a fourth-and-7. With Ratliff running a fade route against a smaller defender, Walker put the ball up and Ratliff came down with it in the left corner of the end zone.
An extra point attempt was undermined by a fumbles snap, leaving it 34-0, a point shy of the mercy rule.
But, on the ensuing kickoff, Cabot North fumbled again. Frost recovered at the 11. With reserves in the game, Farmer got into the end zone on two snaps, scoring from the 3. Jackson Cook added the extra point to make it 41-0.
Cabot North scored on its lone possession of the second half, taking advantage of a long return of the kickoff by Gage Burr. In five plays, they covered 44 yards with quarterback Ian Gill scoring from 13 yards out with 3:07 left to play.