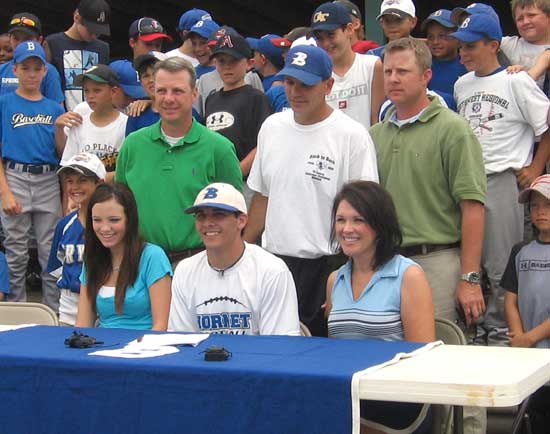 By Rob Patrick
There will come a day when Garrett Bock may just be a Web Gem nominee.
In fact, if the ESPN Baseball Tonight cameras had been rolling at Bryant High School Field, he probably already would have been.
A handful of times.
And next year, there will be further opportunities as he begins his college career under scholarship at Crowder Community College.
Bock, the son of Lil and Kirk Bock (the Bryant Hornets head coach), signed with Crowder during the early signing period in February but, on Monday, June 7, a signing ceremony celebrated the fact at Ashley Park.[more]
The outfielder was integral in the Hornets' run to the Class 7A State championship this spring. Despite playing with a sometimes painful hip, he wound up hitting .330, third among the team's regulars with a team-high 31 runs scored, 21 runs batted in, 20 walks and eight stolen bases. During the home stretch of the season, he scorched the ball at a .440 clip over the final seven games including the three State tourney contests.
For his efforts, he was named all-State, all-conference and a member of the all-State Tournament team.
And then there's the defense in centerfield.
"He's just a great defensive outfielder," stated Craig Harrison, who coach Bock in American Legion during 2008 and 2009. "He will just go and get the ball with no fear. He'll leave his feet to make a play. He's probably the smartest outfielder I've ever seen and, you know, that comes from growing up with Coach. He knows all the steps. He can play the gaps. You can afford to play your corner guys a little farther on the lines because you know he's going to cover the gaps.
"At the plate, he makes contact, puts the ball in play and can run," Harrison added. "He'll have a challenge with the college pitching but I fully expect with his work ethic, he's not a guy that's going to give up. They may get him out at first then he's going to say, I'm going to figure out a way to hit that breaking pitch, to catch up with that fastball and he'll have a good career up there."
"Defensively, he does things very, very well," acknowledged Coach Bock. "Offensively, he's still a work in progress and this will be a great place to work on that, where he can get out and play every day and not have to sit to work on it."
In recent years, Crowder, located in Neosho, Mo., has had a pipeline of players from Arkansas, particularly central Arkansas, with 11 of them on a team that this spring reached the National Junior College World Series. Among those playing for the Roughriders was former Hornets Tyler Sawyer and David Guarno, former Benton Panthers Colby Roberts and Ashton Wilson plus players from Cabot, Lake Hamilton and Watson Chapel.
"He was considering Northeast Texas State, Texarkana and Bossier City," Coach Bock said, referring to other junior college programs that expressed interest, "but he went up there and really liked it plus he has some guys up there he'd played with and that helped a lot."
"Crowder's the one I actually went and visited," Garrett Bock said. "I liked it a lot. I liked the coaching staff and everything else. I thought I'd fit in well there. It should be a great place to play."
And, as a two-year school, he'll have a great chance to play right away.
"Hopefully, I can go in there and start somewhere in the outfield," he related.
"It's a great program, coming out of the World Series and they're all young, so, it's a good chance they can go again next year," added Coach Bock.
Looking back on what it took to reach the level that made him a college signee, Garrett said, "Just a lot of preparation, a lot of practicing. Ever since I was little, I've practiced the same things (like) hitting off the tee. You hit off the tee when you're little and you still have to hit off the tee when you're 18 and a senior. You've just got to keep doing the same thing over and over until you make it perfect and until it's natural in the game."
"It's something he's always wanted to do, to play college baseball," Kirk Bock said of his son. "And one of these days, he'll play at a higher level. I think (Crowder) is a great fit for him."