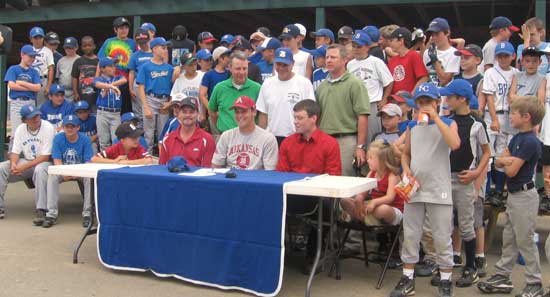 By Rob Patrick
Though he may still have a decision or two to make as the Major League Baseball June draft unfolds this week, one thing's for certain:
At the very least — and it's hardly a "least" kind of thing — Bryant's Ben Wells will be pitching for the Arkansas Razorbacks with a full scholarship next year.[more]
Wells, the son of Doug Wells, came on during the late stages of his senior season, leading the Bryant Hornets to their first baseball State championship, which he capped with an incredible five-inning perfect game in the final at, of all places, the University of Arkansas' Baum Stadium.
On Monday, June 7, he signed with the Hogs after being offered a rare full scholarship for baseball. The Razorbacks gained the right-hander's commitment over Southeastern Conference rivals LSU and Ole Miss.
And the draft looms. Conjecture from sources inside the Major Leagues had Wells going in the first five rounds.
But Monday was all about Wells following his brother Justin's footsteps to Fayetteville. Ben, who grew to about 6-4 in the last six months was clocked at 95 miles per hour on his fastball late in the high school season. He was consistently around 92 or 93 with a knee-buckling slider and a developing split-finger for a change of pace.
"They're getting the best arm in the state," declared Bryant head coach Kirk Bock flatly. "And his best days are ahead of him. He's just now getting to the stage where he can peak out. This is a tremendous signing for Arkansas, one they had to have. For Ben, just to keep that tradition going that his brother had up there, it's a good deal."
Wells started the season as the Bryant ace but was throwing a bushel of pitches in every outing. With his coach's help, he realized he could still be very effective and available to throw deeper into games and more often if he pounded the strike zone and pitched more to contact. That decision and the maturity it took to make it instead of opting for the glory of being a strikeout pitcher helped him turn a corner and head down the road to where he is now, a much-sought commodity.
"After Conway when I threw like 160 pitches or something," Wells said of the talks he had with Bock.
The Conway game was a disheartening 7-6 loss in eight innings. It was the Hornets' fourth straight 7A-Central Conference loss after they'd led the league. Bock turned him into the team's closer at that point both for rest and for contemplation.
He closed out a 9-4 win over Little Rock Catholic that ended a six-game conference skid then, a few days later, out-dueled Arkansas-signee Brandon Moore of Van Buren in a 2-1 jewel.
"After the Conway game, he just re-focused and re-dedicated himself, I think," Bock said. "I knew what Ben had in him and I kept trying to push him to the U of A and to other schools but Ben wasn't showing what he had in him."
Colorado showed some early interest and, for awhile, it looked like he would join the Bryant products — Tyler Sawyer, David Guarno and teammate Garrett Bock — at Crowder Community College.
"Ben turning it around, helped our team turn it around," Coach Bock mentioned referring to the end of the losing streak and the beginning of the run to the State crown. "Our team turning it around helped Ben also. It wasn't just Ben and it wasn't just the other guys, it was a combination of both and things just happened to peak at the right time."
"We played Van Buren and we ended up beating them 2-1 at home," Wells recalled. "I only struck out six or seven and my pitch count was way down. I let them hit ground balls. That's when I really felt like I developed a lot more as a pitcher.
"It was something we were talking about because I was averaging like 125 pitches a game before that. I said, man, I've got to get the pitch count down or I'm going to be throwing 80 (mph) at the end of the year. And it worked out."
The rest is Bryant baseball history. He won two games and saved a third in the State Tournament and was named the tourney MVP. He was named all-State, all-conference and all-State tournament.
Over the last two years, he's posted a 13-4 record with 161 strikeouts and 59 walks in 124 1/3 innings, posting a miniscule 1.75 earned run average which includes a 1.20 mark for 2010.
"When the team's winning and everybody's putting up numbers and scouts come out," Wells mentioned. "They come out and they see more than one guy. And that gets other guys recognized. It helps a lot."
Over his first two seasons of American Legion ball, Wells has gone 6-1 with 77 strikeouts in 77 2/3 innings.
"He's just a great competitor and a guy that backs up his competitiveness with good stuff," said former Bryant Legion coach Craig Harrison. "We've seen this for a couple of years. I think back of the District tournament at Pine Bluff when he was a 10th grader, throwing against Little Rock Blue in the championship game. We were thinking we'd get three or four innings out of him and he goes out and throws a two-hit shutout. Then last year in Nashville, the game I remember, he pitched nine innings in a 0-0 game and held on until we got a run.
"And, of course, what he did this spring was incredible with being able to lead the team to its first high school State championship," Harrison added. "They rode on him. He'll tell you and they'll tell you — the team will — I mean, he needed their help but, when he took the mound after about the Van Buren game here, he wasn't going to lose. You just knew it. He was going to go out there and we were going to win.
"(Arkansas is) getting a guy that can come in and contribute right away," he concluded. "You look at his size. And he's still got some baby (fat) on him. When that baby chisels into a grown man, you're looking at a guy that can continue on further than that."
Wells said he first heard from Arkansas about a month ago (which would've been shortly after he'd dueled Moore).
"They didn't really have any money lined up at the time so they offered me a small (scholarship) and I said I'd look at some other offers," he recalled. "Then I started talking to LSU and Ole Miss. They were ready to offer me a big scholarship. So (Arkansas) came back with 95 percent and, eventually, they gave me the full 100 percent and here we are."
Ben's older brother Justin was part of the only other Bryant team to make it to a State final. He went on to star for Texarkana Community College for two years before transferring to Arkansas where, for a time, he held down the Friday night conference starter spot as a junior in 2008. He spent most of his senior season as a swingman on the Hogs staff including pitching in the NCAA Tournament and relieving for the Hogs at the College World Series last summer.
Ben acknowledged that his brother has been a big help.
"Definitely. He's played there. He's been through it all. It was nice to have a guy who's been through the whole system and knows everything about it."
And because Justin was there, Ben added, "I'm pretty comfortable up there. I've been up there a bunch of times and I know all about the place, the coaching staff and all that."