Photos by Kevin Nagle
LITTLE ROCK — If you ever hear a football coach say that he's satisfied with his team's play after a pre-season scrimmage, it probably means that expectations for the season aren't very high or his team lacks confidence.
But there was no danger of that when the two-time defending 7A State champion Bryant Hornets scrimmaged against the defending 5A State champion Pulaski Academy Bruins on Rector Field at Joe B. Hatcher Stadium on Tuesday night.
Both coaches have designs on another title this fall (hoping all the while that the season gets played out completely in the wake of the Covid-19) and neither Bryant's Buck James and PA's Kevin Kelley were particularly pleased even though the two teams combined for over 1,000 yards of offense, over 850 yards passing.
The varsity teams played three quarters — the Hornets' first-team skill players came out after the first series of the third quarter then the second team skill players worked behind the starting offensive line — which ended with Bryant up 28-21.
The Hornets' depth showed in the fourth quarter when reserves added 14 points while keeping the Bruins JV off the board.
"I didn't think we played very well," James said flatly. "You know, Pulaski Academy's got a good football team. I mean, those guys played hard. We didn't match their intensity level at all. I thought that they outplayed us. I thought their kids sacrificed more of their body and did some things that, I thought, made them win the first half."
On the scoreboard, it was 14-14 at intermission.
"I didn't think we played at a high level," James continued. "We've got to compete better. But really, it's because Pulaski Academy outcompeted us, in my opinion. I didn't think that we competed at a level that it takes for us to be successful. We're resting too much on what we did last year instead of what we've got to do this year."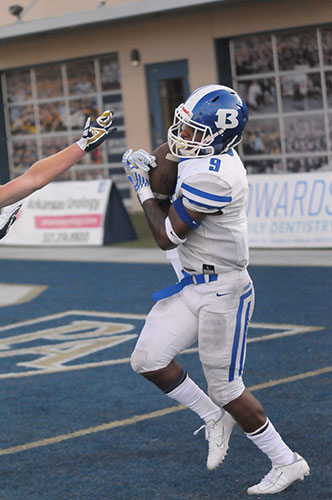 Entering the contest, James had said he felt like his team was about where they should've been at the end of spring practice, had they had one.
"I think we've got a lot of good football ahead of us and I think our guys are going to get there," he asserted. "We don't tackle very well because we haven't tackled. We didn't catch the ball in traffic or play the pass defense well because we haven't done it live.
"We missed those team camps, those 7-of-7's," he continued. "We're a shell of what we should be right now. It's just the nature of the pandemic. It's the nature of us not doing anything since March.
"We've got to improve. And we can make excuses. We've still got to compete when they turn the lights on and go out there and play. I want us to play at a higher level. I want our kids to be excited about playing. You know, we may not play long but we've got to go out there and play hard and play as long as we can and enjoy playing the game.
"We've got great kids," the coach concluded. "They work hard. They've just got to get better at what they do."
Senior Austin Ledbetter was 19 of 30 for 349 yards and three touchdowns. Joseph Young, who set a school record for yards-per-catch last year continued the trend with five catches for 162 yards and two of the touchdowns. Hayden Schrader had nine receptions for 110 yards.
Facing a blitz on nearly every snap, the Hornets running game, which figures to be a big asset this fall, struggled until Xavier Foote and Martavious Singleton got some room in the second half.
Running back Tanner Anderson caught a touchdown pass and sophomore quarterback Cory Nichols ran for a 60-yard touchdown on the last play of the third quarter to snap a 21-21 tie.
Counting the fourth quarter, the Hornets amassed 587 yards of offense.
The Bruins finished with 485 yards of offense including 445 in the air as three quarterbacks combined to complete 42 of 68 passes with two interceptions. Noah Davis had a pick for Bryant at the end of the first half and, in the fourth quarter, Malachi Graham made an interception after narrowly missing two chances earlier.
Running back Joe Himon had 13 receptions for 51 yards. He also ran 10 times for 72 yards, though the rest of the Bruins went backwards as they netted just 40 yards as a team.
Bryant's defense made two stands in the first half. One of those was on the first series of the contest when the Bruins drove to the Bryant 27. Rodricho Martin sacked quarterback Nolen Bruffett on a third-down play. On fourth down, Kyle Knox broke up a pass in the end zone.
A play later, Ledbetter and Young connected for the first time on an out-route in which Young side-stepped a defender and sprinted down the sideline for a 67-yard touchdown.
Pulaski Academy answered with a 70-yard scoring drive capped by Himon's 20-yard run.
The Hornets came right back with a 38-yard strike to Young and a 16-yard toss to Schrader by Ledbetter. They reached the Bruins 16 but a pair of dropped passes undermined the drive.
PA took over on downs and drove for a go-ahead score. The key play of the drive was an 18-yard pass from Bruffett to Cooper White to convert a fourth-and-7 at the Bruins' own 33.
The Hornets answered, going 70 yards in seven plays. Ledbetter's 24-yard pass to Robert Hendrix converted a third down on the march. Anderson, running a wheel route out of the backfield, caught the touchdown pass from 18 yards out.
With it tied 14-14, the defense stepped up again. The Bruins drove to the Bryant 2. But Andy Scott made a stop for a loss on second and goal. Consecutive passes into the end zone by Charlie Fiser fell incomplete with LaQuav Brumfield breaking up the fourth-down throw.
The Hornets were impressive as they marched from the 3 to the Bruins' 19. Along the way, they overcame a fumbled snap that cost them 16 yards. A 20-yard completion to Schrader on a fourth-and-2 kept the drive alive.
From the 19, another fumble cost 8 yards. A play later, it appeared the Hornets had overcome again when Ledbetter connected with Schrader inside the 10. But, fighting for extra yardage, Schrader lost possession and the Bruins recovered with :51 left in the half.
The Bruins drove to the Bryant 35 before, on the last play, a throw into the left corner was picked off by Davis.
To start the third quarter, Bryant's Jamarien Bracey broke a 14-yard run, setting up Ledbetter and Young for 47 yards and a touchdown.
Three plays later, Fiser connected with Dylan Allison for 50 yards and an answering score.
Each team had a drive that stalled before Bryant got the ball one last time before the end of the quarter. Nichols' touchdown run came on a third-and-10 snap.
In the fourth quarter, Singleton had a 25-yard touchdown run. The Bruins' responding drive reached the Bryant 37 before Graham made his pick at the 15.
Carson Burnett completed a pass of 11 yards to Alec Humphreys to convert a third down and, later, hit Cole Ferguson for 30 yards on a fourth-and-10 play. The junior quarterback scrambled from the 40 and broke a 35-yard run to the 5, setting up Foote's TD run with 3:49 left to play.
Ivory Gilmore caused a fumble that Tyler Mosley recovered to end PA's next possession. Later, Cannon Starke and Joshua Moore combined on a sack to sidetrack the Bruins' final series.