The Bryant 10-year-old All-Stars defeated Pine Bluff 11-1 in four innings on Sunday in the winners bracket finals of the District Tournament being held at Ashley Park. Bryant advances to the championship game on Tuesday at 8 p.m. The Stars will play the survivor of the Benton-Pine Bluff losers bracket final to be played tonight. Bryant sent both of those teams to the losers bracket and will have to be beaten twice to be denied the tourney title.
Bryant's 10-year-old All-Star squad is managed by Bill Kyzer with assistance from Kirk Schmidt and Chris McKinney. Team members are Myers Buck, Luke Curtis, Caleb Dorsey, Brooks Ellis, Dylan Johnson, Hunter Hilson, Preston Kyzer, Blake Pennington, Matthew Sandidge, Scott Schmidt, Larry Thompson and Cooper Wright.[more]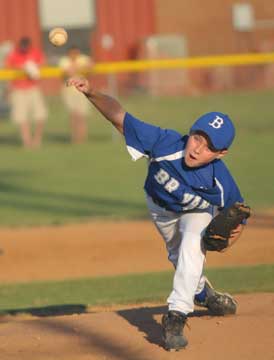 Schmidt pitched the first two innings of Sunday's game allowing no hits, runs or errors. Buck came in for innings 3 and 4, allowing only two hits and the lone Pine Bluff run in the final inning. Schmidt fanned four while retiring all six batters he faced.
Buck struck out two. He pitched around a two-out walk in the third then, in the fourth fanned his second batter before the first hit. An error and a passed ball allowed the batter, Geontay Turner, to advance to third. He scored on a single by Wesley Hunt. But Buck retired the next two to end the game.
The Bryant Stars struck for five runs in the first to take control immediately. Sandidge singled and, with two down, scored on a double by Johnson. A pair of passed balls allowed Johnson to score as Hilson was drawing a walk. He stole second before Curtis drew a free pass, setting the table for Ellis, who belted a double. Dorsey singled Ellis to third and, from there, he scored on yet another passed ball to complete the scoring in the inning.
In the second, Sandidge walked and stole his way to third. Schmidt walked and, an out later, Johnson's bouncer to second was misplayed allowing both runners to score.
The team put the finishing touches on its 11-run game with four in the third. Ellis reached second on an error to start the inning and, on a pair of passed balls, came around to score. Dorsey was hit by a pitch and Pennington walked. Sandidge was hit by a pitch then Schmidt drew a walk. With two down, Johnson capped off the inning with a single.
(TO PURCHASE THESE PICTURES BY KEVIN NAGLE AND SEE OTHERS, CLICK ON A PICTURE.)