Photos courtesy of Paul Dotson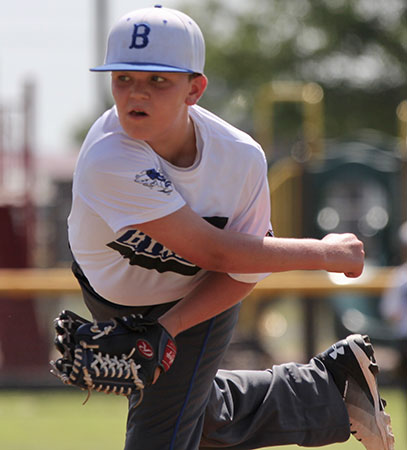 STUTTGART — For the second day in a row at the South Arkansas Cal Ripken 10-and-under State tournament, the Bryant All-Stars filled the scoreboard with over 20 runs as they advanced past the McCrory All-Stars, 23-2 in four innings on Saturday.
The team, coached by Ryan Martin with assistance from Chris Chalmers and Jeremy Ray, includes Luke Andrews, Jonathan Carter, Cohen Chalmers, Grant Daves, Kolby Duncan, Dante Hernandez, Colt Martin, Dawson Martin, Mekhi Ray, Barrett Royal, Blake Scoggins and Jake Taylor.
Bryant had 13 hits to take advantage of 13 walks in the rout, scoring 15 times in the first inning. Taylor, Scoggins, Chalmers and Royal each had two hits.
The quartet of Royal, Colt Martin, Andrews and Ray combined to limit McCrory to two hits with one walk. Only one of the runs was earned.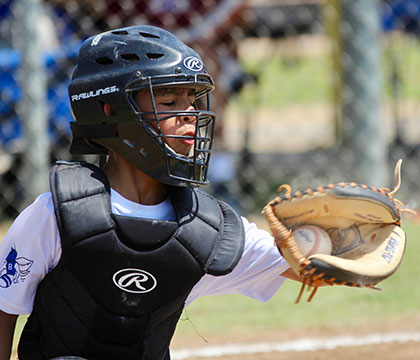 The victory put Bryant in the semifinals against Sylvan Hills on Sunday.
McCrory actually took a 1-0 lead in the top of the first inning. But that run was dwarfed by Bryant's outburst in the bottom of the inning.
Walks to Daves and Taylor got things started. They moved to second and third on a wild pitch before both scored on Scoggins' single. Chalmers beat out an infield hit then Royal's lined single to center made it 3-1. Chalmers scored on an error and Royal wound up at second. A wild pitch got him to third and, after Colt Martin and Carter each walked, Dawson Martin's infield hit made it 6-1.
Duncan's fly to center was misplayed to get a run in then Martin scored on a passed ball. Daves singled in a run to make it 9-1 and, with two out, Taylor rapped an RBI single.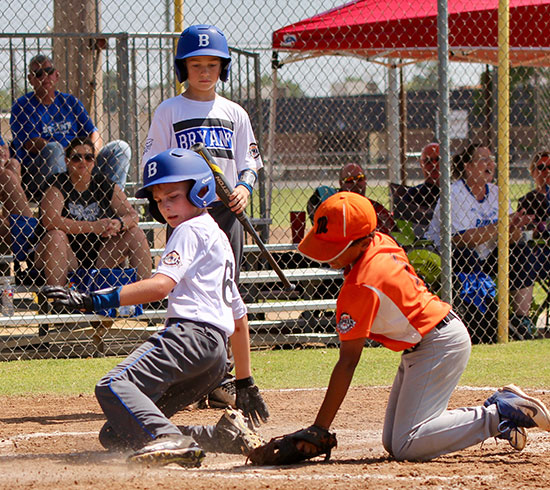 Scoggins singled Taylor to third and, after Chalmers walked to load the bases, Royal lined a single to right to plate a run.
Colt Martin ripped a double to right to clear the bases then scored on Carter's knock and it was 15-1.
A walk to Duncan opened the second. He stole second, took third on a wild pitch and scored on a base hit by Hernandez. With one out, Taylor and Scoggins drew walks to load the bases. Hernandez scored when Chalmers hit into a force at second.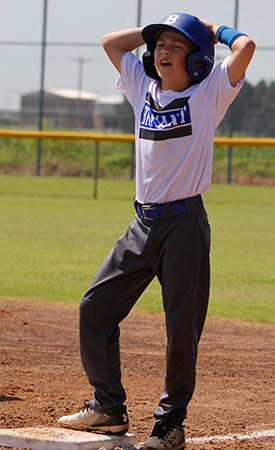 McCrory managed a single and had a batter hit by a pitch in the top of the third, but Colt Martin got a strikeout and a groundout to Ray at first to keep them off the board.
In the third, consecutive walks to Colt Martin, Carter, Dawson Martin and Duncan made it 18-1. Hernandez picked up an RBI with a groundout to first then, after Andrews walked, Taylor chased in a pair with a single to left. With two away, Chalmers singled in Andrews to make it 23-1.
A hit batsman, a single, a walk and another hit batsman produced McCrory's second run in the top of the fourth before Andrews struck out two and got the final out on a grounder to Carter at second.