Photos courtesy of Debra Catton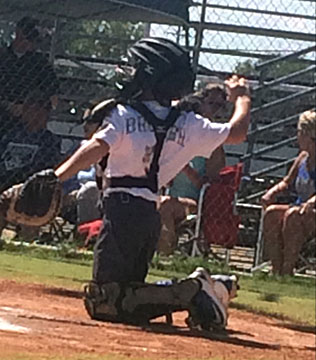 PAMPA, Texas — After running roughshod over several of their opponents on the way to a State championship and through the first two rounds of the 2016 Cal Ripken 10U Southwest Regional Tournament, the Bryant All-Stars ran into a tough customer on Monday night in the winners bracket final.
Their game against the Mountain Home All-Stars was tied 1-1 going into the bottom of the sixth and final inning. Bryant loaded the bases on singles from Hank Penfield, Grant Johnson and Cason Trickey, then Penfield scrambled home on a passed ball to give his team a 2-1 walk-off win.
Bryant advances to the championship round of the tournament. They await the survivor of the losers' bracket final, which will be played early on Tuesday. The winner will have to turn around and play Bryant afterwards. The challenger will have to beat Bryant on Tuesday to force a winner-take-all final contest on Wednesday. Bryant needs one more win to capture the championship.
The team, coached by Jeremy Stovall, includes Garrison Blacklaw, Brady Brower,
 Reid Catton,
 Clay Crawford,
 Gage Horn,
 Johnson,
 Gideon Motes,
 Justen Myles, Penfield,
 Karter Ratliff,
 Caden Stovall and Trickey.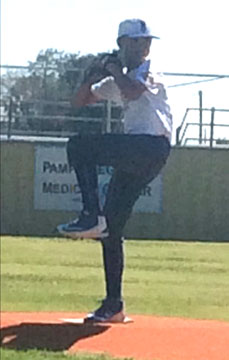 On the mound, Trickey went the distance allowing an unearned run, just one hit with two walks and seven strikeouts. At the plate, he helped himself with two hits. Motes had two as well.
Mountain Home's lone run came in the top of the secong. A one-out triple and a passed ball produced it but Trickey struck out two in the inning to keep it to that.
In a similar way, Bryant tied it in the bottom of the third. Motes drilled a triple to center for the first Bryant hit. An out later, Ratliff hit a bouncer to first and, getting a good break from third, Motes scored.
Mountain Home was retired in order in the top of the fourth but Bryant was unable to cash in on an error that allowed Johnson to reach base and a single by Trickey. Blacklaw sacrificed them to second and third but they were stranded when Horn's line drive was speared by the Mountain Home pitcher.
Trickey pitched around a pair of walks in the fifth. In the bottom of the inning, Motes smacked his second triple. He held as Brower's bunt was misplayed and wound up being stranded.
Mountain Home's last chance in the top of the sixth resulted in three groundball outs, setting up Bryant game-winning uprising.