HARRISON — With a 9-1 win over the All-Stars from Meridian, Miss., the Bryant All-Stars captured the championship of the 2016 9U Cal Ripken Southwest Regional Tournament on Sunday.
The team, managed by Brad Chism, include John Thomas Allen, Brayden Beenken, Gavyn Benson, Eli Berry, Carter Brown, Cooper Chism, Avery Heidelberg, Preston Howlett, Landon Jackson, E.J. Keith, Braxton Speer, Aiden Stout and Hudson Thomason.
After streaking through pool play with three wins in three games, Bryant ripped through three more victories in bracket play, ousting the Blytheville All-Stars 14-1 on Saturday afternoon then edging the Benton All-Stars, 4-3, on Sunday to set up the title match.
Bryant 9, Meridian, Miss., 1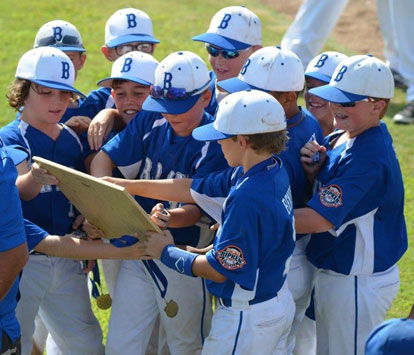 Trailing 1-0, Bryant erupted for five runs in the second and never looked back, adding a run in the third and three in the fourth while Keith handcuffed the Mississippi line-up, which only produced three hits. Keith walked one and fanned five. Two of Meridian's hits came in the second.
Bryant's bust-out frame started in a big way as Heidelberg laced a triple to left. Thomason singled him home to tie the game 1-1.
With one down, Beenken looped a single to right and Allen beat out an infield hit to load the bases. Benson walked to force in Thomason, giving Bryant a lead it would not relinquish.
A passed ball allowed Beenken to score then Stout singled in Allen. Speer drilled an RBI single to center and it was 5-1.
Keith set the Mississippians down in order in the top of the third and Bryant tacked on a run. Heidelberg reached second on a throwing error, Thomason beat out a bunt hit and stole second. With two down, Brown stepped up with an RBI single to center.
After Meridian managed a base-runner in the top of the fourth on a two-out hit batsman, Speer worked a one-out walk to get Bryant's offense going again. Speer swiped second and wound up on third after a wild pitch as Keith was drawing a walk. Keith stole second then Heidelberg drilled a three-run homer to left to put the final numbers on the board.
Bryant turned a doubleplay in the fifth to erase a lead-off hit. Meridian were set down in order in the sixth and the Bryant celebration began.
Bryant 4, Benton 3
In Bryant's lone nail-biter of the post-season, Heidelberg singled in Speer with one out in the bottom of the sixth to make it a walk-off win over their rivals from Benton.
Benton had pulled even with Bryant with a run in the top of the fifth. Bryant's game-winning rally began with Speer's fly to right being misplayed. He advanced to second on a passed ball and Keith got him to third with a sacrifice bunt to set up Heidelberg's game-winning liner to right.
Neither team could must much offensively as they combined for just nine hits. Berry limited Benton to three runs, one earned on five hits over six frames. He walked two and fanned three.
Stout had two of Bryant's four hits.
Benton bolted to a 2-0 lead in the top of the first, thanks to a two-out, two-run error. In the bottom of the inning, there were two down when Stout beat out an infield hit. Speer was awarded first on catcher's interference and, after wild pitch put them at second and third, Keith walked. A wild pitch allowed Stout to score.
Heidelberg walked to load the bases but Thomason grounded into a force at third to end the inning there.
Bryant surged into the lead in the home third. With one out, Benson walked and Stout singled. A double-steal had them at second and third for Speer who singled in Benson. Keith's sacrifice fly made it 3-2.
A walk and an error with one out, had Benton in position to score in the fourth but a force at second on a grounder to Brown at second put runners at first and third with two down. Benton tried to steal a run but the runner was caught in a rundown that Thomason and Jackson executed for the final out.
In the fifth, however, Benton put together three singles to get the tying run home. With potential go-ahead runs at second and third, Berry recorded a strikeout and ended the threat by inducing a pop to Brown at second.
Bryant threatened in the bottom of the fifth when Benson got aboard on a two-out error then so did Stout. But Benson was thrown out trying to steal third and the game went to the sixth.
Despite a lead-off single in the top of the sixth, Benton was unable to snap the tie, setting up Bryant's dramatic finish.
Bryant 14, Blytheville 1
Keith worked three innings on the mound and Chism finished up a two-hitter over four innings while the Bryant bats produced the lopsided win. Keith fanned six and walked one. Chism walked one and struck one out in the final frame.
Stout had two hits and scored three times. Speer chased home three runs with Heidelberg and Thomason adding two RBIs apiece.
Blytheville's lone run came in the top of the first by virtue of an infield hit and a pair of Bryant errors. With runners at the corners, Keith got a strikeout to end it there.
Bryant answered with a five-run outburst in the home half. One-out walks to Benson and Stout set up the inning. With two down, they worked a double steal before Keith drew a free pass to fill them up.
Heidelberg's bloop single to center chased two runs in to put Bryant ahead to stay.
An error allowed Thomason to reach as Keith sprinted home. Heidelberg scored on a passed ball and, after Jackson walked, Beenken capped the inning with an RBI single.
In the second, Benson walked, Stout singled and Speer socked a three-run homer to right as the lead ballooned to 8-1.
A walk to Heidelberg with one out extended the inning for Thomason who cracked a drive into right for a triple. Jackson was drilled by a pitch but then worked the double steal with Thomason who scored to make it 10-1.
The rout was complete after the third. Allen and Benson singled and an error on the play allowed Allen to score. Stout singled and stole second then Speer was struck by a pitch to load the bases.
After a pitching change, Heidelberg reached on an error and Thomason delivered a sacrifice fly. Speer capped the scoring when he scrambled home on a passed ball.
Chism pitched around a two-out walk and a single to left to close it out, getting the third out on a comebacker.