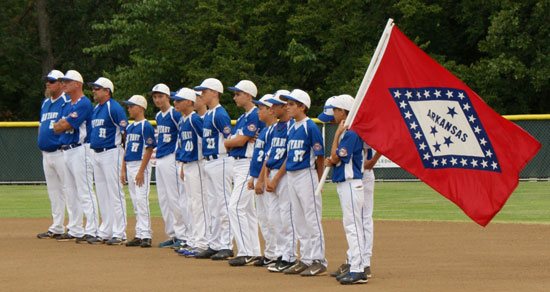 By Madison McEntire
Photos by Diane Dupree
SPRINGDALE — The Bryant 50/70 12-year-old All-Star team scored four times in their first at-bat and[more] went on to defeat Fort Smith 10-3 in their opening game of the Cal Ripken Regional tournament played at the Randal Tyson complex on Friday, July 19.
Team members are Logan Chambers, Logan Grant, Logan Catton, Jacob Coppock, Cade Dupree, Hunter Mullings, Jacob Shepard, Ryan Lessenberry, Will McEntire, Coby Greiner, Zach Wells, and Sawyer Holt. They are managed by Michael Catton with help from assistant coaches Phillip Dupree, Mark Coppock and Madison McEntire.
Grant was the starting pitcher for Bryant. Fort Smith's leadoff batter slapped a hard grounder into right on the third pitch of the game but was quickly erased when the next batter grounded to Dupree at first, who stepped on the bag to retire the batter and then fired to second where Chambers applied the tag for a doubleplay. That kept a run off the board because the next batter hit a long home run to left to give Fort Smith a 1-0 lead. Grant struck out the cleanup batter to end the top of the first, with Lessenberry firing to first after the pitch got away and ended up by the screen.
In Bryant's first at-bat, Chambers grounded to first but then Dupree singled on a liner to center. Grant was hit by a pitch to put two on. After Dupree moved up on a wild pitch and Grant stole second, Coppock laced a two-strike double into the gap in left center to give Bryant a 2-1 lead.
After he stole third, Mullings was hit by a pitch to put runners on the corners. Mullings then swiped second and Catton's chopper to third scored Coppock and moved Mullings to third.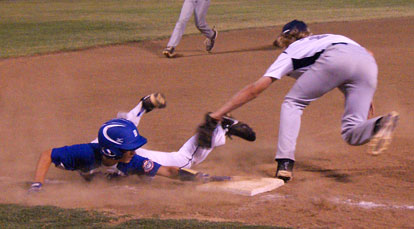 Bryant caught a break when Greiner checked his swing but the ball hit the bat and rolled fair about a third of the way up the first base line. Mullings scored on the play and Greiner was safe at first. After Greiner moved up a base on an errant pickoff throw, Holt grounded out to end the inning. Bryant led 4-1.
Fort Smith's first batter of the second pushed a grounder into left for a single and went to second on a throwing error by Chambers but was then picked off by Grant and tagged out in a rundown that went from Catton to Greiner. Grant struck out the next two batters to send the game into the bottom of the second.
Bryant tacked on a run in the second. Lessenberry popped to short for the first out but then Chambers singled on a ball that the centerfielder dove for and trapped. Attempting to steal, Chambers slipped and was picked off first but reached second safely when the first baseman's throw was high. Dupree's groundout to second moved him to third and he scored when the Fort Smith shortstop could not handle Grant's hard grounder. With Coppock at the plate, Grant stole second but, a pitch later, was out trying to advance to third on a ball in the dirt.
The first two Fort Smith batters in the third inning were out on a pop up and a grounder, both of them to Dupree at first. After Fort Smith's leadoff batter singled to left, Grant ended the inning with a swinging strikeout.
Bryant threatened in its half of the third but did not score. Coppock struck out but Mullings singled on a pop into right field. Catton singled on a bunt grounder up the third-base line but then Greiner hit a ball in the hole that forced Mullings out at third. Holt also grounded to the third baseman who stepped on the bag to end the inning.
Fort Smith went quickly in the fourth. Grant got a fly to Coppock in center and then a grounder to Dupree at first. He worked around an error by Chambers and got a high-bouncer to Greiner at third to end the inning.
Lessenberry led off the fourth with a fly that hit at the base of the fence at the 200-foot sign in left and was held to a long single. After he moved to second on a poor pickoff throw, Chambers lined softly to short for the first out. Dupree grounded a single that went off the glove of the diving second baseman. Lessenberry hustled around third and slid safely home, just beating the throw.
With Dupree at third and one out, Grant fouled out to the first baseman. However the scoreboard had incorrectly shown two outs and, thinking the inning was over, Dupree was caught off the bag and tagged out by the first baseman to end the inning. Bryant had upped the lead to 6-1.
In the top of the fifth, Fort Smith plated another run. After Grant recorded his fifth strikeout and got a line out to Coppock in center, Fort Smith's nine-hole hitter doubled to right on a ball that Holt dove for and missed. The next batter singled to left to bring him in before Grant got another grounder to Dupree at first to end the inning.
Bryant plated four more runs in the last of the fifth. Coppock singled on a grounder to left field on an 0-2 pitch to start the inning and then went to second when the ball got by Fort Smith's left fielder. After he went to third on a wild pitch, Mullings smashed a grounder back up the middle off the pitcher's glove. The shortstop smothered it behind second base but not before Coppock had scored.
Fort Smith's lefty pitcher then tossed to first as Mullings broke for second but he reached safely when the first baseman's throw went into leftfield. On an 0-2 pitch, Catton dropped a pop fly over the first baseman's head that just landed fair. Mullings moved to third to put runners on the corners. Greiner put down a squeeze bunt to score Mullings and move Catton to second. Shepard hit for Holt and, after swinging at a wild pitch that moved Catton up a base, he slapped a hard ground ball to left bringing Catton home.
Lessenberry hit a grounder to third and Shepard was safe at second when the throw pulled the Fort Smith second baseman off the bag. After Chambers popped to short, a wild pitch moved the runners up and then another one plated Shepard and moved Lessenberry to third. Dupree lined out to third to end the inning but Bryant has expanded the lead to 10-2.
Left-hander Zach Wells took over for Grant in the top of the sixth. Fort Smith's three-hole hitter walloped his second homer of the game to make it 10-3. Wells then hit the next batter before getting a fly to Coppock in center for the first out. A soft infield single to short put two on before Wells got a swinging strikeout and then a hard grounder to Greiner at second to end the game.
Bryant is next in action on Sunday, July 21, at 1 p.m., against the winner of the game between Andrews, Texas, and Little Rock Junior Deputy.