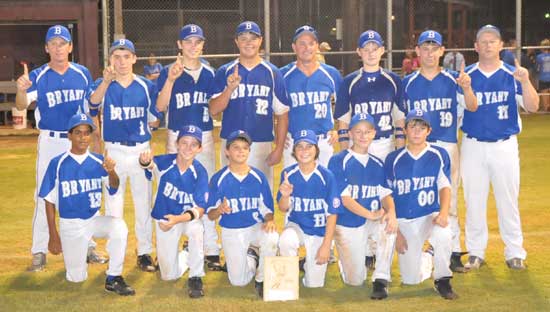 BENTON — With clutch hitting and stingy pitching, the Bryant 13-year-old Babe Ruth All-Stars captured the District Tournament championship with a 6-2 win over White Hall's All-Stars on Tuesday at Bernard Holland Park.
Dakota Besancon and Devin Dupree limited White Hall to four hits while Caleb Chaffin and Dupree contributed key two-run doubles to help forge the victory.
Both teams begin State Tournament play at El Dorado on Friday, July 16.
Members of the Bryant 13s are Dakota Besancon, Caleb Chaffin, Brittan Crouch, Tre Davis, Devin Dupree, Collins Fredriksson, Clifton Hampton, Andrew Kincaid, Hunter Lawhon, Robert Meeks, Hunter Oglesby and Drew Tipton. Jeff Besancon is the manager with assistance from Chris Tipton and Stephen Kincaid.[more]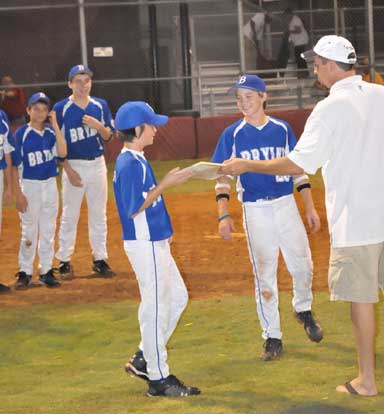 White Hall had the best of the game early. After Bryant was unable to take advantage of a pair of walks in the top of the first, White Hall's Turner Sparks and Jake Green singled and Kirk Baugh drew a walk to load the bases in the home half. A passed ball allowed Sparks to score as David Sprinkle was drawing a walk but, after that, Besancon settled in and got Jeffrey Jones to fly to left. And when Nate Richmond lined back to the pitcher, he fired to third for an inning-ending doubleplay.
In the second for Bryant, Kincaid drew a two-out walk but was stranded. Besancon then worked around a walk to Conner Freeman and a two-out single to Sparks. Green flew out to Meeks in left to retire the side.
In the third, Meeks reached on a third-strike wild pitch and Tipton walked. They moved to second and third on Besancon's tap to first but Jones, the White Hall pitcher, retired the next two to get out of the jam.
White Hall tacked on a run in the bottom of the inning when Baugh cracked a double, Jones singled him to third and a passed ball allowed Baugh to come home. With Jones at second, however, Besancon retired Richmond and Alec Hartz to keep it 2-0.
And, in the fourth, Bryant rallied to take the lead. Walks to Dupree and Lawhon set the table. Kincaid moved them up with a sacrifice then Chaffin unloaded on a 2-2 delivery for a game-tying two-bagger. And, after Chaffin moved up on a passed ball, he and Meeks executed a squeeze play with Meeks getting the bunt down.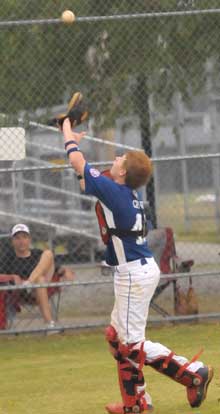 Dupree took over on the mound in the bottom of the inning and proceeded to set down seven in a row to protect the 3-2 edge. In four innings, he would fan four and walk a batter, giving up just one hit.
That hit interrupted his string with one out in the bottom of the sixth. But Crouch gunned him down at second when he tried to steal. That proved to be crucial when the next batter reached on an error and then a walk was issued. But Dupree and the Bryant Stars got out of it at that point when pinch-hitter Matt Metheny grounded out to first.
Bryant had threatened in the top of the sixth when Dupree reached on an error but was thrown out trying to get to third after Lawhon's grounder to third was misplayed. Kincaid singled and a passed ball allowed the duo to move up to second and third before Jones pitched out of the jam with a pair of strikeouts.
White Hall changed pitchers to start the seventh, however, and Bryant took advantage. Tipton drew a lead-off walk, took second on a passed ball then stole third. Besancon lifted a sacrifice fly to right that made it 4-2. Walks were issued to Oglesby and Hampton to set the stage for Dupree's two-run double.
Given the new breathing room, Dupree and the Bryant Stars retired the side in the bottom of the seventh despite a two-out error, wrapping up the championship.